Description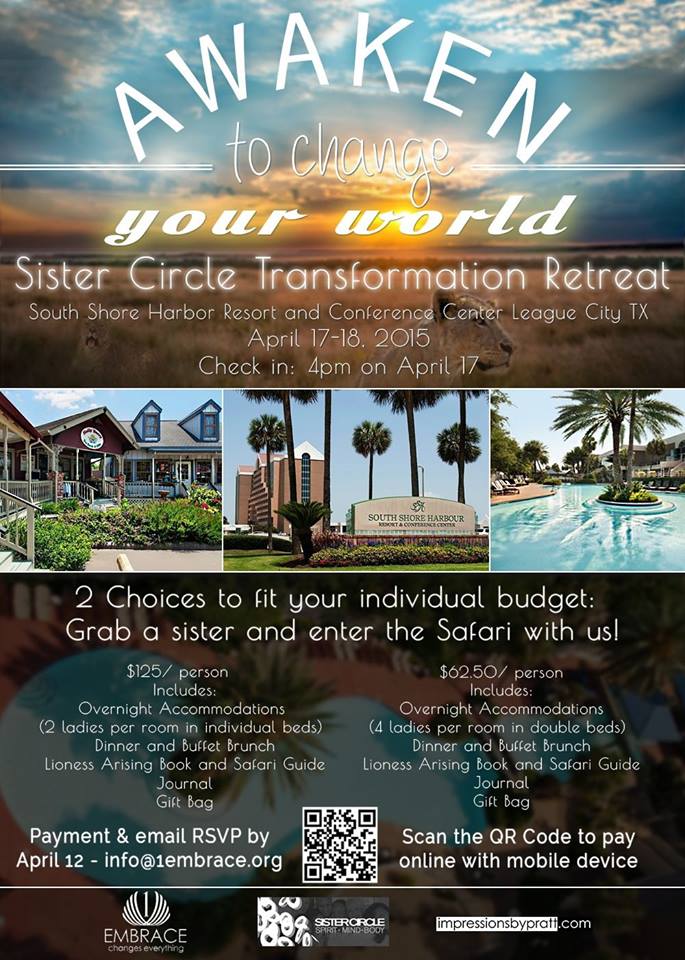 Please read ALL of the following text, then register today if you want to experience a TRANSFORMATION!

What is Sister Circle (SC) Transformation Retreat?
A two-day, one night gathering of women who believe in sisterhood and desire to gather, worship, have fun, fellowship and be transformed by God. It's life changing. It's personal. It's intimate.

What Does it Mean to have a Transformation?
The first Transformation Retreat began 10 years ago. We met from different cities, different churches and gathered with a simple motive to worship God and see what He might do in our midst. It was a "Surprise us, Lord!" type of weekend. We sang, we laid still, we prayed, and we talked. Laughter, tears, healing, and miracles... To say He showed up and turned us upside down would be an understatement! Sister Circle Transformation Retreat is more than an event. It's a radical Embrace movement that will take your breath away. The Lover of your soul will Embrace you and meet you here.
We have order but 'No agenda'. "Lord, we're here to Embrace You, meet with You, commune with You, feel Your heart, and to Love you. Do something new in me. Have Your way. Surprise us, Lord!"
Registration Cost Covers:
Your registration $125/person or $62.50/person covers one night lodging and 2 meals. (Please bring your own snacks and a water bottle for late night activities) Lioness Arising Book, Safari Guide and Gift Bag. We have additional surprises during the retreat.
Encouraged Offering:
Because this is a non-profit event and no compensation is collected by any person who is ministering. This is how we are able to keep the registration costs low! In these types of scenarios, it is biblically correct to offer monetary gifts to show our overflowing gratitude and take care of people who have ministered to us. Although it is not required or monitored, we encourage you to bring a monetary gift to offer on the last day. Please pray and ask The Lord what He would have you give. (Cash or checks are fine)
Room Set Up:
You have a choice of sharing a room with one another woman or sharing a room with 3 other women. You choose to fit your budget. Rooms have 2 double beds
NOTE: If you wish to be assigned a room with someone in particular, please indicate this on the online registration form. We cannot guarantee you will be in the same room as the person you requested, but we will surely try!
What to Wear:
Every lady is asking this question! Although there is nothing wrong with a conference type event, Sister Circle Transformation Retreat is different. It is organic in nature... No frills or high heels! Dress however you would if you were to curl up on a sofa and watch a movie with your best friend. For some of you that is yoga pants and a sweatshirt and for others it may be a little dressier. In short, wear whatever makes you feel comfortable. We will spend some time outdoors, some time laying down and praying, or standing to our feet in worship. Even the women we've chosen to speak and minister will be dressed rather casually.

Speaking of Yoga Pants!
Last year, we had a soaking session. It's a deeper connection with the Holy Spirit to heal and create a whole person within us. The process of soul healing is what you can expect! We will offer this again. You will need a yoga mat (you can purchase a basic mat at Target or Walmart) and wear comfortable clothes. Baggy shirts will be sure to reveal more than you intended (lol) so fitted clothing is better in this case!!
Additional Activities:
Pool: Time will be limited but If you would like to swim please bring your swimsuit and necessary items.
A New Sister Circle Transformation Retreat Addition: Water Baptism!
We will be water baptizing any woman who wishes to be baptized for the first time or the hundredth time! Water baptism is so special and there are seasons of life where the old season washes away and the Holy Spirit transitions us into fuller freedom. Even if you are unsure about being water baptized, bring clothing just in case!

A Few Items of Business:
No children, except nursing babies, will be allowed. If your nursing baby needs to "talk" please step outside the worship room as needed.

We recommend age 18 and older, but the minimum age allowed is 16 years old. (Please be aware that content during ministry will expose adult topics and speakers will deliver content based on an adult audience. Every minor, excluding nursing babies, will need an adult to sign their registration form assuming all liability.)

One-day attendance option is not available. With the exception of an emergency, we discourage women from coming for only part of the time.

The registration fee is either $125 for every woman or $62.50 for every woman for every circumstance. For example: if a woman does not stay overnight for any reason or does not eat the meals provided, it is still $125 or $62.50. There are no other payment options.

Registration is non-refundable, but may be transferred up to 24 hours before start time.

IMPORTANT: Each and every person MUST register at this site and consent to the waiver to attend. (Waiver is built into the registration site, you will need to read it and check the box to complete your registration). Thank you for understanding the formalities that must take place in order for us to have an amazing time together!

Time In / Time Out
Friday, April 17th
4:00pm - 5:00pm - All attendee Arrival and Registration (Look for Signs)
5:00pm - All attendees meet in the Parlor (On the same floor as your room)
5:15pm - All attendees leave for Dinner (We will travel to the restaurant)

NOTE: If you miss dinner at 5:15pm, please plan to have your meal packed with you. We have reservations.

ALSO: Please email Natalie at: info@1embrace.org if you have any specific food allergies/preferences.

7:15pm - All attendee START TIME in the Parlor Room!

When you arrive, we'll get you situated in your room and acquainted.
Saturday, April 18th
9:30am - All attendee Buffet Breakfast (South Shore Restaurant)
10:30am - All attendees Worship and Sessions (meet in the Parlor Conference)
1:30pm - All attendee Check Out


What to Bring:
* Bible
* Journal
* A few pens
* Cozy blanket or throw to bring to a few sessions
* Comfy Jammies
* Comfy Day clothes
* Light Jacket (Just in case its cool)
* Toiletries
* Swim suit (for baptism, you can also wear dark colored shorts and tshirt)
* Trash bag for dirty/wet clothing
* Yoga clothing / shoes & mat
* Water bottle
* Snacks (Late night activities)
* Optional offering gift (cash or check)

...and most important, bring an open and expectant heart!

Can I Invite Friends?
Of course! Please ask them to read this page so they understand what Sister Circle Transformation Retreat is all about before registering... If after reading this material they decide they want to "be transformed", then they are welcome to register as long as registration is available.

With great expectation,
The Sister Circle Transformation Retreat Team