Description
Sister -2- Sister Fall Retreat... Heart to Heart!
You're invited to join us for Sister 2 Sister Girl Talk Round Table, Life Balance Sessions, and lots of fun with Rhoda Ferrell, Angela Green and Mary Pitts!
AGENDA:
Friday, November 8, 2019
3:00pm Check In
3:00-7:00pm Registration
9:00pm - 11:00pm Prayer, Praise & Pajamas (Come wearing your favorite pajamas)
Saturday, November 9, 2019
7:00am - 9:45am Breakfast for Hotel Guests Only
10:00am - 12:00pm Life Balance
12:00pm - 1:00pm Lunch
1:00pm - 1:45pm Life Action Plan: Let's turn our life into action plans. We talked about it, now let's put it down on paper. Because, although dreaming big and setting goals feels pretty good – achieving these goals feels fantastic! (Supplies will be provided)
1:45pm - 2:00pm Closing
2:00pm - 7:00pm Free Time • Experience Daytona Beach!
7:00pm -9:30pm (Optional) Dinner together at a local restaurant. Everyone is responsible for their own meal.
Sunday, November 10, 2019
7:00am - 9:45am Breakfast for Hotel Guests Only
12:00pm Checkout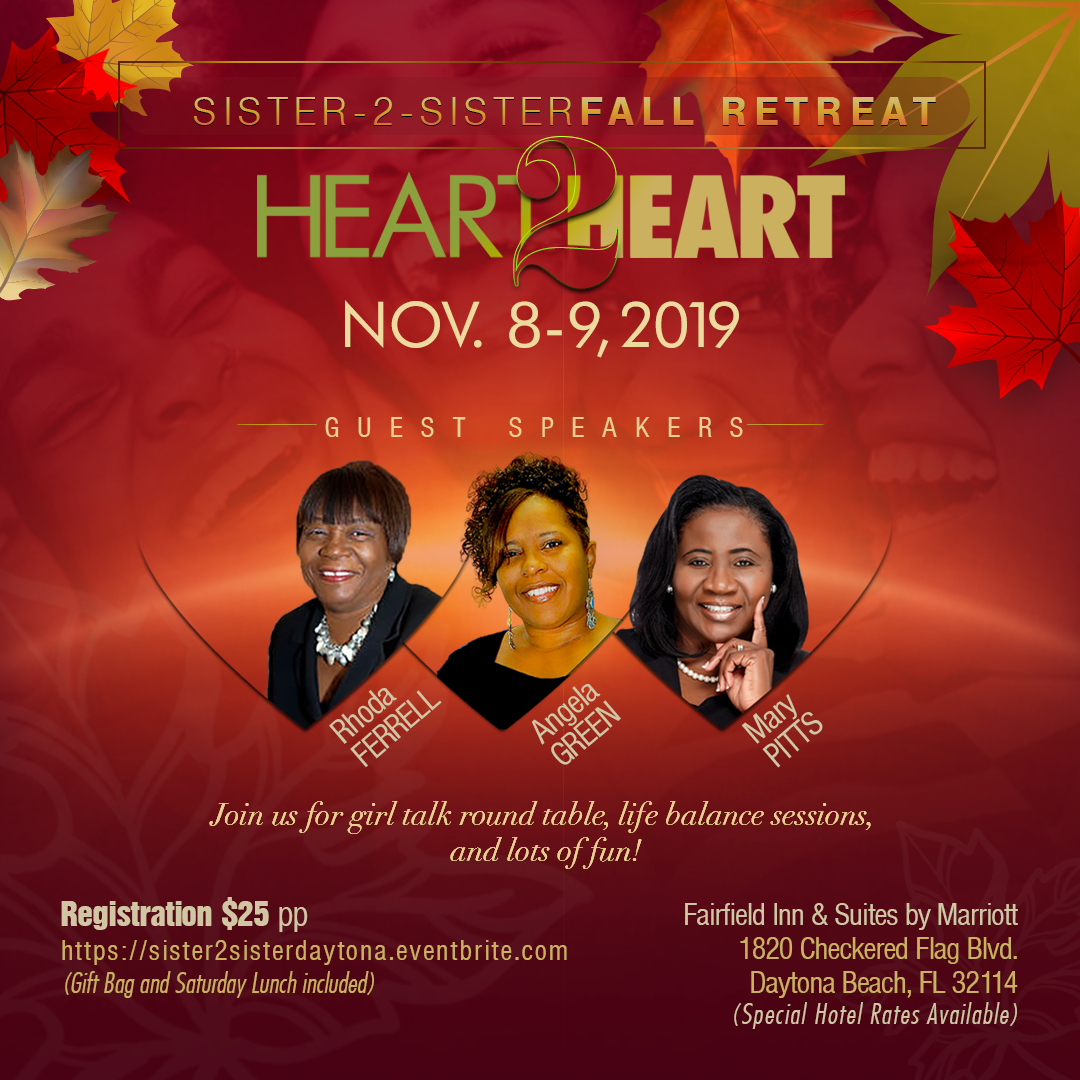 HOTEL ACCOMMODATIONS:
To book your room reservations at the special group rate of $119 per night plus tax call the Fairfield Inn Suites by Marriott at 386.254.4700, select 2 for RESERVATIONS, to make accommodations with a Marriott associate. Guest will need to identify themselves as booking within the "Sister-2-Sister Fall Retreat Group" or click here to book online. Guest's stay includes complimentary full hot breakfast, free parking and free wi-fi.
Mini-refrigerator
Microwave
The deadline to book is 11:59pm 10/8/2019; thereafter, reservations will be taken on a space available basis only.
Cancellation Policy:
Individual reservations within group may cancel up to 48 hours prior to arrival without penalty.
Method of Payment:
Guests to pay own.
COMMENTS & SPECIAL INSTRUCTIONS
Reservations made after the cutoff date of 11:59 pm on October 8th, 2019 will be made based upon availability and are subject to hotels standard rates.
Agenda subject to change without notice. A Free-Will Offering will be collected