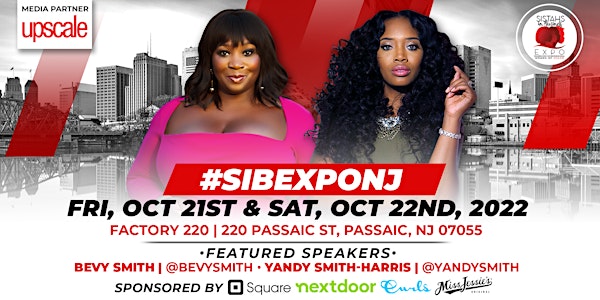 Sistahs in Business Expo 2022 - New Jersey
We're back! Join us for the New Jersey edition of the 2022 Sistahs in Business Expo Weekend. Join us on Fri, Oct. 21st & Sat, Oct. 22nd.
When and where
Location
Factory220 220 Passaic Street Passaic, NJ 07055
About this event
The Sistahs in Business Expo is returning to New Jersey and we couldn't be more excited.  On Friday, October 22nd, we will host the Sistahs in Business University Conference from 9:30am to 5:00pm and the Sistahs in Business Pitch Competition from 6pm to 8pm; and on Saturday, October 22nd, from 10am to 6pm, we will host our annual Sistahs in Business Expo featuring a super dope lineup of speakers, panelists, and entertainment with over 100 diverse vendors. 
On Friday, our conference will equip you with the tools, skills, and expertise needed to start, grow, or scale your business. The conference will feature of full day of workshops and speakers offering high-level training on areas related to marketing, branding, generating revenue, and more.
FRIDAY'S CONFERENCE AGENDA
Host, Aisha Taylor Issah
DJ - Sienna Chanel
10:15am - Joy Pittman, Morning Speaker - When Faith Meets Strategy
11:15am - Fireside Chat w/ Bevy Smith @bevysmith, Moderated by Toya Beasley @toyabeasley
12pm - Networking Lunch sponsored by Hey Girl Hey
1:00pm - Building Business Credit - Keeya Rowan, Instructor
1:45pm - Health is Wealth Panel featuring Dr. Angela Clack @drangelaclackspeaks, Jamie Watkins @mypeaceofhappy, Brenda Green,
3:00pm - Securing Press & Media (DIY PR) - Nikkia McClain, Instructor
3:45pm - Pitch Like a Pro - Jodi Brockington, Instructor
On Saturday, our expo will provide a high-impact experience filled with sisterhood, shopping, speakers, entertainment, and so much more.
PITCH COMPETITION RUNDOWN (FRIDAY)
Host - Precious Williams
DJ - Sienna Chanel
Finalists
Melissa Davis, Cali Meets NYC @calimeetsnyc
Amara Onwukaeme, Femigist @femigist
Patricia Bivens & Robin Bullock, Carriage Suite @carriage_suite
Toni Lorraine Johnson, Dr. Brownies, @drbrownies.official
Desiree Tillman-Langford, Nayaz Variety, @nayazvariety
Judges
Alfred Blake @rulebreakeru
Jodi Brockington @friendsofjodi
SATURDAY'S EXPO AGENDA
Host - La Loca
DJ - Sienna Chanel
Official Correspondent - Desiree Hadley
11am - Fireside Chat w/ Yandy Smith-Harris moderated by La Loca
12:30pm - SuperPower Panel featuring Khalilah Webster, Moderator and panelists Tamiko White, Tina Pearson, Dior Lucas
2:30pm - Authorpreneur Panel featuring Shontaye Jones, Jamie Watkins
4:00pm - Sistahs in Retail Panel featuring Lunic Addison-Boyd, Alisha Pean, Keisha Hickson, Johanne Brierre
Check out our 2021 recap video and secure your spot now for 2022. 
Things to Know:
Parking is FREE!
Children under age 12 are free.
​Doors will open at 9:30am on Friday and 10am on Saturday. 
On Friday, all conference attendees will receive a VIP gift bag filled with products and giveaways from our sponsors and partners.
On Saturday, the first 100 expo attendees will receive a VIP gift bag filled with products and giveaways from our sponsors and partners. 
Vendor applications are available at sibexpo.us/applications.
If you are interested in being a volunteer (ambassador), receiving media/press credentials, or sponsorship/partnership opportunities, please visit our website at sibexpo.us/applications and complete the appropriate form for more information.