Sistah Sinema - Kingston

Multiple Dates
Event Details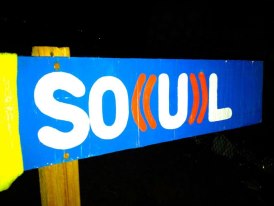 Sistah Sinema - Kingston is an intimate event of less than 50 womyn showcasing queer womyn of color cinema hosted in the home-like SO(U)L Collectice space. Each showing will be followed by a moderated discussion. 
Sinema Sistah was created to showcase the nuances of queer womyn of color culture. It is hoped that the movies will service as a vehicle to foster honest dialogue on struggles and opportunities unique to queer womyn of color. While discussion will focus on the queer womyn of color, all members of the queer community are invited to attend. Tickets are $USD 2 online and $USD 5 at the door. We accept credit cards and cash at the door.
Below is the list of our remaining 2014 films (films are subject to change without notice)
AUGUST
Reaching for the Moon: Reaching for the Moon (Portuguese: Flores Raras) is a 2013 Brazilian biographical drama film. The film is based on the book Flores Raras e Banalíssimas (in English, Rare and Commonplace Flowers), by Carmem Lucia de Oliveira.
Trailer: http://youtu.be/7EVrogOFPYY
SEPTEMBER
Money Matter: Pamela (Aunjanue Ellis) plays the mother, a troubled soul dealing with abusive relationships and a sordid past that was populated with drug use and prostitution. Still fighting every day, she has been committed to giving her daughter Monique "Money" Matters (Terri Abney) a better opportunity than she had. 
Trailer: http://youtu.be/t8BW75thfWM
OCTOBER
Zombie Love - Queer Women of Color Zombie Shorts that includes Outside, A Night In the Woods, GoodNight My Love, and Book of Lilith.
Outside: http://youtu.be/PX5E0436tqA
A Night in the Woods: http://youtu.be/lHKYGFSayXY 
Goodnight My Love: Trailer Not Available
Book of Lilith: http://youtu.be/OFkQKD_9Xqk
NOVEMBER
Karmen Gei: The story of tempestuous Carmen, first told in a short story by Prosper Merimee and made famous in an opera by Georges Bizet, gets a new and striking modern-dress adaptation in this provocative drama with music. Karmen Gei (Jeinaba Diop Gai) is an inmate in a women's prison in Senegal; lusty, impulsive, and looking out for herself at all times, Karmen's uninhibited dancing and sensual demeanor excites the Sapphic passions of Angelique (Stephanie Biddle), the prison's warden. 
Trailer http://youtu.be/TlSeTL-qSpQ
DECEMBER
The Edge of Each Other's Battles (The Vision of Audre Lorde): This award winning powerful documentary is a moving tribute and continues to pose an on-going challenge to each of us. The video includes candid interviews, impassioned poetry and speeches, and thrilling footage of Lorde herself.
Trailer: http://youtu.be/zRntvB28CXI
__
To stay up to date, find us on Facebook, follow us on twitter, and join our email list!!!