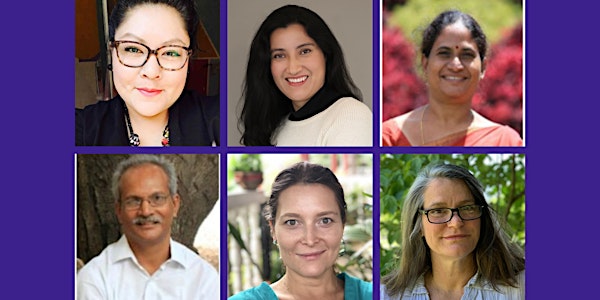 SIS Global to Local: Sustainable Agriculture Through a Justice Lens
SIS professor Garrett Graddy-Lovelace will speak to panelists about the issues of justice and equity within sustainable agriculture.
About this event
American University's School of International Service (SIS) will kick off its third year of its occasional event series, "SIS Global to Local." During these events, experts examine a topic from local, national, and international viewpoints.
During this panel discussion, SIS professor Garrett Graddy-Lovelace will lead the speakers in a conversation about sustainable agriculture through a justice and equity lens. The panelists will discuss issues of race, gender, socio-economic status, and more and how they intersect with the field of sustainable agriculture. Panelists represent the Food and Agriculture Organization of the United Nations, the Arcadia Center for Sustainable Food and Agriculture, Aranya Agricultural Alternatives, and the Slow Food movement.
Registrants will receive email reminders containing the Zoom webinar link.
Biographies
Pamela Hess is the executive director of the Arcadia Center for Sustainable Food & Agriculture. Arcadia is a nonprofit with a mission to cultivate vibrant local food systems that prioritize health, equity, and sustainability, from the farm forward. She joined Arcadia in 2013 after a career in national security journalism, including covering the wars in Iraq and Afghanistan between 2002 and 2007. After a brief foray into national politics as a communications director on Capitol Hill, she returned to her first love: food and sustainable farming. In 2011 she took the helm of a local food and wine magazine that celebrated the sustainable food movement in the Capitol Foodshed, and in the course of that, met and fell for Arcadia.
Narsanna Koppula is the founder and general secretary of Aranya Agricultural Alternatives, a non-profit operating in the rural and tribal areas of Telangana and Andhra Pradesh, India. He is a permaculture pioneer in India, and his environmental-humanitarian work has been empowering rural communities for the past two and a half decades. He was on the Board of the Permaculture Association of India and served for 12 years (1986 to 1998) as Director and General Secretary of Deccan Development Society, a premier NGO working on sustainable agriculture. He is committed to ecological and sustainable agricultural livelihoods through permaculture farming practices to create a greener planet.
Padma Koppula is the co-founder and CEO of Aranya Agricultural Alternatives. She engages capacity building activities and education for rural people in water resource management, farm management, diversified annual crops, and tree-based farming systems. She teaches seed preservation of local and native seeds and helps establish seed banks in many villages. She has done a lot of work with village women, teaching them to access the government resources available and linking them to financial organizations to develop their own farms. She leads women in organizing cooperative fodder forests for animals, food forests for people, community herb gardens, and cooperative food preservation systems. She has helped the landless poor get access from the government to their own farmland and taught them permaculture practices for farming.
Sandra Omayra Lazarte is a Social Development Specialist Consultant for the World Bank and the Food and Agriculture Organization (FAO) of the United Nations. She started her career working with projects for Indigenous Peoples in the Amazon and continued working in the region with World Wildlife Fund (WWF) on environmental and social risk management. She has sixteen years of professional experience in international development, focused especially on mainstreaming gender and Indigenous Peoples' inclusion into the planning and implementation of environmental and agricultural projects. She has collaborated with agricultural projects for the World Bank and FAO, and she is passionate about international development, particularly working with the most vulnerable such as women and Indigenous People.
Denisa Livingston, M.P.H., (Diné, New Mexico) is an unapologetic food justice organizer, heirloom food grower, an Ashoka Fellow, and the Slow Food International Indigenous Councilor of the Global North. She recently served as an Appointed Member of the Champions Network of the 2021 United Nations Food Systems Summit. She has been addressing and raising awareness of the widening disparities and injustices caused by the COVID-19 pandemic in Indigenous communities. She is committed to addressing food apartheid, nutritional trauma, the diabetes epidemic, the dominant culture of unhealthy foods, and the lack of healthy food access. She has been a legislative speaker and community health advocate for the Diné Community Advocacy Alliance. She is the co-chair of the advisory board of the Slow Food Indigenous Peoples international network - Indigenous Terra Madre, a steering committee member of the Slow Food Turtle Island Association, a member of a national Sugar Action Group, currently on the Seeds of Native Health Research Conference committee, and a member of the Slow Food USA Equity, Inclusion, and Justice working group. She is one of the contributors of the anthology, Food Sovereignty in the United States: Restoring Cultural Knowledge, Protecting Environments, and Regaining Health. She is certified in Indigenous Sustainable Food Systems Design through the Traditional Native American Farmers Association.
Garrett Graddy-Lovelace (moderator) is a professor at AU's School of International Service. She researches and teaches global environmental and agricultural policy and agrarian politics. A critical geographer, she draws upon political ecology and decolonial studies to research agricultural biodiversity conservation, agrarian cooperatives, land use decisions, and domestic and global impacts of US farm policies. This includes community-based research-action with grassroots groups on the Farm Bill (see disparitytoparity.org project) and on Cuba-US agricultural relations. She won the 2018 Campus Compact Mid-Atlantic's Alan C. Penczek Award for Service Learning and the 2020 William Cromwell Award for Outstanding Teaching. Graddy-Lovelace co-founded and co-leads the School of International Service's Ethnographies of Empire Research Cluster, and the new, nation-wide Agroecology Research-Action Collective. She is a Faculty Affiliate for AU's Antiracist Research & Policy Center.
This event is co-sponsored by AU's Antiracist Research & Policy Center.