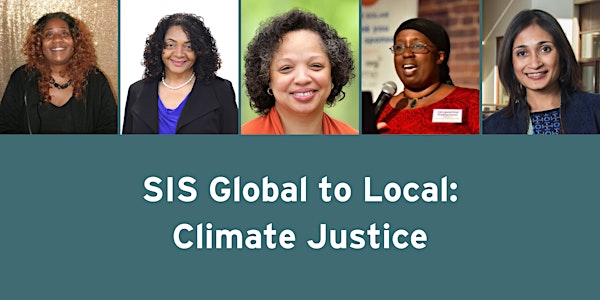 SIS Global to Local: Climate Justice
Learn about the issues of climate justice from the local DC perspective to the global viewpoint.
About this event
Climate change is one of the biggest threats our world is facing today, mainly because it has so many different impacts. Ice caps are melting and causing sea levels to rise. Grasslands are becoming deserts while other regions experience extreme floods. Mass extinctions of both animal and plant species are occurring. And of course people are impacted, too.
This panel discussion is about the issue of climate justice: the idea that those who are least responsible for climate change suffer its gravest consequences. Our panelists will discuss the fact that climate change is an important ethical and political concern, not just a purely environmental or physical one. Problems regarding climate justice can be seen here in Washington, DC as well as around the US and the world. The experts will discuss these concerns and share possible solutions and actions that individuals can take to make a difference. Moderated by SIS professor Malini Ranganathan, panelists include
Rhonda Hamilton – Ward 6 Advisory Neighborhood Commissioner
Adrienne Hollis – Senior Climate Justice and Health Scientist, Union of Concerned Scientists
Vernice Miller-Travis – Executive VP for Environment and Sustainability, Metropolitan Group
Jacqui Patterson – Senior Director of Environmental and Climate Justice Program, NAACP
Attendees should log into the Zoom webinar with this link: https://american.zoom.us/j/97574398670
SIS Global to Local is an occasional event series examining issues through local, national, and global lenses.
---
Biographies
Rhonda Hamilton works as a community outreach coordinator and patient navigator at Georgetown University's Office of Minority Health and Health Disparities Research. She has spent the past 11 years working in her community to help residents as an Advisory Neighborhood Commissioner in Ward 6. She is also the president of Syphax Gardens Resident Council which is a public housing property.
Adrienne Hollis is the Senior Climate Justice and Health Scientist at the Union of Concerned Scientists. Dr. Hollis works with environmental justice communities to identify health concerns related to climate change and other environmental issues, as well as develops and implements projects to document those health impacts. She is also an adjunct faculty member at the George Washington University Milken School of Public Health and American University's Washington School of Law.
Vernice Miller-Travis, one of the nation's leading experts on environmental justice, works as a consultant for federal and state agencies, foundations, and nonprofits. Previously, she established the environmental justice program for NRDC and co-founded WeACT for Environmental Justice.
Jacqueline Patterson is the Director of the NAACP Environmental and Climate Justice Program. Since 2007 she has served as coordinator & co-founder of Women of Color United, and she has previously served as a Senior Women's Rights Policy Analyst for ActionAid.
Malini Ranganathan (moderator) is an assistant professor at SIS and the interim faculty director of AU's Antiracist Research and Policy Center. Her research in urban geography in both the US and India focus on climate and housing justice, water politics, and racial inequality. She is co-author of a recent study on the history of abolition and contemporary climate resilience in Washington, DC.
Co-sponsors include: