SirsiDynix COSA Conference 2018

Monday, 22 October 2018 at 8:30 am

-

Thursday, 25 October 2018 at 4:00 pm (ACDT)
Event Details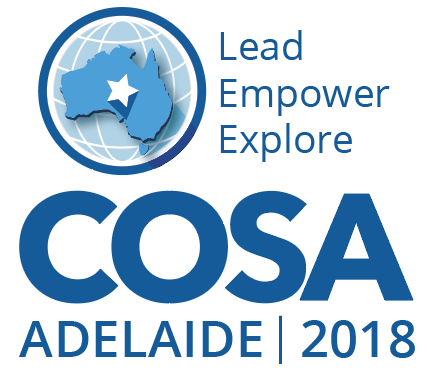 SirsiDynix COSA Conference 2018

October 22-25  | Stamford Grand Adelaide, Glenelg ----------------------------------------------------------------------------------------------------------------------------------------------------

DAY 1 - Monday 22nd October - Pre-Conference Training
DAY 2 - Tuesday 23rd October - Pre-Conference Training, Welcome drinks
DAY 3 - Wednesday 24th October - Opening, Conference sessions, Vendor Exhibition, Conference Dinner
DAY 4 - Thursday 25th October - COSA AGM, Conference sessions, Vendor Exhibition, Q&A, Closing

Pre-Conference Training  (Monday 22nd October and Tuesday 23rd  October)
Monday 22 October:
- BC Analytics Basic and Advanced with Rebecca Chile, Full Day

  Price: A$250 per person
- API Refresher and API Q&A with Margaret Pelfrey, Full Day

  Price: A$250 per person

- Enterprise Advanced Development Workshop with Jeremy Newville, Full Day

  Price: A$250 per person
- BLUEcloud Central/BC Cat/BC Circ wih Cathy Cusack, Full Day

  Price: A$250 per person
Tuesday 23 October, 
- BC Analytics Workshop and Q&A with Rebecca Chile, Half Day

  Price: A$150 per person

- Web Services with Jeremy Newville, Half Day

  Price: A$150 per person
- Symphony System Admin Refresher with Cathy Cusack, Half Day
  Price: A$150 per person
  Free for Platinum Premier Customers (One free seat per library)

COSA Conference Registration (pricing per person)
COSA Members - Early Bird!:                         $450.00 +GST
  *COSA Members - Full Price after 31 August   $493.00 +GST

Non-Members -  Early Bird!:                           $495.00 +GST
  *Non-Members - Full Price after 31 August      $542.00 +GST

Presenters/COSA Committee rate:                $420.00 +GST

Day ticket - Early Bird!:                                  $250.00 +GST
  * Day Ticket - Full Price after 31 August          $270.00 +GST
Additional Dinner ticket:                               $150.00 +GST


Note:
1. All prices are in Australian Dollars and are exclusive of taxes unless otherwise noted.
2. Institutional COSA Members are entitled to two (2) Member Registrations. Additional registration can be purchased by selecting Non-member Registration.

3. Full conference registration includes access to all conference sessions held from Wednesday 24th October - Thursday 25th October (inclusive).Morning tea, lunch and afternoon tea are included each day.
4. All tickets (except for the Day ticket) also include the cost of the welcome drinks  (Tuesday 23rd October) and ticket to the Conference Dinner at the Stamford Grand Ballroom (Wednesday 24th October).
5. Conference One Day Pass includes access to all conference sessions on the day of the Pass only. Excludes tickets to Welcome Drinks and Conference Dinner.

6. Refunds – please contact Melanie Chin at Melanie.chin@sirsidynix.com if a refund is needed. Full refund is available up until 15 September 2018. After that 50% refund available until 30 September 2018 and no refund if cancelled from 1st October 2018. This is because commitments will already have been made with the hotel regarding catering and we will be unable to fill the space at short notice.
Accommodation
We are pleased to confirm a discounted rate for delegates at the Stamford Grand Adelaide.
Delegates will be entitled to the negotiated rate on the 20th – 25th October inclusive. The rate on
either side of this date will be subject to availability at the time of booking.

Grand City View Room - $220.00 per room, per night
Grand Ocean View Room - $260.00 per room, per night
Grand Ocean Balcony Room - $280.00 per room, per night

Accommodation rate includes fully buffet breakfast for 1 person daily and Wifi.

To receive this Discounted rate, delegates will need to Call Reservations and quote the code SDC221018
at the time of booking. Guests will also need to provide a valid credit card number in order to
confirm their reservation.
All bookings will have a 24-hour cancellation policy.

To make a booking delegates  will need to contact our General Reservations department on the below
details:
Phone: 08 8376 1222
Email: reservations@sga.stamford.com.au
Payment for conference registration

Online by credit card
Select the ticket type and the quantity.
Click "Register", complete your registration and make payment online.
Payment by Tax Invoice
If you wish to receive a Tax Invoice for payment, please follow the steps below.
A Tax Invoice will be sent to your email address once we received the request.

Enter a ticket quantity

Scroll down and click on "Order Now"

You will see the page to fill out Registration Information

Under "Payment", click on the drop down menu select "Pay By Invoice"

Complete the form and Click on "Send Invoice" at the bottom on the page
Payment by Cheque
If you wish to pay for the conference by cheque, please click the "Show other payment options" link under the "Order Now" button.This will allow you to register, and provide you with a PDF order confirmation. You can send payment by check to the SirsiDynix Melbourne office to the attention of Melanie Chin.
SirsiDynix Pty Ltd

Level 11, 535 Bourke Street

Melbourne VIC 3000
If you have any question regarding the registration of the conference, please contact Melanie Chin at melanie.chin@sirsidynix.com or by calling 0419 003 304.

When & Where

Stamford Grand Adelaide
2 Jetty Road
Glenelg, SA 5045
Australia

Monday, 22 October 2018 at 8:30 am

-

Thursday, 25 October 2018 at 4:00 pm (ACDT)
Add to my calendar
Organiser
About SirsiDynix

For more than 30 years, libraries have used SirsiDynix technologies to bring the power of their collections to their communities. Our story began when Northwestern University developed a system to automate its library card catalogues in the 1960s. Since then, we have been a committed partner to libraries around the world, employing technology that allows librarians to do more than just keep track of their collection. Today, more than 23,000 library facilities in more than 70 countries use our products and services to bring the power of knowledge and information to 300 million users worldwide.
About COSA
Customers of SirsiDynix Australasia Inc. (COSA) is an independent user group for sites using one of SirsiDynix's integrated library systems (Symphony, Unicorn, Horizon and Dynix Classic). COSA is financed through institutional and personal membership subscriptions. It promotes communication amongst its members and with similar user groups around the world.

The group holds an annual conference, organised in conjunction with SirsiDynix, to allow the user community to exchange knowledge and ideas as well as facilitate networking and training opportunities. COSA also maintains a private listserv (cosa-l) to allow for communication and discussion on issues that pertain to the Australian, New Zealand and Asia Pacific region and its customer base.

COSA offers a mechanism to represent the interests of SirsiDynix customers in the region and to maintain a constructive and collaborative relationship with SirsiDynix. COSA works with SirsiDynix to influence system development for the benefit of Australasian/APAC region customers.