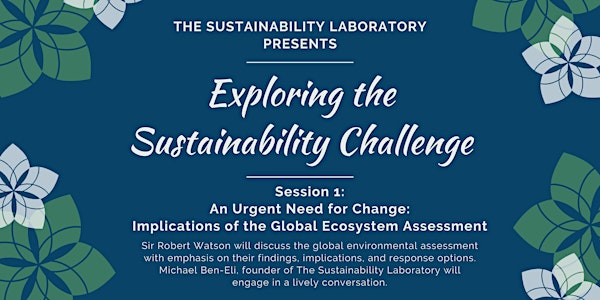 Sir Bob Watson, CMG, FRS in Exploring the Sustainability Challenge
Session 1 of 2022's Exploring the Sustainability Challenge: An Urgent Need for Change with Sir Robert Watson
Refund Policy
Contact the organizer to request a refund.
Eventbrite's fee is nonrefundable.
About this event
Join us for Session 1 of The Sustainability Laboratory's 2022 conversation series, Exploring the Sustainability Challenge!
An Urgent Need for Change:
Implications of the Global Ecosystem Assessment 
with Sir Robert Watson, CMG, FRS.
Wednesday, October 12th, 2022 at 6:00 p.m. EST.
(This free session will be held on Zoom)
Robert Watson will discuss the global environmental assessment with emphasis on their findings, implications, and response options. 
Sir Robert Watson is an atmospheric scientist and former science advisor to the White House, NASA, World Bank and other global multilateral organizations. Michael Ben-Eli, founder of The Sustainability Laboratory will be engaged in a lively conversation followed by a Q&A session with the participants.
Exploring the Sustainability Challenge is a virtual conversation series of The Sustainability Laboratory. Each event features a lively conversation between Michael Ben-Eli and a thought leader, discussing an urgent sustainability issue facing the planet. This free series resumes once a month over Zoom, and will continue through 2022 and into 2023.
About the series as a whole
Meeting the global sustainability challenge requires a fundamental shift in the way we look at the world, engage with each other and with all other forms of life, and manage human affairs. Our capacity for thinking in new paradigms and pursuing creative experimentation is essential and urgently needed.
The Sustainability Laboratory, a not-for-profit research, development and educational organization, was established in 2008 in order to develop, demonstrate and facilitate innovative approaches to sustainability practices, thereby expanding prospects, and producing positive, life-affirming impacts on people and ecosystems in all parts of the world.
In our work, we seek to achieve deep, transformational results. We also recognize that the sustainability issues we are facing require unprecedented new levels of collaboration and cooperation amongst those engaged in advancing the sustainability agenda.
To advance the cause, The Sustainability Laboratory is continuing our conversation series, launched in 2021, to provide a new forum for the exchange of ideas, and we invite you to join us for our 2022 "Exploring the Sustainability Challenge" events.
We will be engaging thought leaders from around the world in conversations exploring key ideas related to some of the most urgent topics of our time.
Please join us for a free, monthly, live conversation via Zoom.