Location
Aloft Atlanta Downtown
300 Spring Street NW
Atlanta, GA 30308
Description
SIP+SWAP+SHOP
Revolutionizing the Way Women Shop
Something old, something new, something borrowed, and something so you… Sip+Swap+Shop revolutionizes the way women shop and creates a trilogy of excitement that entices a savvy consumer's sense of style and unites women of diverse and eclectic style backgrounds for a common delight… (1) sipping some of the best cocktails (2) swapping high fashion items (3) shopping with some of the most fashion forward local brands. Sip+Swap+Shop is the ultimate shopping experience. Sip+Swap+Shop will be open to the public with special invitations extended to fashion stylists, beauty bloggers, brand ambassadors, fashion editors, VIP guests as well as fashionistas and media personalities.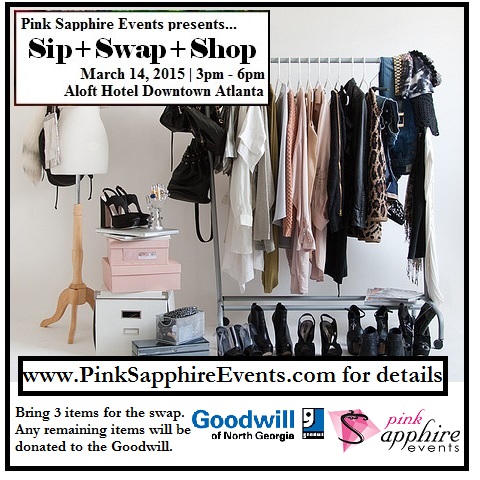 For more information about the event, visit www.PinkSapphireEvents.com
What is a SWAP?
A clothing swap is the ultimate experience where participants exchange their valued but no longer used clothing items for clothing items they will use. Clothing swaps are considered not only a good way to unclutter and refill one's wardrobe, but also are considered an act of environmentalism.
[Note: Parking is available at the rear of the hotel.]