Description
Let's wine for charity!
October is Pregnancy & Infant Loss Awareness Month.
Help us raise funds to support families who have experienced infant loss.
Come out on October 29th for this groundbreaking storytelling event!
You will explore the taste of select signature wines as we present the heart-wrenching tale of five child loss monologues.
It"s a wine tasting fundraiser!!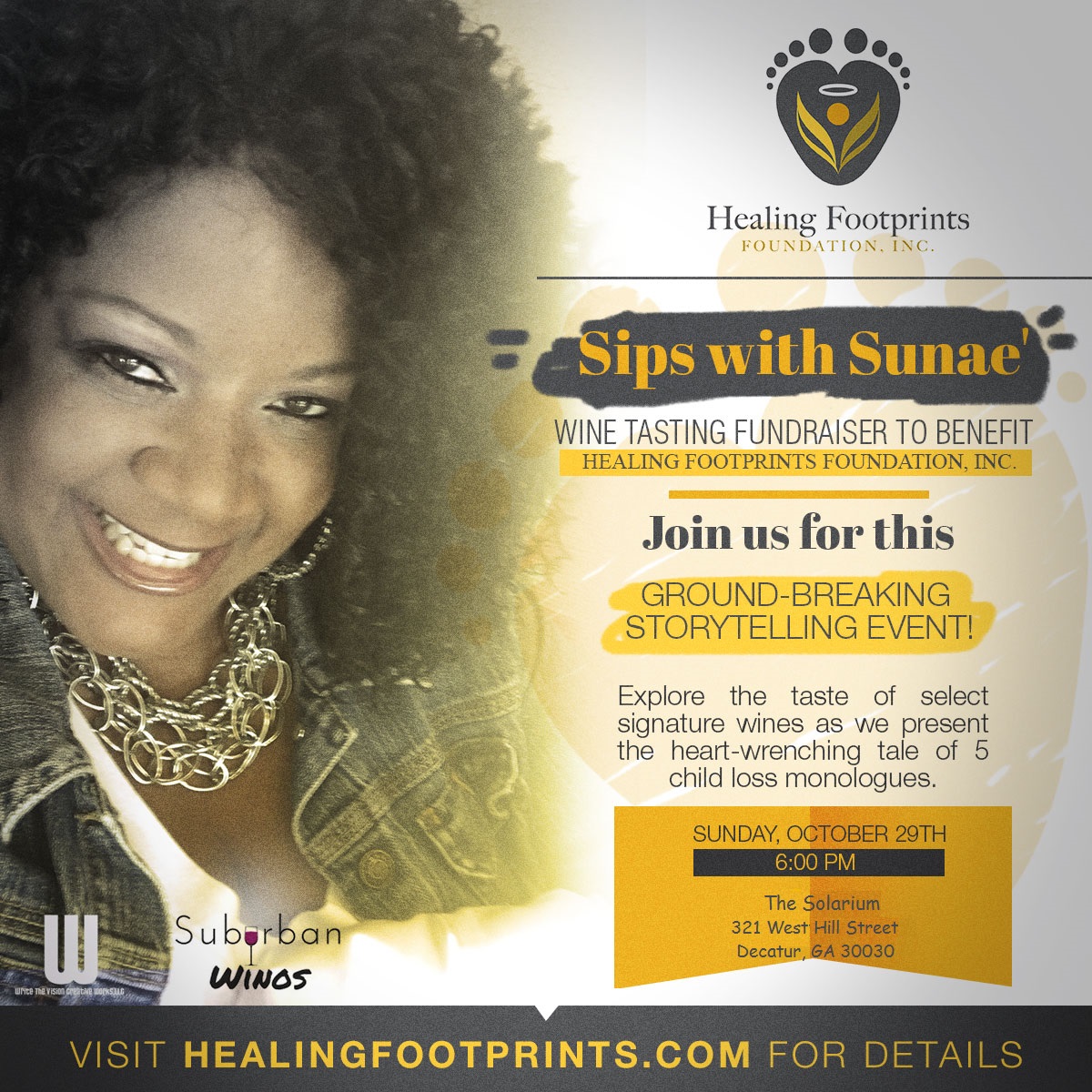 Through Healing Footprints Foundation, Kierra Sunae' has spent years supporting the needs of families grieving the loss of a child at various stages. As an infant loss advocate, I am embraced as a trusted partner during one of life's most tragic events. I've often wanted to share the stories of some of the families whom we support. But grief isn't linear. And for me, it's important to honor the journey with dignity and respect. My desire is to share stories of loss while protecting the vulnerability and sometimes unpredictability of those grieving.
On Sunday, October 29, 2017, Healing Footprints Foundation is joining forces with Write The Vision Creative Works to bring you The Vilomah Experience - A series of monologues that journey through early miscarriage, late miscarriage, stillbirth, newborn death and childhood loss.
This production is the answer to my prayers. I can assure you, you've never seen storytelling like this!
We will pair our stories of loss and healing with some of my favorite wines.
Come out and have Sips with Sunae'!
Tickets
Tickets are not required for entry, but you must RSVP. We are asking each guest to make a tax deductible donation to Healing Footprints Foundation, Inc. during the event.
We are partnering with Michele Lobdell of Suburban Winos for this fundraising event.
Each attendee will receive a pour of 6 select wines. CHEERS!
To complement the wines tasted, guests will have an opportunity to order bottles of wine. A portion (10%) of all wine sales will be donated to Healing Footprints Foundation, Inc.
Sponsorship Opportunities
You or your organization is encouraged to purchase advertisement for our event collateral.
Please visit our sponsors page for sponsorship levels and become one of our valued sponsors. Or email Kierra Sunae' at info@healingfootprints.com for additional options.