Description
Southern Research invites you to Sips & Science—an engaging evening event fusing fellowship and fun with the most fascinating scientific topics of our time. Come grow with us!

---
---
---


5PM: Happy Hour
Enjoy complimentary beer and wine while you mingle with Corey Tyree, Ph.D., Senior Director of Energy and Environment at Southern Research.
6PM: "
The Rise of Energy Storage"
Falling prices for batteries, widespread blackouts due to fire threats, and installation of intermittent renewable energy sources are all leading to the adoption of energy storage. This trend revolutionizes how electricity is produced and distributed to consumers. For more than 100 years, electricity was mostly produced in large centralized generating facilities and distributed across transmission lines to customers. The electrical grid was designed to instantaneously match the supply of electricity with consumer demand - a market often described as a "make, move, and sell" model. Going forward, the rise of energy storage disrupts this century-old model and modifies it to a "make, move, hold, sell" model. Being able to effectively inventory electricity has profound impacts on nearly every aspect of the energy industry. Dr. Tyree will talk about the market forces driving this change and offer a perspective on what the future holds for the storage of electricity using batteries and other means.
---
---
---


Dr. Corey Tyree
Corey Tyree, Ph.D., directs a team of engineers, scientists, and technicians focused on innovative technology solutions for clean energy, air, and water. Together we 1) develop new technology, 2) independently evaluate others' technology, and 3) provide technical services. Our areas of expertise include sustainable chemistry, technology-based economic development, industrial water treatment, combustion, energy storage, renewable energy, and environmental technology verification.
Tyree has 14 years of diverse experience working in capacities ranging from power plant management to business development, and from R&D to industrial engineering practice. Prior to joining Southern Research, Tyree was the engineering manager at Georgia Power Company's Plant Wansley and then, later, at Plant Bowen – two large coal-fired power plants in the Atlanta area. He also worked as a principal engineer for Southern Company.
His scientific record includes peer-reviewed publications, magazine articles, and presentations on a wide range of topics. He has been invited to speak worldwide on electric utility-related issues and he actively consults on energy and environmental issues.
Tyree received a Bachelor of Science in chemical engineering from the University of Kentucky and a doctorate in chemical engineering from Arizona State University.
---
---
---


What are my parking options?
Parking is available at 9th Avenue South (see the map below). Once the parking lots are filled, the Five Points South Deck parking garage is available for overflow parking for a $3 fee. It is located at 2012 Magnolia Avenue Birmingham, AL 35203.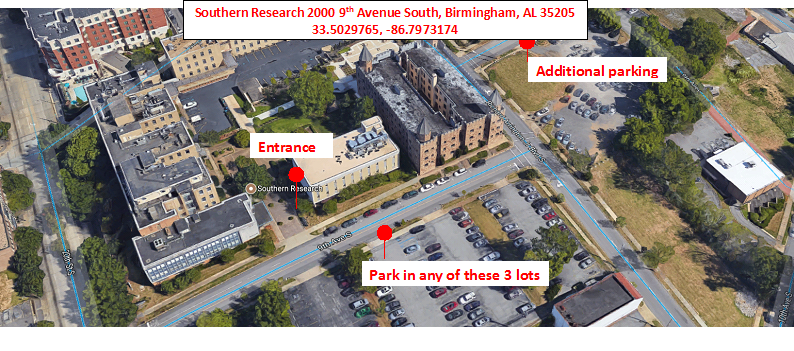 Have questions about Sips & Science? Contact Dr. Kathryn Lanier at STEM@southernresearch.org.
---
---
---
Thank you to our Sips & Science sponsor, The Pharmaceutical Research and Manufacturers of America!

Interested in sponsoring one of our Sips & Science events? Contact Kathryn Lanier at klanier@southernresearch.org.