Description
Southern Research invites you to Sips & Science—an engaging evening event fusing fellowship and fun with the most fascinating scientific topics of our time. Come grow with us!

---
---
---


5PM: Happy Hour
Enjoy complimentary beer and wine while you mingle with Michael Koratich, Associate Director and Head of Oncology at Southern Research.
6PM: "
Slash, Burn, & Poison: A history of cancer therapy. Plus a more promising Present & Future"
It is fitting that we reference patients as battling or fighting cancer since treatments resemble tactics used in war. But, this is a new age and the future looks much brighter. Come learn more about the history of cancer treatment and what great promise the future holds.
---
---
---


Mike Koratich
Michael Koratich is Associate Director and Head of Oncology in Southern Research's Drug Development Division. Throughout his 18-year career at Southern Research, he has focused on supplying the pharmaceutical and biotechnology sectors research and development approaches to help drive their cancer therapeutic programs forward. His group is currently focused on establishing and characterizing models for use in the development of immuno-oncology therapeutics, while maintaining the expertise in small molecule cancer therapeutics for which Southern Research is noted. During his time at Southern Research, he has participated in more than a thousand studies and has played a part in the approval of eight therapeutics.
Prior to joining Southern Research, Michael served for eight years in the US Army at the Army Research of Environmental Medicine in Natick, MA. During this time he explored cellular responses to heat stress and possible connections between gut microbiome and the pathophysiology of heat stroke. He received his B.S. and M.S. in Biology with a concentration in microbiology from California University of Pennsylvania in 1989 and 1991, respectively.
---
---
---


What are my parking options?
Parking is available at 9th Avenue South (see the map below). Once the parking lots are filled, the Five Points South Deck parking garage is available for overflow parking for a $3 fee. It is located at 2012 Magnolia Avenue Birmingham, AL 35203.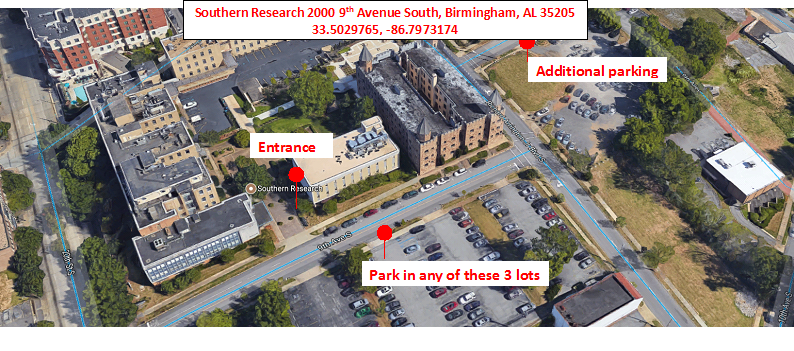 Have questions about Sips & Science? Contact Dr. Kathryn Lanier at STEM@southernresearch.org.
---
---
---
Thank you to our Sips & Science sponsor, The Pharmaceutical Research and Manufacturers of America!

Interested in sponsoring one of our Sips & Science events? Contact Brynne MacCann at bmaccann@southernresearch.org.