Description
Southern Research invites you to Sips & Science—an engaging evening event fusing fellowship and fun with the most fascinating scientific topics of our time. Come grow with us!

---
---
---


5PM: Happy Hour
Enjoy complimentary beer and wine while you mingle with Dr. Landon Westfall, Associate Director of Influenza at Southern Research.
6PM: "A History of Influenza: What we have learned over the last 100 years"
It has been 100 years since the 1918 influenza pandemic swept through the United States, and due to World War I, subsequently spread across the globe. The influenza virus was identified as an influenza A H1N1 strain and from January 1918 through December 1920 caused the deaths of 50 to 100 million people of the world's population. In general, the most susceptible demographic to severe influenza infections are the young and the elderly; however, the 1918 influenza strain predominately afflicted healthy young adults. As a result, the life expectancy in the United States decreased 12 years during this time. It has been said the 1918 influenza killed more people in 25 weeks than the Black Death killed in a century and has been labeled the "greatest medical holocaust in history". Since this time, advances in medical knowledge of disease transmission, prevention (including vaccine, antivirals and hygiene) has limited subsequent influenza pandemics but the influenza virus continues to be a formidable threat to the world's population.
The goal of this talk to is discuss the history and legacy of the 1918 influenza pandemic and how it became a flash point for how we approach medical countermeasures to future influenza pandemics. Additional topics will include the most recent developments in influenza research which will include the future direction of vaccines and antiviral therapies.
---
---
---


Dr. Landon Westfall
Landon Westfall, Ph.D., is a bacteriologist, virologist, immunologist and molecular biologist with 15 years of experience in researching medically-relevant pathogens at both pre-clinical and clinical levels. As associate director of Influenza, he is responsible for overseeing the influenza virology program, both in vitro and in vivo, at Southern Research. He leads the support effort for pre-clinical studies and clinical sample testing by designing and executing validations or qualifications for immunogenicity assays, and managing sample analysis in partnership with both commercial and government clients. In addition, Westfall has experience conducting GLP regulated general safety toxicology studies for newly discovered influenza vaccines in support of regulatory submissions to the FDA.
---
---
---


What are my parking options?
Parking is available at 9th Avenue South (see the map below). Once the parking lots are filled, the Five Points South Deck parking garage is available for overflow parking for a $3 fee. It is located at 2012 Magnolia Avenue Birmingham, AL 35203.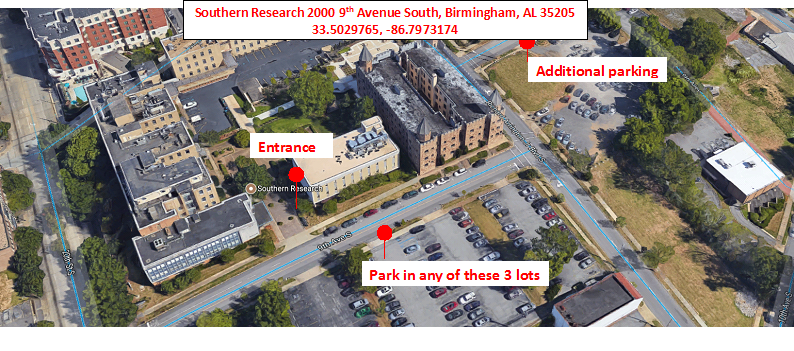 Have questions about Sips & Science? Contact Dr. Kathryn Lanier at STEM@southernresearch.org.
---
---
---
Thank you to our Sips & Science sponsor, The Pharmaceutical Research and Manufacturers of America!

Interested in sponsoring one of our Sips & Science events? Contact Brynne MacCann at bmaccann@southernresearch.org.