Description
Southern Research invites you to Sips & Science—an engaging evening event fusing fellowship and fun with the most fascinating scientific topics of our time. Come grow with us!

---
---
---
5PM: Happy Hour
Enjoy complimentary beer and wine while you mingle with Corey Shum, the Director of the Immersive Experience Lab at UAB.


Want to experience virtual reality for yourself? You're in luck! Corey and his team will be here to guide you through this immersive experience!

6PM: Guest Speaker
Corey Shum directs the Immersive Experience Lab (IXL) at the University of Alabama at Birmingham (UAB), where he leads a cross-functional team of artists, developers, engineers, and programmers to develop application modules that employ immersive virtual reality (VR), augmented reality (AR), and mixed-reality (MR) artificial experience technologies. His current research topics include neuropathic pain, the psychology of embodiment, vestibular rehabilitation, remote physical therapy, and real-time AR display of real-time medical imaging. Corey also directs development of novel and domain-specific devices for real-time human metric tracking and response, including body position, physiology, and attention.



---
---
---
"Virtual Reality: Today and Tomorrow"
High-quality virtual reality technologies are becoming widely available, and they are rapidly improving. Today, we can use these tools to experience far away places, share virtual spaces with our friends, and learn new skills. Artificial experiences can also be used to generate surprisingly deep effects, working to relieve pain, lower stress responses, improve reactions, and modify biases. Corey Shum, director of the UAB Immersive Experience Lab, will discuss the history, current state, and exciting research using Virtual Reality tools to shape and improve our real lives.
---
---
---
What are my parking options?
Parking is available at 9th Avenue South (see the map below). Once the parking lots are filled, the Five Points South Deck parking garage is available for overflow parking for a $3 fee. It is located at 2012 Magnolia Avenue Birmingham, AL 35203.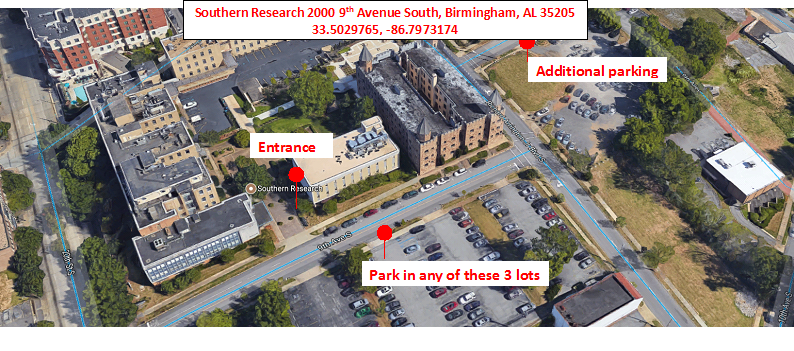 Have questions about Sips & Science? Contact Dr. Kathryn Lanier at STEM@southernresearch.org.