Description
Southern Research invites you to Sips & Science—an engaging evening event fusing fellowship and fun with the most fascinating scientific topics of our time. Come grow with us!

---
---
---
5PM: Happy Hour
Enjoy complimentary beer and wine while you mingle with our featured scientist.

Capture a glimpse of the Ring Nebula in Lyra and the spiral Andromeda Galaxy as you peer into the heavens through the Southern Research Questar telescope!
6PM: "The Origin of Life on Earth"
Dr. Loren Williams, one of the world's most respected Astrobiologists will talk about NASA's efforts to walk backwards in time to try and answer some of the deepest questions of humanity's origin.
---
---
---
Title: "The Origin of Life on Earth"
Presenter: Dr. Loren Dean Williams, Georgia Institute of Technology

Abstract: Life is a master stenographer—writing, rewriting and recording its history in elaborate biological structures. The keys to unlock the origin of life lie encrypted in the ribosome, the oldest and most universal assembly of life. By rewinding—reverse engineering—this ancient tape in a controlled laboratory environment, NASA and Georgia Tech scientists are uncovering the secrets of creation and answering foundational, existential questions about the world around us. They are discovering how to tap information previously hidden within living systems, and are using that information to walk backwards in time, to actually witness genesis. We stand at the edge of a precipice—so close to identifying the natural processes that planted the seeds of life on the primordial Earth.
---
What are my parking options?
Parking is available at 9th Avenue South (see the map below). Once the parking lots are filled, the Five Points South Deck parking garage is available for overflow parking for a $3 fee. It is located at 2012 Magnolia Avenue Birmingham, AL 35203.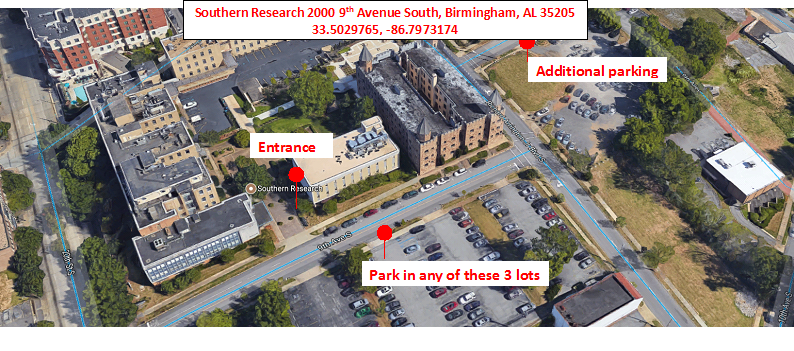 Have questions about Sips & Science? Contact Dr. Kathryn Lanier at klanier@southernresearch.org.