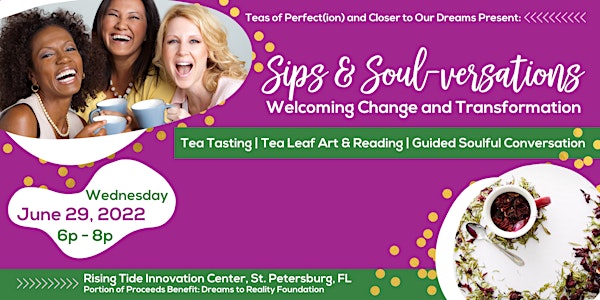 Sips and Soul-versations: Welcoming Change and Transformation
Location
Rising Tide Innovation Center
433 Central Ave
4th Floor
St. Petersburg, FL 33701
Sales Have Ended
Ticket sales have ended
Sales have ended for this event...but the "Follow" us for upcoming Sips and Soul-versations events!
Tea Party with a Soul Twist! Sip tea to Welcome Change and Transformation as you navigate life - with guided convo, tea leaf art and reading
About this event
You're feeling there's change that needs to happen for you. Better yet, you've declared it! Or maybe you're at a place that you know change needs to happen but not quite sure what you're desiring.
In either of these positions, there can be resistance, fear, confusion. Here's your chance to come to a space where you'll be guided and supported in managing these changes – these changes that happen all the time. To manage them, it's about strengthening and becoming aware of you!
Explore what could you use to open your Self to these upcoming changes.
Come to be more at ease with the unknown! What's it like to accept? What's it like to surrender? What's it like to move through the fear?
Change is inevitable and you're more than equipped to handle it. Here's the spot for you to see it and bring it out of you! You'll be guided throughout your Sips and Soul-versations Experience using tools like meditation and visualization, teas and tea leaf art to recognize your resiliency, harmonize your nervous system and be better prepared for what comes your way!
This is Sips and Soul-versations: Welcoming Change and Transformation.
About Sips and Soul-versations
Over tea, some pretty juicy convo's happen and that's what happens…with your Soul!
At Sips and Soul-versations, you're welcome to a space that's open for authentic conversations with your Self and with others (#nojudgmentzone!) while sippin' on some premium tea blends that're designed to support and facilitate the growth and transformations that come from these conversations.
Guided by De'Nicea Hilton Harper, Teas of Perfect(ion) Founder and Doctor of Oriental Medicine, you'll engage in conversations that encourages you to open your Self to Potential and Possibilities that are available to you for your personal spiritual development and growth.
Indulge in teas that were designed to highlight the Spiritual, Emotional and Mental properties of herbs, spices and flowers.
To gain insight from your Soul, you'll create your own tea leaf art and experience a guided reading. With this process, become aware of any Inspired action steps to encourage the transformations that align Spirit, Mind and Body.
Your Experience at Sips 'n Soul-versations includes:
· Opening and closing guided meditation and visualization
· Guided conversation on the day's theme to activate your Soul's development
· Guided tea leaf art and reading to gain insight for guidance in your transformation
· Tea sampling of three (3) teas that complement the event's theme
· Light food to support grounding you during your transformation
· Your choice of one - two (2) oz package of tea blend to take home to continue support beyond the event
Sippin' for Others
Portion of proceeds benefit: Dreams to Reality Foundation

Why the name Teas of Perfect(ion)?
Perfect is a most glorious word that's misunderstood. From the design of the tea blends to the qualities of the Sipper, you're invited to embrace the root meaning of Perfect, being "Whole and Complete."
Perfect(ion) in the Teas
The tea blends themselves are blended to bring in varying notes that harness the energetic and moving actions of the individual herbs and flowers in a way that when you bring them together, they harmonize and feel Perfect - Whole and Complete.
Personal Perfect(ion)
On a personal level, as you indulge in a tea blend, you're receiving the psycho-spiritual and emotional healing properties of the herbs and flowers in the blend. Where it's easy for you to consider the Physical aspect of your Being, Teas of Perfect(ion) highlights the other components of you. This creates the space for you to bridge the Spirit, Emotion, Mental, Physical and Environment together - representing your Perfect (Whole and Complete) Being.
Attract or Repel with Teas
The (ion) at the end of Teas of Perfect(ion) taps into the fact that you're an ionic Being - we attract and repel aaallll the time. As you're delighting in Sips for the Soul, you're asking the herbs and flowers energetic influences to attract what supports your Soul's Healing Evolution and repel what doesn't.

About Creator and Founder, De'Nicea Hilton Harper
When learning about the myths, misinformation or no information (and the harm it does!) when it comes to women's reproductive health, De'Nicea just had to specialize in it as a Doctor of Oriental Medicine and Holistic Well-Being Consultant.
In her virtual practice, Hilton Holistic Health and Wellness, she uses a blend of modalities building on the Eastern Medicine foundation (like meditation, functional medicine, medical intuition and more.) Believing that "serious healing doesn't have to be so serious," she creates playful healing spaces for women who're desiring to get to deeper meanings of her Spiritual, Emotional, Mental and Physical health, especially when it comes to hormones, menstrual cycles and fertility.
De'Nicea uses her gift of seeing how things are connected and explaining it in a way that just 'clicks.' This gift comes in handy when she's working with women holistically (bridging things together) and when facilitating workshops/break-out sessions or speaking about Holistic Health, Hormone Health or Women's Reproductive Health. Keep up with De'Nicea and what she's doing at deniceahilton.com/connect.