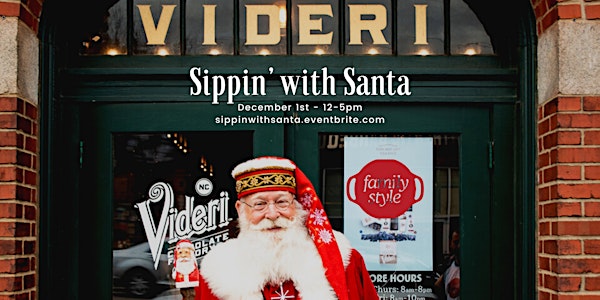 Sippin' w/ Santa 2019
When and where
Location
Videri Chocolate Factory 327 West Davie Street Raleigh, NC 27601
Description
The folks behind Family Style have been hard at work to take the stress out of your family photos with Santa. To achieve this lofty goal, we have pulled a few strings and arranged for Santa to make an early stop in Downtown Raleigh. Lured by promises of chocolate and frothy beverages, Santa will be visiting two local landmarks: Videri Chocolate Factory & Tasty Beverage Co.
Sippin' w/ Santa goes further to allow families the opportunity to experience an elf-guided tour of the chocolate factory. During the tour, your family will receive one complimentary, locally-roasted hot chocolate (4oz). After sipping hot chocolate with the big guy, your entire family will have a chance to pose for pictures that will be emailed directly to you (perfect for printing, posting on social media or adding to ye' olde Christmas card). After your photo session is complete, step next door to Tasty Beverage Co. where you will receive a Christmas-themed beer (after all, parents deserve a sip for themselves).
Last, but certainly not least, we must remember that Christmas is the Season of Giving. EVERY ticket sold includes a donation to Inter-Faith Food Shuttle's BackPack Buddies Program. BackPack Buddies is designed to provide children from low-income households with 10-12 pounds of nutritious kid friendly groceries for the weekend when free school lunches and breakfasts are not provided. As full-time educators, the fam behind Family Style has experienced first-hand the meaningful impact of the BackPack Buddies Program on some of our most vulnerable students and families!
We can't wait to share this experience with each of you, as we raise money for this worthy cause!