Description
LAST REMAINING $10 TICKETS. NO SALE AT THE DOOR.
COME ANYTIME BETWEEN 6 and 10PM.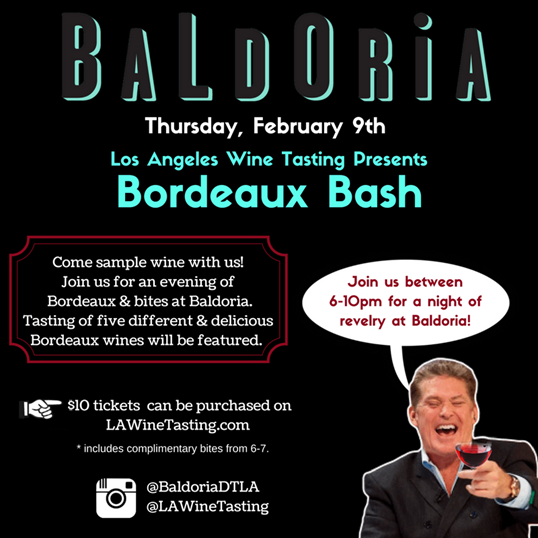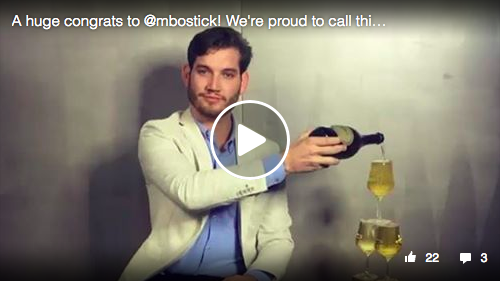 Join us at Baldoria for our next SIP+MINGLE! Come by yourself or with friends, and sip on great Bordeaux wines by the glass (or available for tasting) and specialty cocktails.
Unveil a Bordeaux wine selection specially curated for the event by Matt Bostick, the ex Mozza somm visionnaire that opened successfully Baldoria less than a year ago. He probably is one of the best that I know to demystify and un-elite-izing the world of wine in a very attentive and professional manner. In 2016 Zagat selected him among the "30 under 30" food & drink "rock stars redefining the industry". He definitely is one of these (genuine) talents reshaping the LA dining scene right now! Join us for a special Bordeaux soirée and discover Matt's left & right bank picks and food pairings.

Come early and enjoy complimentary bites the first hour. You will see that Bordeaux don't have to be expensive to be tasty and made organically. Taste different cuvées from this top classic appelation from France and learn more about them in presence of wine importer Benjamin Rousseau of famed Bordeaux merchant Duclot La Vinicole!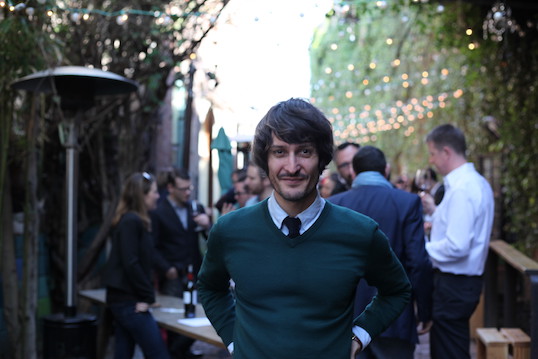 Benjamin Rousseau was born in Paris and quickly moved to Bordeaux where he developped an early taste for the wines of the region. He studied International Business in Portsmouth – England and holds a Master's Degree in Marketing and Negociation from the University of Lille. He started his career as an International Buyer at Carrefour and then spent the last ten years advocating the wines of Bordeaux to the restaurants trade in New Zealand, Australia and France. After 3 years in New York as the Head of Sales for Duclot Benjamin just moved to Los Angeles to run their new office in California.
Time Out Los Angeles: "Bottled cocktails, shareable plates and a killer happy hour make this Little Tokyo bar the perfect place to kick back after work."
Zagat: "Baldoria's hip, communal dinner party vibe fits Little Tokyo. The new spot from Osteria Mozza and Cube alums, including co-owner David King and executive chef Duke Gervais, is a full-service restaurant and bar in the former Aburiya Toranaku space."

Check out also the raving reviews on Yelp!!
------> EVENTBRITE TICKETS INCLUDE Access to the SIP+MINGLE Soirée at Baldoria anytime from 6 to 10pm + Complimentary Gourmet Bites during the first hour (6-7PM) + a Perfect Mingling Networking #AfterWorkLAWT Atmosphere with other Angelenos at a Select Venue + $25 of Free Ride Credit with Lyft (new users only - see details below ***). PLEASE NOTE: EVENTBRITE TICKETS DO NOT INCLUDE WINE OR DRINKS.
------> FOOD, WINE & CRAFT COCKTAILS WILL BE ON SALE AT THE BAR.

Check out BaldoriaDTLA.com for more details about this venue!
DRESS CODE - Important: Business/Upscale Casual, Cocktail Chic. NO T-Shirts. NO Sneakers. Jacket Recommended for Men. Dress Shoes.
MUST BE 21 AND OVER TO ATTEND. EVERY GUEST'S ID WILL BE CAREFULLY VERIFIED UPON CHECK-IN. ABSOLUTELY NO EXCEPTIONS. PLEASE ENJOY RESPONSIBLY.
** Don't worry about taking your car... and take Lyft to the hotel! Your ticket includes a $25 credit for new users with code LAWINE. Lyft is a mobile app that lets you request a ride from a fully-vetted, hand-selected community of drivers at the push of a button. For this soiree attendees, Lyft has kindly offered $25 of free credit (first users only). Just download the Lyft app and enter LAWINE under settings to take a free trip on us.
TICKET POLICY: All sales are final. NO CREDIT. NO REFUNDS. A name change however can be done anytime until the event starts.
QUESTION? email at events@lawinetasting.com