Sip, Swap, and Shop!! Clothing Swap + Holiday!

Sunday, December 4, 2016 from 12:30 PM to 2:30 PM (EST)
Event Details
*+We want to remember to keep it classy as we swap and save! So it goes without saying only bring items that are -clean, and are in good to excellent used or unused condition. No holes, broken zippers, stains etc.
There is $5 for entry and the clothing drop-off will be at 12:30p.m. to provide time for the sorting of items. Swappers who enter will be able to mingle and enjoy light snacks and beverages until the Swap area opens at 1pm. We ask that everyone bring a minimum of 5 items (there is no max.) to ensure that we have an abundant selection of clothing and accessories to choose from and to make things fair. If you don't have 5 items you would pay $5's or $1 for the no. of items that you do not have (ex. 3 items pay $2).  Volunteers will aid in the processing, and sorting of clothing and accessories for set-up (in the beginning) and break-down/packing away (at the end). Volunteers will be allowed early entry/preview to the event.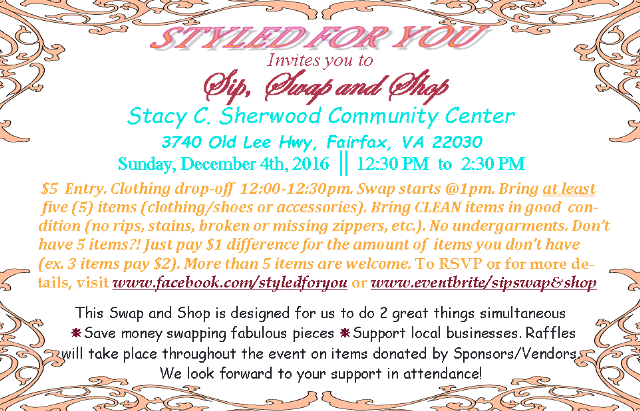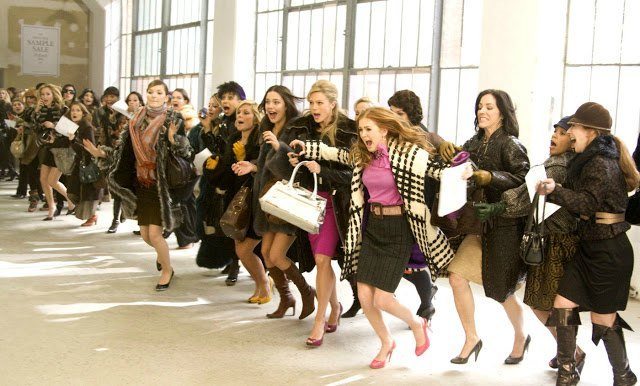 Do you have items that you just can't part with - without receiving some return on your investment? Items that are just too good to SWAP and you would rather have them SHOPPED?! We will have a SHOP sale section for approved item.   We have a retail connection if you have top designer brands to help you receive an immediate return on that investment as well. Visit the organizer the day of the event in this case.
Please register so that we have an approxiamite count of the number attendees sot that we can prepare for sips and eats. Entry payment can also be made at the door.
We had a really great supply of items to Swap at our May event and we have left over and expect that more fabulous things will be brought in this time as well. Let's keep it going!!
Vendor space is available but limited so space will be reserved on a 1st come 1st serve basis. Contact organizer if you are interested.
PARTICIPATING VENDORS


FAQ


What can/can't I bring to the event?
Please bring:
* Only fashion forward clothing and accessories (even if it's no longer your style it maybe for someone else, but nothing from the 90's beyond
* Clean garments and accessories (ready to be worn)
* Items with No need of repair
Please Do Not bring:
* Undergarments even if unworn
* Oversized IKEA type shopping bags, so there can be plenty to go around.
 Question submitted about the Swap and Shop
Do the SHOP items need to be specific brand names? 
No. The items Do Not have to be any particular name brand. They do have to be items in like new or excellent condition mid to high value even if you decide to sell them at a low price. This is to prevent basic tees things of that nature ending up in this (Shop) area.​​
 If the SHOP items do not sell, then would the left over items be expected to be given as charity or donated to the Sponsors/Vendors? 
If the items do not sell then you can take them back with you. Shop items are to be priced at a price you determine and are returned if they do not sell. There is a small fee that will go to Styled For You if the items do sell, this is for providing the space, the attendees, the event and service in order for the items to be sold. Email info@styledforyou.com for specific details.
Is there a limit on the number of items brought in?
There is no limit on the items that can be brought in to be swapped, as long as they are in excellent or good conditions (used or unused), which will be confirmed in the sorting process.
Will there be a fitting area provided?
We are planning a fitting area.
What time would be your suggestion to come?
We suggest coming at 12:30pm especially for SHOP items to give  your items the maximum viewing audience, however the event isn't over until 3pm.
Where can I contact the organizer with any questions?
If you are a Vendor and would like to participate in the Shop area of our event please feel free to call at 571-766-8055 or email info@styledforyou.com
What is the refund policy?
No refunds will be given. Tickets can be purchase at the event if space is available or as space becames available.
When & Where

Stacy C. Sherwood Community Center
3740 Old Lee Highway
Fairfax, VA 22030


Sunday, December 4, 2016 from 12:30 PM to 2:30 PM (EST)
Add to my calendar
Sip, Swap, and Shop!! Clothing Swap + Holiday!