Event Information
Location
Downtown Antigo
5th Avenue
Antigo, WI 54409
Join us in Downtown Antigo for the Sip & Stroll Wine Walk!
About this event
We are excited to invite you to join us for the Sip & Stroll Wine Walk in Downtown Antigo. The walk will stop at participating businesses with 2 pours of Wisconsin Wines at each stop and appetizers/snacks.
Tickets will be limited to 300 available online starting April 2, 2022. Must be 21 or older to participate.
Explore shops and businesses in Downtown Antigo as you taste a variety of wines. Registration includes a commemorative wine tumbler, wristband, wine basket raffle entry, wine samples, appetizers/snacks, and shopping specials at a variety of Sip Stops.
TIMELINE
2-4 p.m. Registration Open
3 p.m. Sampling BEGINS
3-7 p.m. Sampling
7 p.m. Sampling ENDS
TICKETS - $35 per person (includes processing fees). Limited to 300 tickets. Must be 21 or older to participate. Tickets are non-refundable.
HOW IT WORKS - There are more than 20 Sip Stops on the Walk. Each Sip Stop will have 2 ounces of wine samples available.
To start the walk, each ticket holder must check-in at Harper's Mercantile, 824 5th Avenue, Downtown Antigo, between 2 p.m. and 4 p.m. on the day of the event to show your ID (proof of legal drinking age), pick up your wristband, and wine walk passport listing the participating businesses and map. Each ticket holder will begin their adventure, proceeding to desired Sip Stop listed on the passport, and enjoy wine tastings.
No samples will be poured BEFORE 3 p.m.
No ID = No Wristband; No wristband = No wine.
You may NOT pick up wristbands for other ticket holders. Wristbands will be secured at check-in.
Participants return their completed stamped wine walk passports to Wild Epitome, 816 5th Avenue, Downtown Antigo, to pick up their commemorative wine tumbler and register for the wine basket drawing.
The wine walk is a rain, snow, shine event. No refunds.
THE RULES - Must be 21+
Must provide proof of legal age at wristband check-in.
No wine will be served before 3 p.m.
All wine must be consumed before leaving a Sip Stop location. Wine is not permitted outside of the participating Sip Stop.
No open intoxicants in public spaces!
Do not ask participating businesses to over-pour or give you an extra swig.
TIPS
Bring your ID
Wear comfortable shoes and weather-appropriate clothing; you will be walking outdoors between Sip Stop locations.
Cross the street at crosswalks.
Post photos to Instagram and Facebook using hashtag #sipandstrollwinewalk #downtownantigo
Come on down and join us - it's going to be an exciting day! Discover downtown Antigo, Wisconsin, and make memories that will last a lifetime.
Participants agree not to hold the Antigo/Langlade County Chamber of Commerce and any participating businesses responsible for damages, liabilities, and losses that may occur at or during the event.
A Special Thank you to our
Sip & Stroll Wine Walk Sponsors!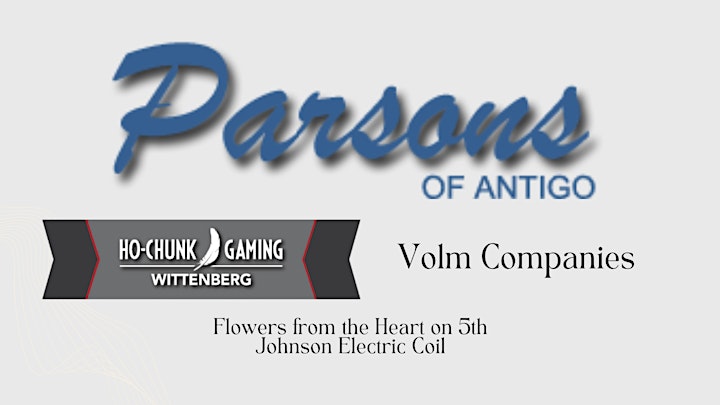 Date and time
Location
Downtown Antigo
5th Avenue
Antigo, WI 54409
Refund policy