About this Event
ALL AGES WELCOME!
Celebrity makeup artist will break down , step by step, the proper technique to achieve her signature natural, every day glam including brow shaping, base application,foundation, highlight and contour, applying false lashes, and more.
Things Class Will Cover:
• Prep and priming
• Eyebrow sculpting
• Soft/Neutral Eye Shadow placement
• Simple Eyeliner and Eyelashes
• Foundation, concealer, contour and highlight application
• Blush
• Lip liners and Lipstick
•Face Setting
• Q&A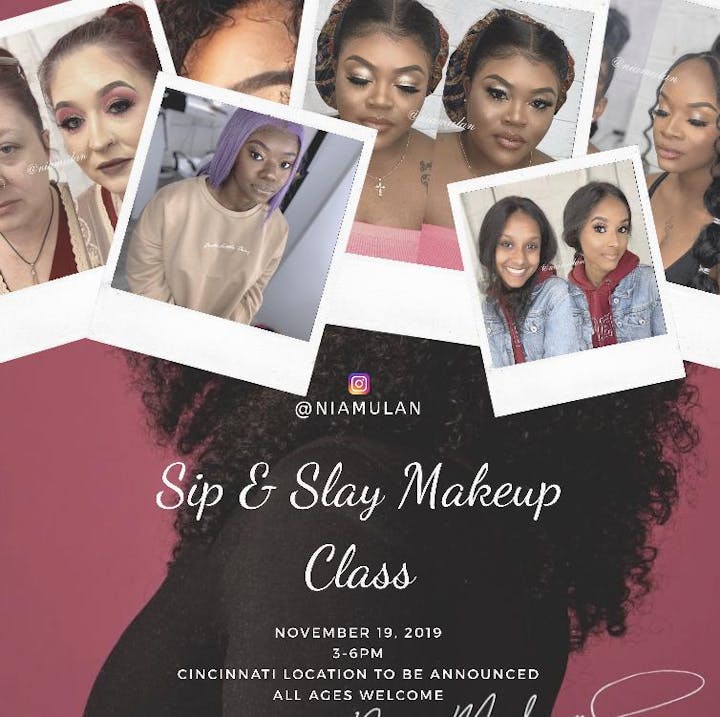 Frequently asked questions:
"Will I receive a product list ?" If you would like a recommended product list please message the artist at 5132005417!
"Do I need to bring my own makeup and mirror?" Yes, please be sure to bring your own makeup bag and personal mirror (IF applicable). If you have any questions or don't have a personal mirror to bring, feel free to contact the artist at 5132005417 at any time!
"Will the demonstration be self application or on a model?" The class will be taught self application style, so don't forget your beauty bags! You will be shown how-to on live model projected on a big screen.
"Where will this class be hosted?" This class will be hosted at a location in the tri-state area of Cincinnati Ohio that is to be announced!