Shop for Mother's Day, sip on some tea, and enjoy an early spring evening supporting a great cause in Nashville.
About this event
May is also Mental Health Month! Promises Behavioral Health is providing resources to learn about new mental health programs coming to Nashville this spring. Gifts from Thistle Farms will be included with your ticket, and special discounts on t-shirts from mental health brand, Have Heart Co, will also be available!
This event will be held indoors with a limited number of shoppers per hour. Please pick a time when purchasing your ticket.
In honor of Mother's Day Weekend - Bring your mom and she shops free!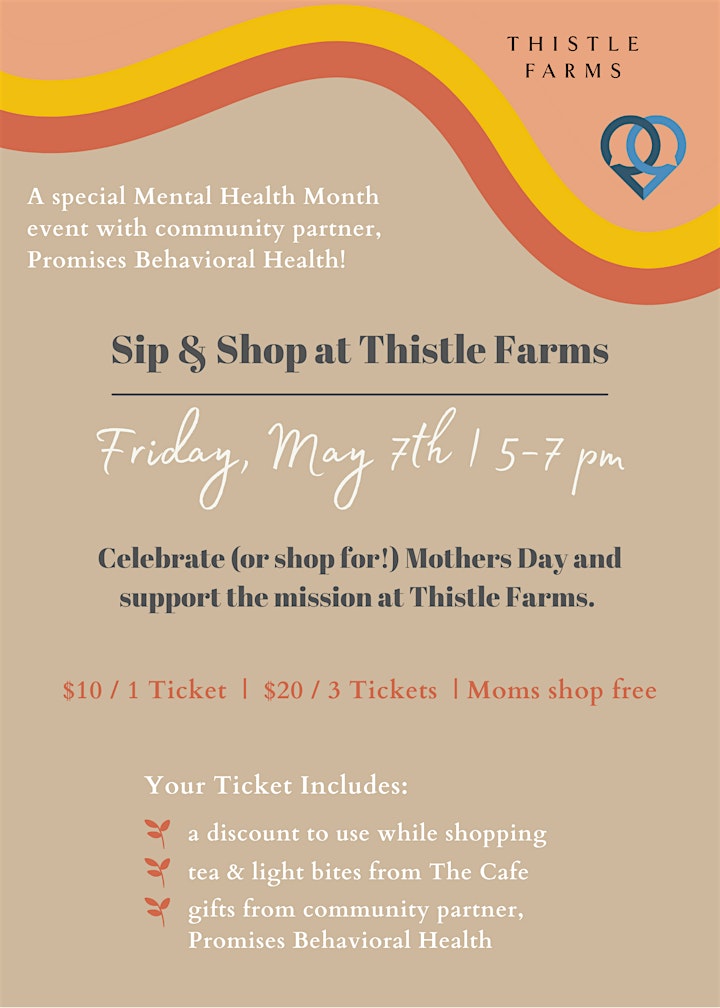 About Thistle Farms
Thistle Farms is a nonprofit social enterprise dedicated to helping women survivors recover and heal from prostitution, trafficking, and addiction. For over 20 years, Thistle Farms has been ensuring access to safe and supportive housing, financial independence, and a lifelong community of support and sisterhood.
A pillar in the Nashville community
Meaningful employment leading to financial freedom is instrumental in the healing journey. The 3 social enterprises - Body & Home, The Café, and Global Shared Trade - provide both gateway and permanent jobs for survivors, as well as revenue for the mission.
Women survivors provide leadership roles in every department. Over the past year, these enterprises collectively reached more than 40,000 customers, providing over $2m in income for survivors.
About Promises Behavioral Health
We exist to provide hope, transformation and connection for life!
Promises Behavioral Health is a leader in mental health, drug/alcohol/sex addiction, eating disorders, and trauma treatment.
With it's headquarters in Brentwood TN, Promises Behavioral Health is a family of centers nationwide ready to help you achieve recovery. By providing unique options in healing environments, Promises Behavioral Health addiction and mental health treatment changes the way we approach recovery. Whether you're looking for treatment for yourself or for a loved one, our team is ready to help every step of the way. #ipromise
Have Heart Co
Have Heart Co. is a mental health awareness brand selling apparel and accessories in support of mental health advocacy efforts. A portion of all sales is donated to initiatives that are supporting those with or at risk of mental health disorders. Mental health impacts so many individuals around the world and Have Heart Co wants to break down the negative barriers that surround it. The goal is for people to wear the clothing and accessories proudly as a symbol of what they have overcome, in support of others, and to serve as an opportunity to initiate conversations about mental health.