Description
GRAB YOUR GIRLFRIENDS FOR SOME FUN AND SHOPPING BEFORE THE HOLIDAY MAYHEM HITS!
SIP: fabulous wine with tasting courtesy of Putnam & Vine - Wines and Spirits.
SHOP: over 30 local, independent and small businesses.

CLOTHING, JEWELRY, HANDBAGS, SCARVES, ACCESSORIES, GIFTS, HOME DECOR, GOURMET FOOD, SKINCARE AND MORE!
Plus, turn your unwanted gold and sterling silver jewelry, watches, flatware and hollowware into money on the spot...and shop some more!

SHARE: a portion of the proceeds will be donated to Swim Across America Fairfield County to benefit Alliance for Cancer Gene Therapy (ACGT), headquartered in Stamford and the nation's only non-profit dedicated exclusively to funding breakthrough cancer gene therapy research.
FREE admission. CASH bar. No denim please.
#SipShopInnisArden
Join us in promoting Greenwich as the premier place to live, work and play.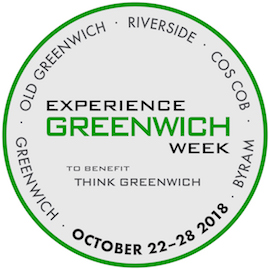 Shop, dine and explore all Greenwich has to offer during Experience Greenwich Week, happening October 22-28. A town-wide economic development enhancement initiative featuring experiences, in-store promotions and restaurant specials throughout the week. Pick up an Experience Greenwich Week Passport at participating merchant locations. Visit www.experiencegreenwichweek.com for all the details and learn how you can win one of over twenty-five "Greenwich Experiences".
---
TASTINGS
Wine: Putnam & Vine - Wines & Spirits - Elegance meets approachability at your neighborhood wine shop. Specializing in incredible value and unparalleled customer service, our staff are here to help you find the perfect bottle for every occasion. Whether it's pizza night with your friends or a gift for your wine loving boss, the right wine will elevate your experience to unforgettable. Free local delivery to OG, Riverside, and Greenwich!

Food: COBS Bread - Fresh, handcrafted bread and treats. Quality, carefully sourced ingredients. Friends and family. Passion and curiosity. We're up at the crack of dawn so our bakeries smell like Mom's kitchen. After each day of sharing our love for all things fluffy and flaky, we pay it forward by donating any unsold goods to local charities.
VENDORS
Claudette - Ladies' clothing and accessories
Couture Planet - Fashion forward handbags and accessories from 100% post-consumer newspaper bearing headlines from the world of fashion, art and culture, food, travel and sports.
Designer Sunglasses - Authentic designer sunglasses, i.e. Ray Ban, Maui Jim, Tom Ford, etc., Eyebobs, eyeglasses.
habitatgreenwich - A design haven and specialty boutique offering unique pieces of furniture, textiles, artwork, jewelry and gifts. Giving back to a different local non-profit each month and supporting local and worldwide artisans.
Herde de Ferme - A collection of unique, luxury accessories and home décor utilizing alpaca fleece. Handcrafted by skilled artisans in Peru, Herde de Ferme's organic, cruelty-free products are stronger than wool, softer than cashmere and made to last a lifetime.

HOBBS LONDON - Understated British style for the smart busy woman. Beautiful Suiting, Romantic Occasion Wear Pieces, Italian made Footwear and Boots, Tailored Dresses, Merino Wool tops, Feminine Coats and Jackets are all favorites of Princess Kate, Duchess of Windsor.
Ilyse's Pieces - Handcrafted jewelry with a modern twist, using natural gemstones, pearls and diamonds.
In2Design - Unique jewelry hand-crafted using only the best quality freshwater pearls, precious metals and semi-precious stones, as well as unexpected materials such as suede, leather or silk cord. Created by Swedish-American designers and inspired by the simplicity and modern elegance of Swedish design, with an eye to the American woman. Fun and affordable.
Jane Franks Designs - Wyse and Cove cashmere

J.Hilburn Custom Menswear - Nancy Carr, Personal Stylist - Discover the confidence-boosting power of a custom-made wardrobe with J.Hilburn and my personal styling services. I'll meet with you, at your convenience, to understand your clothing needs and assess your fit and style. From t-shirts and polos to chinos and 5-pockets, button downs and suiting to tuxedos and outerwear, we've got you covered for any occasion. Enjoy exquisite Italian fabrics, personalized construction, and quick delivery all for a value no one else can approach.

Katie Bartels - Colorful statement jewelry inspired by world travels and handmade in NYC.
Liberty Gold - Take a moment to look through your jewelry boxes for broken gold chains, bracelets, single earrings, sterling silver jewelry, flatware and holloware. Bring it with you and turn it into money on the spot! And 60% of the profits will be donated in YOUR name.
Lotsa_Bags - Two moms who love fabulously fun bags! Unique designs & hand painted woven bags from Morocco

Meena Creations - Handcrafted sterling jewelry with semi precious stones. 'One of a kind' designs reflecting the beauty and aura of gemstones. Made in USA at my workshop in Middlebury. Option of customization/variety of gemstone usage as per client needs.

Millianna - Friends Sharmilla and Arianna design jewelry that is statement-driven yet timeless, comfortable yet sophisticated. Their designs are inspired by various art movements throughout history, tempered by popular culture, to create pieces that are both elegant and meaningful. Each MILLIANNA piece is intricately handmade by skilled artisans in Spokane, WA. Many of the artisans who work with MILLIANNA are women who arrived in Spokane with the World Relief Organization. MILLIANNA is proud to support this organization as it resettles refugees escaping persecution in their homelands.
Moes Monkeys - MoesMonkeys products are all handmade in super soft fleece and imported cotton. Pants, dresses, leggings and toddler sets provide warmth without weight for any child's activities in door or out. Sizes from infant to adult medium. Our concept is to produce the most comfortable and long lasting clothing.
Monogram Mary - Offering colorful and timeless gifts, totes, bags, jewelry, linens, glassware + more, personalized with a choice of 100 monograms
Neelah Cashmere - cashmere throws, wraps, cashmere/silk sweaters made in Nepal.
Paper & Stitch - Specializing in custom Home, Stationery and Accessories, perfect for hostess gifts, wedding, and special celebrations. Also perfect grab and go gifts for teachers, girlfriends, mothers and co-workers.

Roseann Benedict, Realtor, William Raveis Real Estate - An accomplished local agent who brings a strategic yet personable approach to the home buying and home selling process, Roseann has built a reputation for her refreshingly friendly customer care and proven ability to guide buyers to obtain the best value for their dream home and to assist sellers to a smooth, stress-free sale of their home.

Salt Cave of Darien - Experience a sense of calmness and wellness, by breathing in 84 essential minerals and invigorating negative ions, while resting in a cave-like atmosphere covered in Himalayan salt. This will leave you relaxed and rejuvenated along with other health benefits!
Seven Barrels -Olive oils and aged Italian balsamics.

Shoes 'N' More - We specialize in fresh contemporary looks, as well a sophisticated modern approach to fashion. We make sure that all of our footwear, clothing, and accessories are affordable with a luxurious feel. We are your one stop shopping destination!
Soundview Millworks - Personalized Cutting Boards for Land and Sea. The perfect gift for someone who has everything. Personalize the board with unique handle offerings, initials, monograms or custom images. Shipped directly as gifts with note cards!
TallOrder - Fun, fashionalbe socks, not just for tall men, but for all men in sizes 9-11, 12-15 and 16-20. We donate a portion of our profits to Tuesday's Children, a non-profit organization who helped us after we lost our dad on 9/11 and which now helps other communities facing traumatic loss and also families of our fallen heroes.
Therese Custom Designs - Custom designed crochet jewelry that can be stacked, mixed and matched with your existing pieces to create your perfect look. Featuring the signature love knot pendant, the perfect piece for any occasion.
The Two Oh Three - We are CT's lifestyle brand. Started by a brother-sister-duo on a mission to celebrate Connecticut!

Too Sparrows - A small Fashion Boutique that brings happy fashion styles at a price that will keep you smiling. Featuring jewelry, bags, clothing and kids trinkets carefully curated from local and international trends. Custom clothing and purse designs.

True Cocktails - A delicious, natural, low calorie crystalized cocktail mix, currently available in margarita and cosmopolitan flavors.
Turq Sport - A unique collection of men's and boys' amphibious performance underwear designed to keep active guys cool, dry and chafe-free.
W by Worth - Fall/Winter 2018 Exceptional Woman's Fashions. Contact Julie Faryniarz jfaryniarz@wbyworth.com (203-912-9543) to set up an appointment to shop the entire Fall/Winter 2018 collection during our official show dates Oct 12-25 and 10% of order will be donated to Swim Across America.

Walker & Wade - Walker&Wade started with a kaftan and a family vacation in Bali…The inspiration for the line is to bring a little bit of the beach back home. We believe in vivid colors, a carefree lifestyle and resort wear year round. It's our "beach-to-table" philosophy! The collection reflects our passions: color, pattern, and travel. Our design process brings together ikats, batiks, tie dyes, and silks from Bali. Our trademark is the custom bead work all done by women artisans, working at home, empowered to provide a better life for their children.

Wick&Laz - Lindsay and Cristina bring you unique clothing and accessories from around the world.
Zahra Sewn - Designer pillows and unique, high-quality handmade gifts sewn with love in Stamford, CT by an Afghan refugee, wife and mother of four.
---

Swim Across America, Inc. is dedicated to raising money and awareness for cancer research, prevention and treatment through swimming-related events including numerous open water swims across the country from Boston Harbor to under the Golden Gate Bridge. Founded by Darien Connecticut, resident Matt Vossler and his college roommate Jeff Keith in 1987, its roots are firmly anchored in Connecticut and along the shores of Long Island Sound. With the help of hundreds of volunteers nationwide and past and current Olympians, Swim Across America is helping find a cure for cancer through athleticism, community outreach and direct service. In recent years, the swim's theme has been, "We are More than a Swim, We are a Cause," which led to additional events to support fundraising, such as the Shop & Share and Sip & Shop events. To learn more visit swimacrossamerica.org/greenwich or follow on Facebook, Twitter or Instagram.

Established in 2007, Swim Across America Fairfield County (previously the Greenwich-Stamford Swim) has raised more than $3.8 million in 12 years for the Alliance for Cancer Gene Therapy (ACGT), the nation's only foundation dedicated exclusively to funding cancer gene therapy research. 100% of funds contributed by Swim Across America to ACGT go directly to research. To learn more, visit acgtfoundation.org or follow on Facebook, Twitter or Instagram.