Description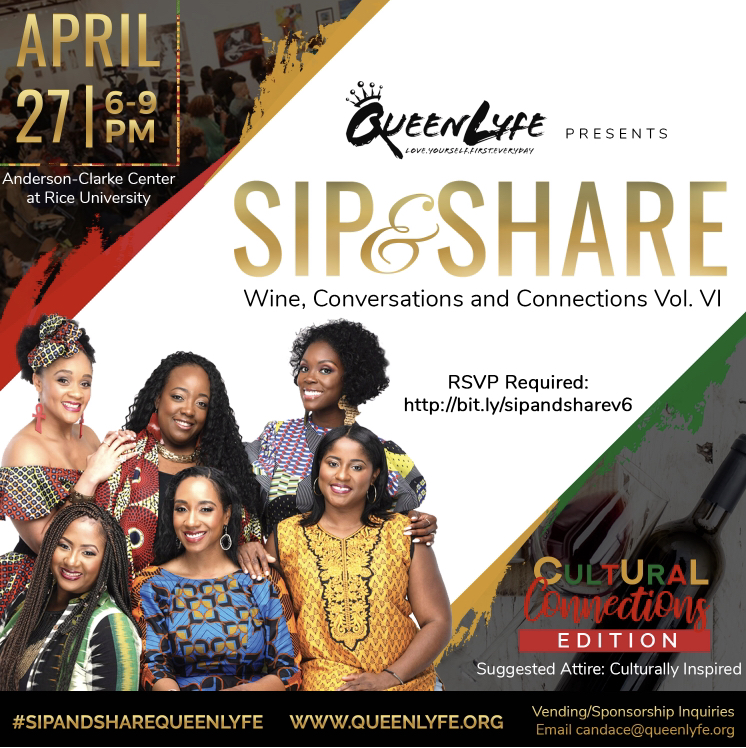 QueenLyfe, Inc. Presents:

"Sip and Share" Wine, Conversations, and Connections Vol.VI The Cultural Connections Edition
Guess Who Back? #SipandShareQueenLyfe!
QueenLyfe, Inc. invites you to experience "Sip and Share" Wine, Conversations and Connections Vol. VI. THE CULTURAL CONNECTIONS EDITION!
Diversity is key to Houston's identity, however diversity lines get skewed and we are often grouped into broad categories. QueenLyfe, Inc. believes that building bridges through exposure is key to strengthening our "Cultural Connections". Join us for a dynamic evening of deep conversation, artistic expressions and interactive experiences. This celebration of culture will enhance your awareness to cultural sensitivities, international food and wines, music, fashion and global travel!

Our distinguished panel of culturally aware speakers will be announced soon!
Intimate breakout sessions will allow guests to build connections by smaller interactive group discussions.
Hors d'oeuvres and fine wines included with ticket purchase.
Suggested Attire: Culturally Inspired
*Complimentary parking for SIp and Share guests is located at lot West 5. Entrance #8 at the intersection of University Boulevard and Stockton Drive provides the easiest access to West 5.
Early-bird RSVP strongly encouraged, previous events have sold out, this will be no different!
For brand exposure or sponsorship inquiries, please contact info.queenlyfe.org
A portion of the proceeds will be donated to "Project Mona-Lisa", a QueenLyfe, Inc. self-esteem building initiative.
Footage from Sip and Share Vol. IV "The Pursuit of Purpose" Edition: SIp and Share Vol. 4 Highlights
Follow us! Facebook, Instagram
#goodVibesOnly #SipandShareQueenLyfe #CulturalConnections
www.queenlyfe.org