SIP & SEE Networking Social Richmond NSBWEP
NSBWEP Presents...Richmond Area NSBWEP SIP & SEE Networking Social
About this event
This is a complimentary event. Use promo code - NSBWEPRVA - for complimentary ticket.
Richmond Area Wedding & Event Professionals...join NSBWEP on September 21st to learn more about the organization. Take a peek at one of RVA's newest Black-owned venues.
This event is open to Members & Non-Members in the surrounding Richmond, Virginia area.  (MAXIMUM 30-PERSONS FOR THIS EVENT).
Individuals attending the event will have to provide proof of vaccination record or negative COVID test (conducted within 72-hours of event) for entry to the event.  NO EXCEPTIONS.  Bring documentation with you to the event.
NO ONSITE REGISTRATION.  ALL ATTENDEES MUST PRE-REGISTER.  REGISTRATION DEADLINE – OCTOBER 20TH. 
NOTE:  Event Registrations are non-refundable and non-transferrable to a future event.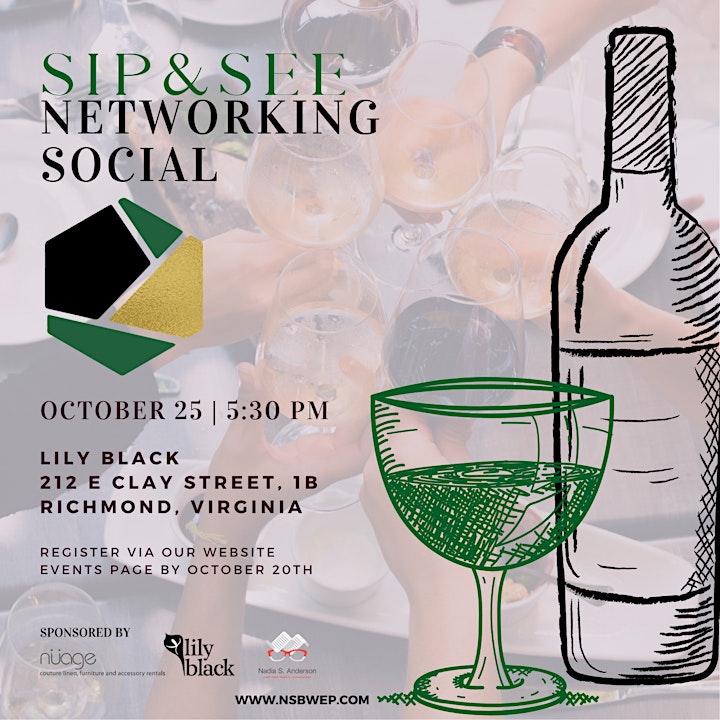 Organizer of SIP & SEE Networking Social Richmond NSBWEP