Description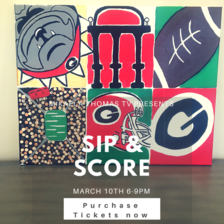 Sip & Score Presented by Mikaela Thomas TV:
March 10th 6-9pm @ Westobou Gallery
The perfect fun night with a SPORTS twist - paint sports themes, eat, mingle, and drink! Enjoy trivia questions and door prizes! Whether it's DATE night or GIRL's night - You don't enjoy sports it's still the perfect opportunity to create the perfect sports gift for HIM!
General Admission $45.00 per person
"JUST THE TWO OF US" SPECIAL: You and your date join us at Sip & Score at a discounted price and receive a professional photograph of you and your date (photos will have a backdrop and will be emailed out to guest) for ONLY $80! Inquires for this rate must be emailed over to Mikaelathejournalist@gmail.com
Due to venue policies - guest are NOT allowed to bring their own alcohol.
BUT, don't worry, the ticket price includes paint, paint brushes, canvas, and unlimited complimentary food and drink!!!
*Standard Processing Fees Apply and All Sales Are Final*
***Event Sale ends February 23rd at 10pm***