Sip & Paint To Live Poetry OPEN MIC NIGHTS 2nd Fridays - Paint, Poet...
Description
Add A Sip and Paint Nite To Your Poetry on the 2nd Fridays
Or Just Purchase Tickets for Poetry Night Only
Let's Try Something New and Wonderful - Sip & Paint with Live Poetry Friday Nites are for Uncensored Self-Expression -
*** NOVEMBER 9th Sold Out ***Other dates Available***
Poetry Night is FREE when you purchase a ticket for Sip & Paint & Poetry.
See below and make sure to purchase an amazing Sip & Paint experience complete with an evening of live Spoken Word.
Sip & Paint Night is from 8pm Sharp - 10pm. Please arrive early to check in and be seated before Poetry Begins.

---
Poetry Night
With your Host M.A. Dennis - the rhythm and the beat of poignant words, clever stories, deep messages - it's often raw - always uncensored - and the way Poets make it happen - bringing in the light, unguarded, and always brilliant. Now that's a Friday Night Vibe - Nights On Linden Blvd., Queens.

Must be 18 years of age. Doors open 7:30. Refreshments available. Best To Sign-Up in advance, but Walk-Ins Welcome (Poetry, Singers, Rappers).
Email: QueensUndergroundPoets@gmail.com with all of the vital details and all of your contact info.
Follow us: IG @QueensUndergroundPoets and @QueensCenterArts
Watch For the new Website: QueensUnderground718.com
Featuring a Live Radio Show, Live Talk Show, & Digital Magazine
-All about your favorite Poets, Performers, Visual Artists & Entrepreneurs
Recording Studio Coming Soon!
A Friends and Family Event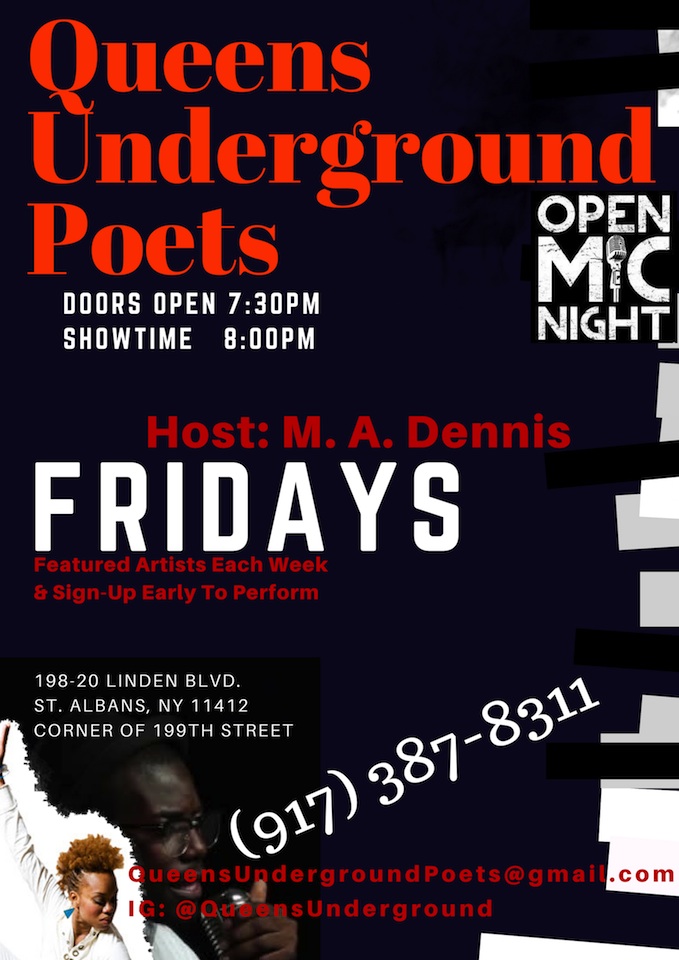 P A I N T & P O E T R Y