Sip, Paint and Soar to New Heights
About this Event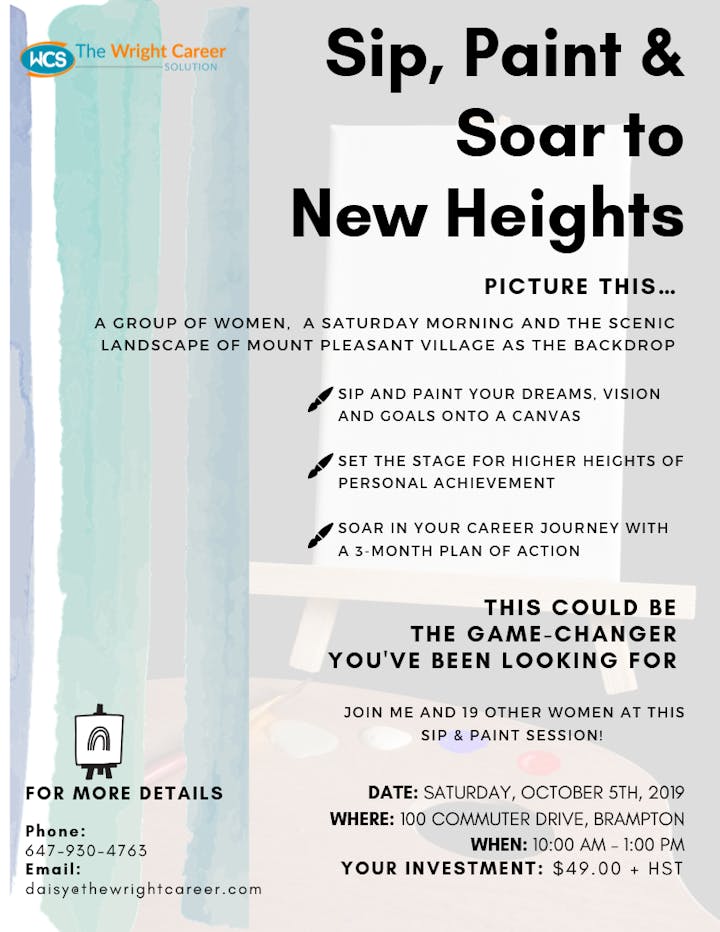 Most people know that one of my goals as a coach is to invest my time creating value for others (and myself).
In 2017, I hosted a Career Renovation Day. In 2018, it was Vision Board Day, and on January 12, this year, I hosted a #WhyNotMe event, pulling together a group of women to get a head start on their 2019 goals.
After each event I would be asked when will be the next one.
Well, the next one is here, and you are invited!
Look at it like a 'Mini Retreat' where you will forget your Saturday morning chores, and prepare for a half day of fun, relaxation and goal-setting with a group of professional women. The day is structured to help you get focused on achieving your goals for the last few months of the year, or get a head start for a really successful 2020.
Register now!
The Sip & Paint portion will be led by an art teacher. You will be given your own art canvas to paint your own piece of art. No painting experience required.
These are some of the questions you will be contemplating afterwards:
📌 What do I want to accomplish before the end of the year?
📌 What do I need to do to make it happen?
📌 What support do I need from others to make my dream a reality?
📌 Who can I seek support from to move me closer to my goals?
📌 What positive self-talk do I need to have about myself?
You will leave the session with a painting of your own, a 3-Month Plan of Action, and a structured follow-up process to keep you accountable as you work towards goal achievement. In addition to some surprise gifts, one lucky person will be my guest at Jack Canfield's One Day to Greatness live event happening on October 26, in Toronto
There are only 20 spaces, so register early!
Refreshments (non-alcoholic beverages) and all paint supplies will be provided. Your artwork will be yours to take home, but not the easels.
Your Investment: $49 + HST
Come and experience 'Coaching with a Twist', and be prepared to have fun and get energized as you end 2019, and begin 2020!
Disclosure:
Due to the nature of the event, tickets are non-refundable, but transferrable. Register and find you can't make it? Pay it forward by offering the ticket to a friend or colleague.
Tickets are required at registration.
Download the Flyer above, and share it with someone who would benefit from the day's event!