Event Information
Refund Policy
Refunds up to 30 days before event
Description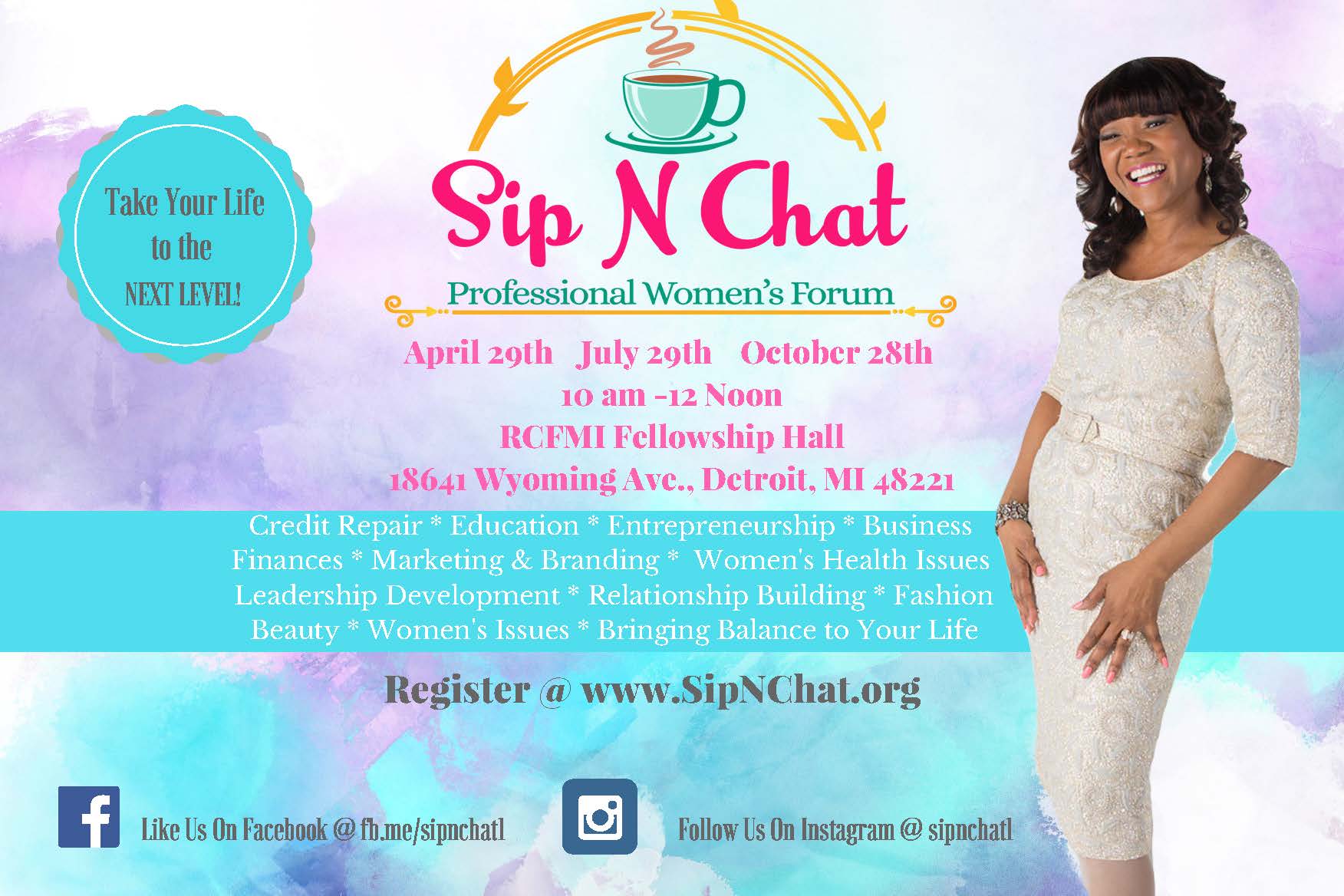 Sip N Chat Professional Women's Forum is an organization to assist women in reaching their maximum potential Emotionally, Professionally and Socially by providing women with the ability to succeed in all facets of life. Sip N Chat seek out professionals in their field of expertise to educate women on specific areas that are indispensable and will bring about inspiration and empowerment!
Sip N Chat will host quarterly forum discussions focusing on:
· Finances
· Retirement
· Credit Repair
· Education
· Entrepreneurship
· Women's Health
· Women's issues in the marketplace, family, business
· Bringing balance to your life
· Fashion
· Leadership
· Beauty
· Relationship Building
Our Mission is to empower women in the workplace, marketplace and community by promoting education, training, and professional development. Sip N Chat Professional Women's Forum will empower women interested in leadership, career advancement, networking and Professionalism from a generational perspective while connecting with like-minded women to obtain success. Our mission is to support professional women who are specialist in their field of interest and who will present their expertise to other professional women who are motivated to reach their maximum potential. Sip N Chat's motto: Each one will Reach one.
Sip N Chat meets Quarterly on Saturdays from 10:00am – 12:00noon
Continental Breakfast is served at 10:10am!
Sip N Chat's forum is Saturday, October 28th. We will have a special guest speaker Dr. Nicole Farmer, of Lifeline Business Consulting, who has been recognized for her distinctive voice and insight of the journey of entrepreneurship. After becoming the first African American woman to own a Tuffy Auto Service franchise in 2006 and running her own multi-million-dollar company, Farmer launched Lifeline Business Consulting Services. She subsequently founded LifeLine business Consulting and has since coached thousands of entrepreneurs realize their dreams of entrepreneurship and receive millions of dollars in funding.
You don't want to miss this!! This is a free event for Sip N Chat Members. Invite as many ladies as you can. A special Gift will be given to the Sip N Chat attendee who has the most guests!!
Dress Code: CEO Business Attire!
Date and Time
Location
Redeemed Christian Fellowship Church - Fellowship Hall
18641 Wyoming Avenue
Detroit, MI 48221
Refund Policy
Refunds up to 30 days before event