Description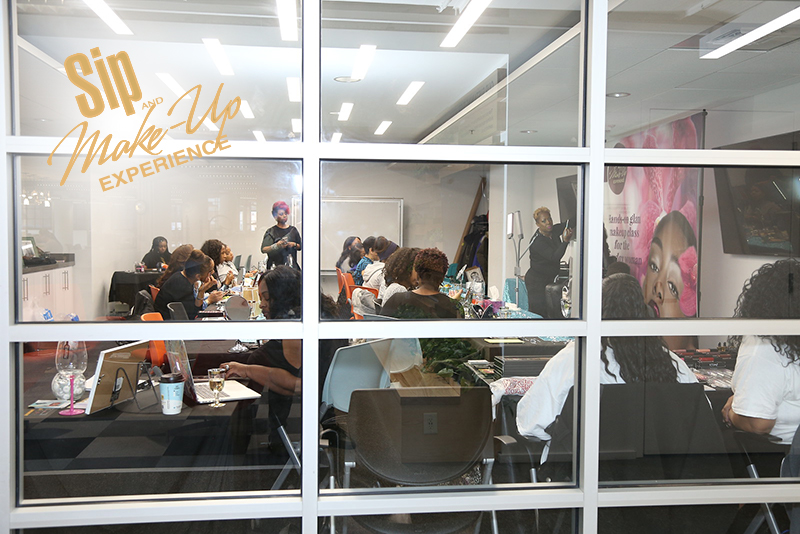 Back by popular demand, Sip & Make-up Experience! This course is a hands-on workshop that teaches you how to create subtle to sultry eyeshadow looks to take you from day to night, shaping eyebrows with pencil and concealer, strip eyelash application and the tools to do it like a pro! This class has good girlfriend time where you can come and fellowship and network. You can ask questions and get hands-on advice about your makeup needs from professional make-up artists.
Call:
The Vivid Glam at 313-355-0162 or email lnoble@vvsol.com with any questions
Who is this class for?
This class is for the makeup beginner who is just starting out and the makeup addict who just loves makeup and wants to get better at the application. We can teach you new techniques no matter where you are on your makeup journey.
Things to know before you come:
Bring your own makeup products and makeup utensils. If you don't have products, we will have some that can be purchased. We have Sip & Make-up makeup bundles for the makeup novice.
We will provide food, sips. Make sure you come prepared to have a great time talking and laughing with other wonderful women.
What items should you bring to this class?
Makeup brushes and sponges

Gel Eyeliner or Pencil and Mascara

Eyeshadows

Strip Eyelashes
Testimonials
"My boyfriend loved it! He kept asking me if I did it myself and I said yes! LOL He loves when I wear makeup. The ladies were fabulous!" - Tiffany
"Great experience that enlightens your makeup experience. Awesome tips and tricks that give you a choice! and not always expensive choices." - Ann-Marie
"It was an informative and fun experience. I learned that each brush has a different purpose. The one-on-one help was great." - Elna
Parking Instructions:
Parking available at the corner of Cass & Amsterdam
Lisa and Risse your Sip & Make-up Instructors, Makeup Artists, and friends look forward to seeing you in class.
Please also inquire about sponsorship opportunities at the email or number above.