Sip & Make bath bombs, over 21 only - Tues February 12
Sales Have Ended
Ticket sales have ended
Thank you for joining our class! You are now scheduled to attend the bath bomb making class at a private home in Discovery Bay. Please wear clothes that you aren't afraid to get dirty - you may get some on your clothes. We will take care of everything else - like all supplies and clean up. Remember to be there on time. We will start promptly at 11am and end at 1pm. We will stop making soaps at 12:30pm so that we can "cure" the bath bombs in the molds and pop them out before you leave. If you wish to purchase anything additional we take cash, or credit card (we use Square)
Sales Have Ended
Ticket sales have ended
Thank you for joining our class! You are now scheduled to attend the bath bomb making class at a private home in Discovery Bay. Please wear clothes that you aren't afraid to get dirty - you may get some on your clothes. We will take care of everything else - like all supplies and clean up. Remember to be there on time. We will start promptly at 11am and end at 1pm. We will stop making soaps at 12:30pm so that we can "cure" the bath bombs in the molds and pop them out before you leave. If you wish to purchase anything additional we take cash, or credit card (we use Square)
About this Event
Join us for a fun 2 hours of making easy bath bombs that will be sure to please you. We will handle all the mess and you will have fun and relax on the water, sipping wine and making nice gift or personal use bath bombs! We have many fragrances & essential oils to choose from and you can color the bath bombs in different natural clay or mica pigments. , The ingredients are non toxic and your bath bomb you take home will be ready to use!
Choose from circular shape, heart shaped, cupcake shape or flat top and painted(personalized even). Tons of fragrances and essential oils, like vanilla, lavender, cherry, almond, orange, lemon verbena, peppermint, rose, jasmine, lemongrass, and more! Colors - shades of pink, purple, blue, yellow, natural and green! We use Brazilian clays of rose, violet, sea clay and red clay. Top them off with sea salts!
Want to do more? If time allows you may purchase more ingredients and do another! You will make at least 4 to 6 bath bombs each with your $10 payment on Eventbrite. We sell additional materials if you need/want in class. Want to make them at home? No problem, we give you the recipes.
Venue is a Private home on the water - with a nice outside deck. Really nice venue that is cozy and comfortable. Bring what you like to drink! We provide water & some cheese & crackers and you can bring your wine to sip on while you make them. We will have some hot cocoa, tea and spiced apple cider as well. Feel free to bring your own food or beverages (wine/beer ok)
Anyone can join over 21!
If you are not completely satisfied - we can try again, or give you a discount code to use for the next class. Want to make more come back to another class and we will give you a discount.
Other crafts and items available for gifts to purchase as well. Thanks - Kate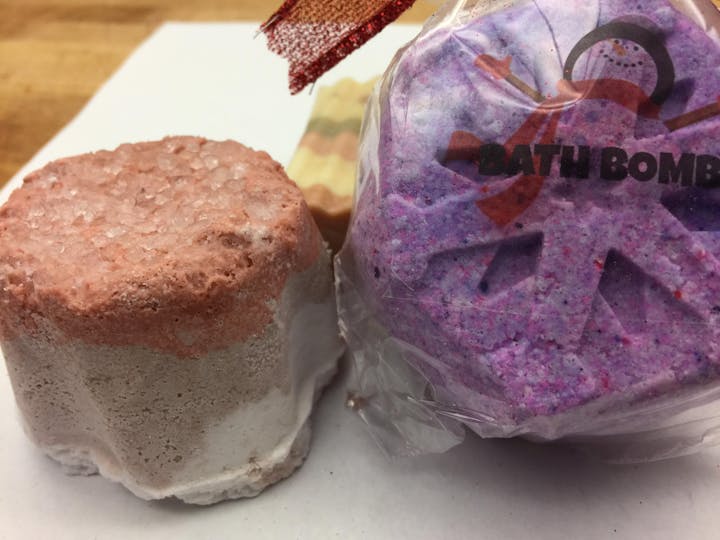 Example of a lavender vanilla and clay bath bomb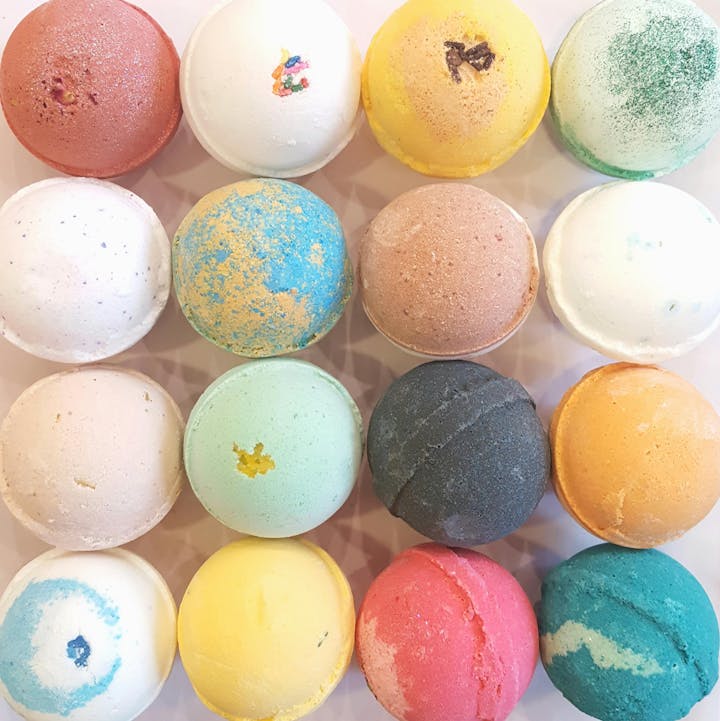 example of colors using the round bath bomb molds