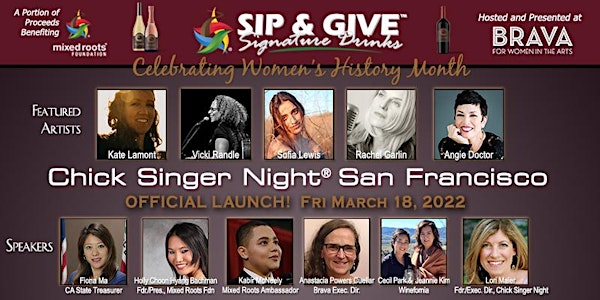 SIP & GIVE Featuring Chick Singer Night San Francisco Presented @BRAVA!
Join Us! Celebrating National Women's History Month | Official Launch of Chick Singer Night San Francisco Plus Debut of Mixed Roots Wine!!
When and where
Location
Brava Theater Center 2781 24th Street San Francisco, CA 94110
Refund Policy
Contact the organizer to request a refund.
Eventbrite's fee is nonrefundable.
About this event
VERY IMPORTANT NOTICE: BRAVA THEATER COVID-19 PROTOCOLS
All patrons must show proof of full vaccination (Pfizer/Moderna - 2 doses, Johnson & Johnson - 1 dose PLUS Booster by 3/11/22)
All patrons must be masked when not eating or drinking.
Photo ID and vaccination cards required for admittance to the theater.
Booster shot required OR negative COVID-19 test (antigen - within 24 hrs, PCR - within 48 hrs).
For more information, please visit HERE:
The Mixed Roots Foundation is proud to celebrate Women's History Month with the debut of their new Mixed Roots Wine Collection and the official launch of the San Francisco chapter of Chick Singer Night, the world's longest running songfest for female artists.
A portion of proceeds from this event will go to the Mixed Roots Foundation. Founded in 2011, Mixed Roots Foundation is a 501(c)(3) nonprofit organization celebrating its 11-Year Anniversary based in Los Angeles, CA with regional offices in San Francisco, CA, Minneapolis, MN and New York, NY and serves as the first and only national / global multicultural foundation for adoptees and their families representative of the international, domestic, and foster care adoption experience and improves the lives of those touched by adoption and foster care by leveraging philanthropy and grassroots fundraising to support important post-adoption resources including mentoring, DNA testing and unique scholarships/grants for adoptees, foster youth and their families.
Chick Singer Night San Francisco (CSN SF) debuts at the Brava Theater on Friday, March 18, 2022. What started in Chicago over 30 years ago has grown into an international presence with chapters in over 20 cities nationwide and abroad including Los Angeles, New York, Boston, Nashville, Houston, Hawaii, Minneapolis, Las Vegas, Dallas, Stockholm Sweden, and more! The mission of CSN is to help female artists in all aspects of their musical lives with a showcase that welcomes all singers to share a stage free from competition or criticism. Host for the launch of the first San Francisco CSN songfest is CSN Founder and Executive Director Lori Maier. The evening will showcase five featured singer/songwriters including a surprise Special Guest Artist, all backed by the incredible CSN Band!
The Brava Theater is one of the Bay Area's most eclectic and multi-faceted arts venues whose mission is to cultivate the artistic expression of women, people of color, youth, LBGTQIA, and other underrepresented voices. CSN San Francisco is honored to host our first show at this historic San Francisco site.
Our SIP & GIVE VIP reception begins at 6pm, debuting the Mixed Roots Wine Collection with a brief program that will share Welcome Remarks by California State Treasurer Fiona Ma and Advisory Board member of Mixed Roots Foundation, Mixed Roots Jr. Ambassador, Kabir McNeely and a special Wine Tasting (21+) that will be presented by the first and only Korean / Asian American female Winemaker in Napa Valley, Cecil Park, Founder of Winefornia.
To learn more and purchase the Mixed Roots Wine, please visit mixedrootswine.com. Tickets for the SIP & GIVE VIP reception portion of the evening include admission to the show. Chick Singer Night begins at 8pm (lobby doors open at 7pm).
It's sure to be a night of spectacular wine and extraordinary music. Come celebrate the history and spirit of Chick Singer Night as we launch in San Francisco, recognizing and honoring Women's History Month and raising awareness and funds for Mixed Roots Foundation, an organization that serves the global multicultural adoption and foster care community and their families. See you on Friday, March 18!!
PROGRAM AGENDA AT A GLANCE + BIOS
6:00 p.m. - Opening | Networking
SIP & GIVE VIP Reception includes Snack Boxes and Wine Tasting (21+)
6:15 p.m. - Brief Program
Venue Host/Welcome - Brava Theater Center
Stacie Powers, Executive Director
Welcome Remarks - California State Treasurer, Fiona Ma
Sponsors Remarks - Oportun
Benefiting Charity - Mixed Roots Foundation
Holly Choon Hyang Bachman, Founder and President
Kabir McNeely, Jr. Ambassador
Community Partners
SF Human Services Agency (HSA)
6:30 p.m. Wine Tasting + Debut of Mixed Roots Wine (21+)
Jeannie Kim and Cecil Park, Winefornia
Holly Choon Hyang Bachman, Mixed Roots Foundation
7:00 p.m. - Break / Networking
Doors Open to Public
Brava Theater Concessions Open
8:00 p.m. Show Time: Chick Singer Night - San Francisco
Welcome Remarks: Brava Theater Center
CA State Treasurer, Fiona Ma
Sponsors
Mixed Roots Foundation
Lori Maier, Founder/Executive Director, Chick Singer Night
Featured Artists - Vicki Randle
Rachel Garlin
Angie Doctor
Kate Lamont
Sofia Lewis
9:30 p.m. Thank You | Closing Remarks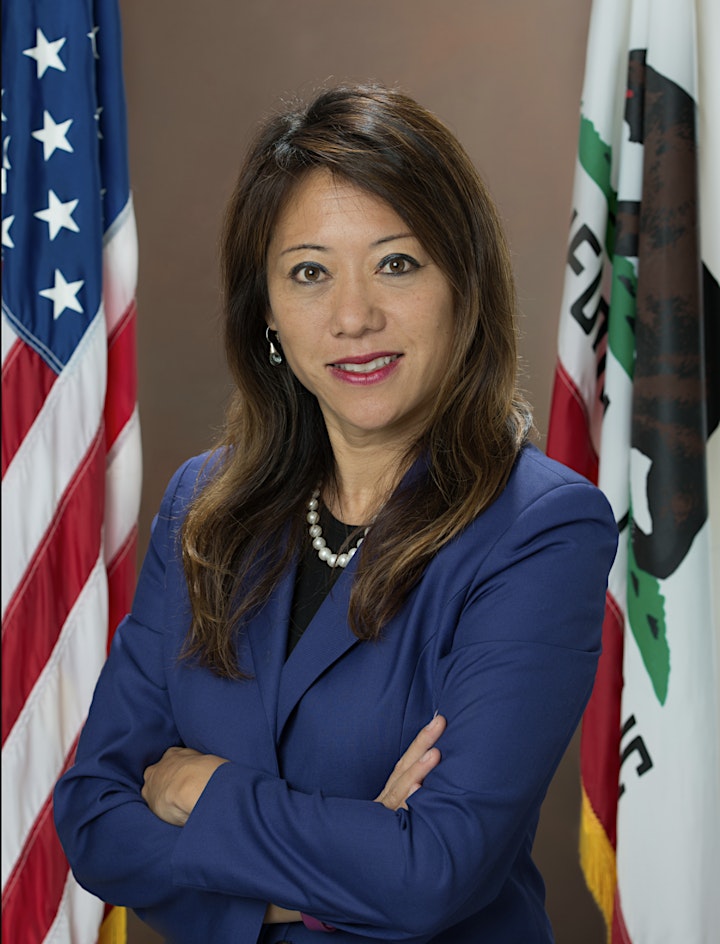 Fiona Ma, CA State Treasurer - Fiona Ma is California's 34th State Treasurer. She was elected on November 6, 2018 with more votes than any other candidate for treasurer in the state's history. She is the first woman of color and the first woman Certified Public Accountant (CPA) elected to the position.
California is the world's fifth-largest economy and Treasurer Ma is a proven leader as the state's primary banker. As Treasurer, her office worked quickly to respond to the COVID-19 pandemic, offering resources to small businesses and expanding access to healthcare facilities. She grew and revamped the state's affordable housing and homeless housing programs, funded clean energy projects to create new jobs, and dramatically increased Californians' ability to save for college, retirement, live with a disability and achieve a better quality of life. At the same time, she bolstered support for K-12 and higher education.
Her office processes more than $2 trillion in payments within a typical year and provides transparency and oversight for an investment portfolio of more than $90 billion, approximately $20 billion of which are local government funds. She also is responsible for $85 billion in outstanding general obligation and lease revenue bonds of the state.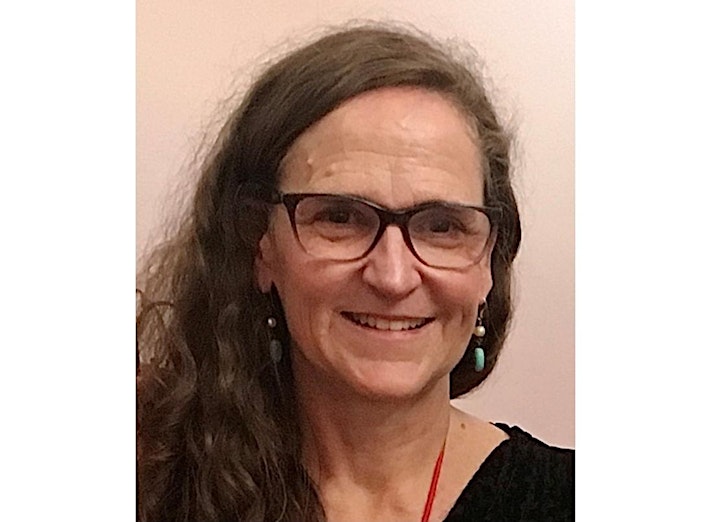 Anastacia (Stacie) Powers Cuellar, Executive Director, Brava Theater
Anastacia (Stacie) Powers Cuellar is Executive Director at Brava. Stacie manages the team at Brava to produce and present thought-provoking and exhilarating productions and works diligently to grow Brava as a center for ignite social change and build community.
Stacie began her career in non-profit arts at the San Francisco Mime Troupe. During her eight year tenure she worked as Stage Manager, Tour Manager, Production Manager, Booking Agent and Community Liaison. After leaving the Mime Troupe, Stacie joined Dr. Loco's Rockin' Jalapeño Band as Business Manager, Booking Manager and Tour Manager, booking over 100 performances a year for the band during her tenure. In her roles at both the San Francisco Mime Troupe and Dr. Loco, Stacie toured extensively throughout the United States, Nicaragua, Canada, Mexico and Cuba.
In 2012, Brava's Board of Directors appointed Stacie to the position of Executive Director. With 30 years of arts administration and production experience in San Francisco, Stacie ushered in a new era of stability for the organization. During her tenure at Brava, she has revitalized Brava's long-standing youth program San Francisco Running Crew, revived the capital project to renovate the building's three storefronts to create necessary office and performance space, and launched Brava Presents to deliver an eclectic array of music, theater, dance, visual, and media art works in collaboration with local artists and arts organizations.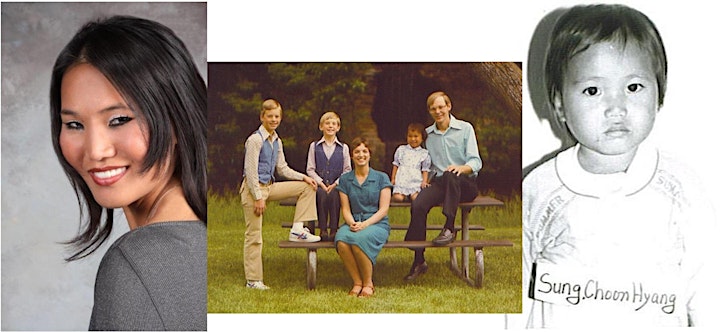 Holly Choon Hyang Bachman, Founder and President, Mixed Roots Foundation
Holly was adopted from South Korea when she was 3-1/2 years old and grew up in Minnesota…Since then she graduated from high school where she started a high school student group called the Mixed Roots Cultural Diversity Group in 1995…Mixed Roots at that time promoted diversity and multiculturalism in the schools and still exists today and has also expanded to the middle school in Owatonna, MN.
In 2011, Holly went onto found the Mixed Roots Foundation in San Francisco, CA and currently serves as President of the organization. Mixed Roots Foundation's fundamental values are based on Identity, Diversity and Unity with the now overall vision to improve the lives of those who have been touched by adoption and foster care by leveraging philanthropy and grassroots fundraising to provide more post adoption resources with its core initiatives focused on mentoring, DNA testing and providing unique scholarships and grants for the adoption and foster care community and their families.
To read more about the Roots of Mixed Roots that started over 25 years ago, please Click HERE.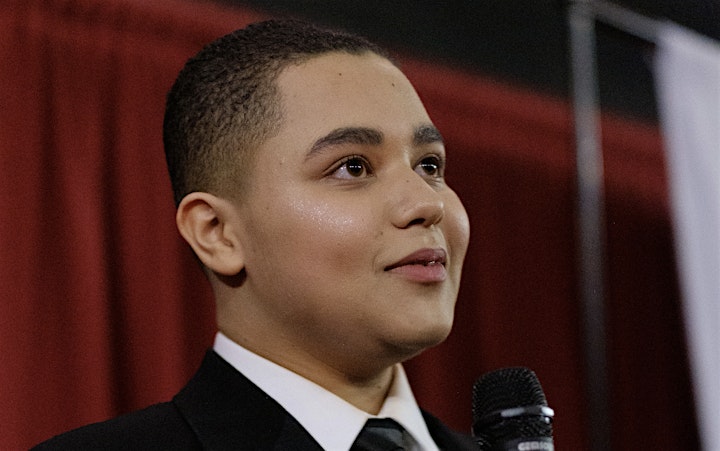 Kabir McNeely - Kabir McNeely is an award-winning actor and filmmaker. He was adopted at birth by Ken McNeely and Dr. Inder Dhillon. He joined the Mixed Roots Foundation at the age of 8 and has served as an ambassador for the organization since. He also serves as a member of the Beyond Differences Teen Board and as a member of the Spahr Center's Youth Coalition.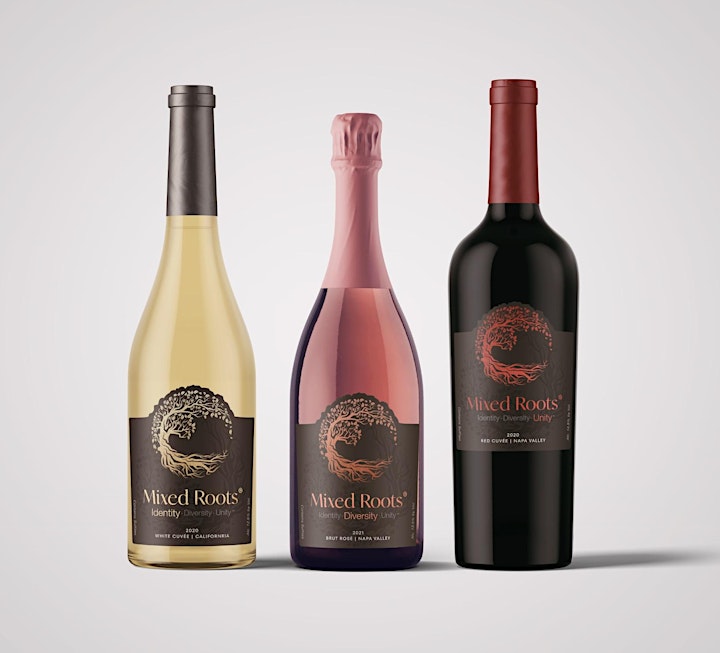 Introducing the Mixed Roots Wine Collection
Vinted and Bottled by Winefornia
Identity | Diversity | Unity
Rooted in multiculturalism, the Mixed Roots journey stated in 1995 as a high school cultural diversity group which still exists today and how has now evolved and expanded nationally to Mixed Roots Foundation that includes raising awareness and funds for the global multicultural adoption and foster care community. The fundamental roots of Identity, Diversity, but most importantly Unity is what Mixed Roots is all about. To learn more and support, visit mixedrootswine.com
Identity (White Blend) - The 2020 Mixed Roots White Cuvee, a blend of Chenin Blanc and Viognier, displays wonderful and slightly exotic aromas of white peach, lychee, ripe Anjou pear, lemon balm and jasmine blossom. Just rich enough, there is a compelling textural interplay between the rounder Viognier and the steely Chenin, creating suspense and tension between delicate flavors of orange marmalade, salted lime, kumquat and quince jam. The wine strikes a deft balance that achieves a near-universal compatibility with any setting or food.
Diversity (Sparkling Brut Rose) - A crystalline, and delicate light-peach in color, The Mixed Roots "Lineage" Sparkling Rosé opens on the nose with brioche, sliced nectarines, and sea spray, followed by hints of kiwifruit, green strawberry and honey graham cracker. Initially broad and creamy in texture, a mineral-inflected mouth-watering acidity gently builds length and structure for fascinating flavors of angel food cake, chamomile tea, miso paste and honey.
Unity (Red Blend) - On the nose, the 2020 Mixed Roots Red Cuvee displays a gorgeous mix of bright red cherries, strawberry jam, and spiced orange peel, with hints of incense and cedar cigar box. Fine and silky in texture, flavors of hibiscus and English breakfast tea are first to arrive, cherry pie filling and warm, light oak follow. A gentle thread of acid lifts in from the mid-palate to the finish, blended invisibly with fruit and just a touch of lithe, silty tannin all the way to the end.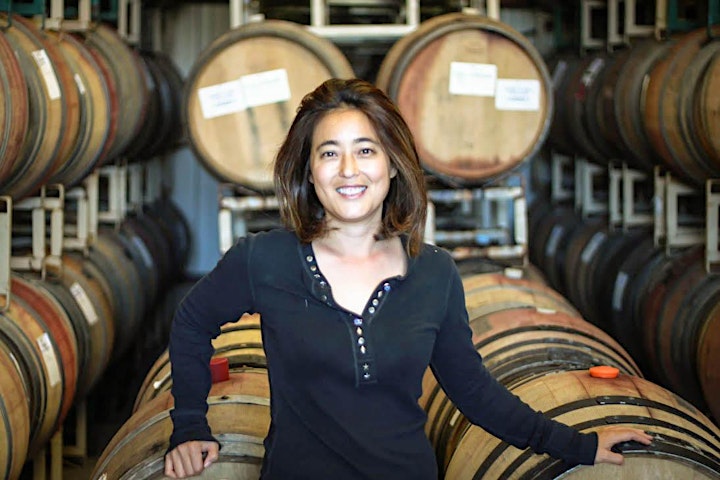 Cecil Park, Founder and Winemaker of Winefornia, a Napa Valley company, was founded by Viticulturist and Master Winemaker Cecil Park in 2007. Ever the pacesetter, she is the first Korean American Female Winemaker, produced highly rated wines, managed over 80 vineyards throughout Napa and Sonoma Counties, and in 2014 launched her own brand of award winning wines, Innovatus.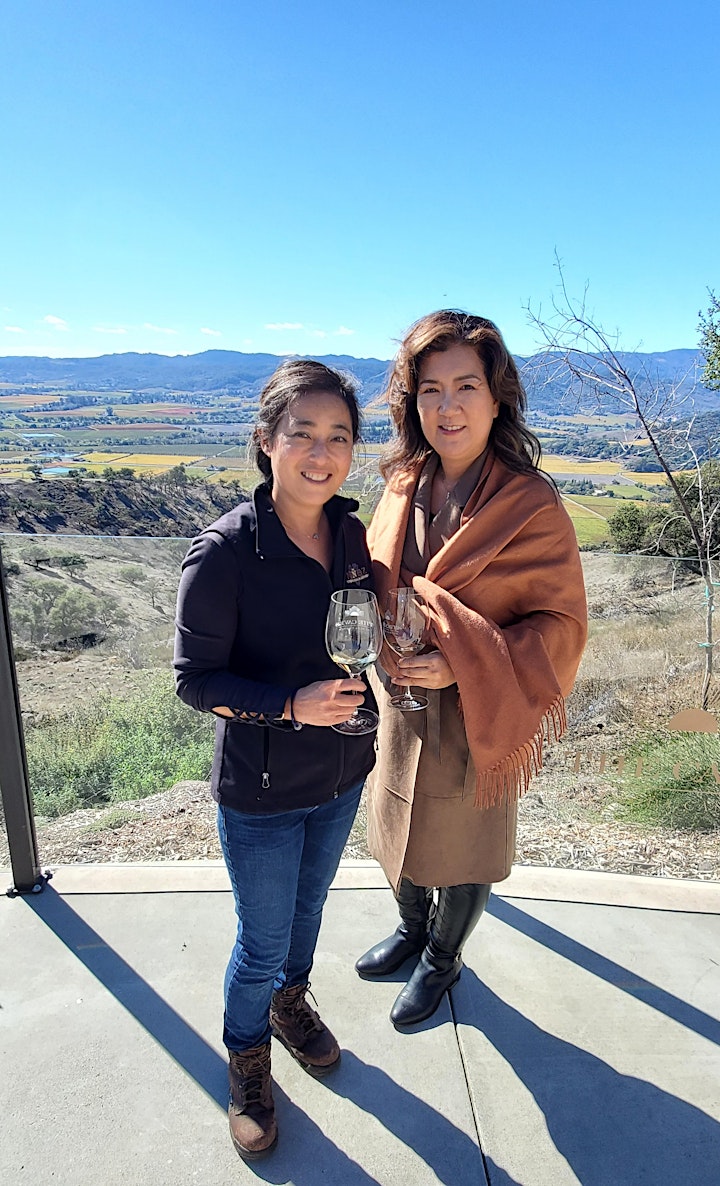 Cecil Park and Jeannie Kim, Winefornia
Winefornia based in Napa Valley, provides Consulting, Winery Development and Design, Private Labeling services (for sponsors, corporate events, restaurants) and continues entering Innovatus in Wine Competitions. Along with Cecil, Winefornia was joined by Bay Area Entrepreneur Jeannie Kim, a restaurateur for the past 16 years in SF, to assist with handling all aspects of the business and the cuisine used for tastings, catering, and wine club events they regularly produce.
CSN FEATURED ARTISTS
Vicki Randle | Rachel Garlin | Angie Doctor | Kate Lamont | Sofia Lewis
Hosted by CSN Founder Lori Maier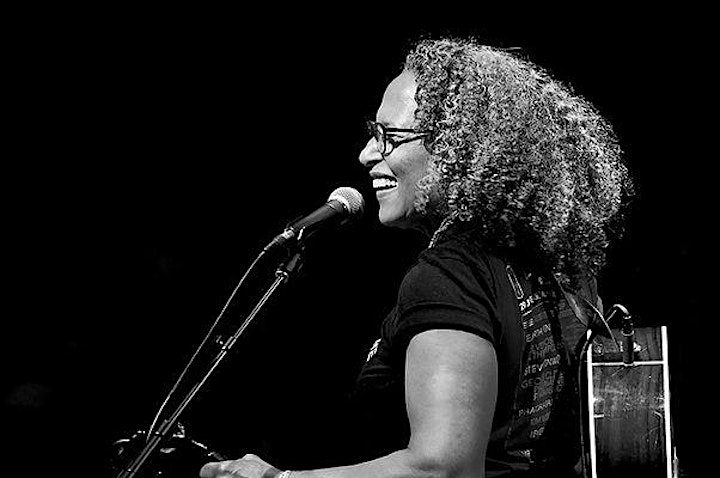 Vicki Randle's destiny was foreshadowed by the fact that her mother's baby shower was held at the Oakland club where her jazz pianist father was accompanying Billie Holiday. Seeing the Beatles on the Ed Sullivan Show inspired her to start playing guitar, singing and songwriting, followed by bass, then congas and percussion. She began as a solo singer/songwriter in small clubs but quickly found work touring and recording. For the last 45 years she has toured with George Benson, Wayne Shorter, Lionel Richie, Kenny Loggins, Laura Nyro, and Mavis Staples, recorded with Aretha Franklin, Herbie Hancock, Todd Rundgren, Cris Williamson and many others. In 1992 she became the first permanent female band member of the Tonight Show with the Jay Leno Band until 2010. She currently splits time playing and writing with her Rock Funk band Skip The Needle and producing artists for the non profit label Little Village Foundation.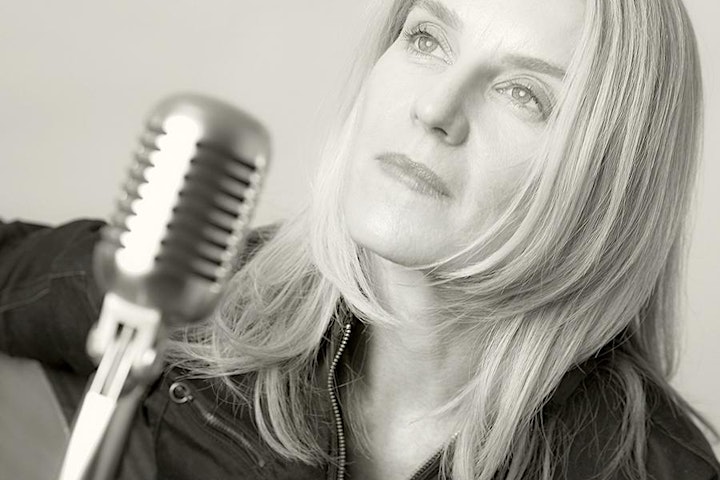 San Francisco's Rachel Garlin spent the quarantine cultivating poetry, activism, and compassion in her community while performing livestreams and recording remotely with close collaborators Julie Wolf and Vicki Randle. A songwriter's songwriter, Garlin devoted the month of February to writing a new song daily and sharing the creative process- spontaneous and vulnerable - while interacting with fans across the country. The songs on her most recent release The State That We Are In tell a range of stories all rooted in a sense of immediacy from the personal to the political. Garlin was recently featured in the San Francisco Chronicle after spearheading a series of community concerts from the edge of her garage. Media fans include Curve Magazine ("storytelling at its best") and WFUV's John Platt who writes, "Rachel makes it look effortless with her accessible melodies but dig deeper into her lyrics (like "crash course in chagrin") and you realize she's creating poetry in relatable human situations." John Platt, WFUV in NYC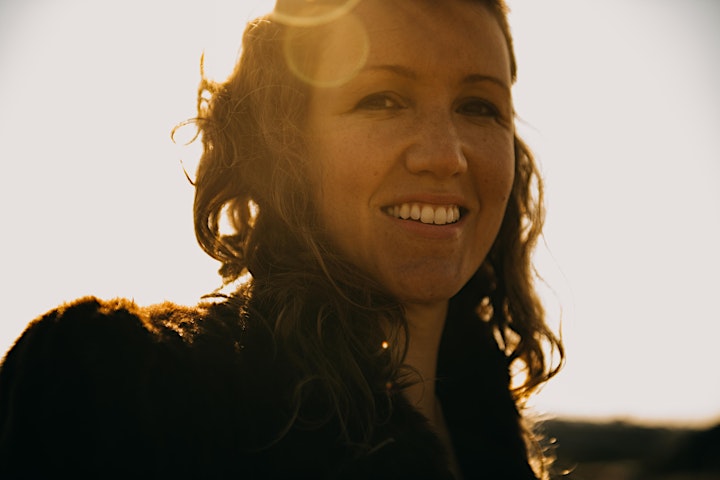 A midwest transplant now over a decade in the Bay Area, Kate Lamont is a recording artist, producer, songwriter, music educator, Grammy U mentor, bandleader, choral arranger, and team player who geeks out on BGV's and anything that connects to people, the soul and the Spirit. She adores the creative power of collaboration in music so much that she built a combination speaker-singer presentation for TedX Talk in 2018. Recent performances include singing with Anthony Roth Costanzo & the Kronos Quartet on Jack Perla's new contemporary opera, Warhola! Kate was inspired to join the Recording Academy by her late cousin, Mark Brunner, and now serves as an advisor to the Recording Academy Board. She is currently growing her team at WritePlaySing where she offers voice, piano and songwriting lessons. Kate loves the opportunity to serve the Bay Area through music education, advocacy, mentorship, and entertainment.
Angie Doctor is a jazz singer and arranger, vocal coach and clinician for school music ensembles and solo singers, background singer for groups such as The Manhattans, Heatwave, Gene Chandler, Babara Lewis, Billy Paul, and many others. She is a studio singer and voice-over talent, is the soprano in the jazz vocal quartet Clockwork and most recently, the Girl Bob in the wackiest of all a cappella groups, The Bobs. Additionally, she has been singer and soloist for music projects with Bobby McFerrin, Sufjan Stevens, Sweet Honey in the Rock, John Zorn, Meredith Monk, performing at venues that include Zellerbach in Berkeley, Jazz at Lincoln Center, Carnegie Hall, and the Philharmonie Berlin. Her vocal work is on many recording projects, including as a featured soloist on the Grammy-nominated recording of Leonard Bernstein's "Mass" (Harmonia Mundi), conducted by Kent Nagano. Angie has recorded 2 albums of a cappella jazz duets with Dan Schumacher of The Bobs, arranged, recorded and produced by Richard Bob Greene. He Said, She Said, "Duets for Two Voices" and "Two: Vol 2".
A member of the San Francisco Bay Area vocal music community since 1995, Angie was the vocal jazz ensemble instructor for all voice majors at the California Jazz Conservatory from 2014 through Spring 2020, and has been teaching a vocal jazz ensemble for community singers at the JazzSchool in Berkeley, CA since 2014.
Angie has brought her extensive experience in solo and small group harmony singing to workshops and festivals as a judge and clinician for over 35 years.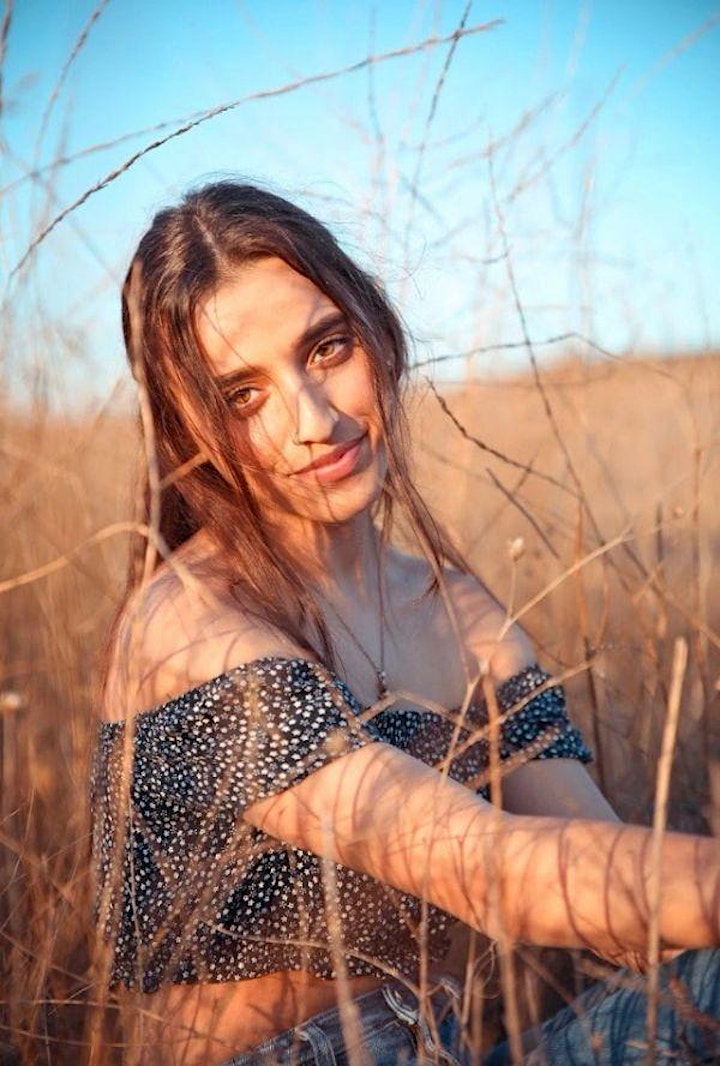 Sofia Lewis knows that singing is her greatest passion and the best part of her life. Performing in school talent shows and with the Praise Band at church has convinced her that she wants to pursue a career in music. Last year she made it to the second round of auditons for American Idol and is currently in the running for a coveted spot on the 2022 season of The Voice. Sofia plays piano and is currently working on her songwriting skills. She is grateful to share the CSN stage with so many amazing people!
CSN SAN FRANCISCO BAND
Vicki Randle • bass/featured artist | Julie Wolf • keyboards | Shelley Doty • guitars | Nino Moschella • drums/bass