Description
Come and make a gift for someone you love! This is the perfect opportunity to cross someone off your list.
Local interior decorator and crafter Rebecca Gilbert of Internal Affairs Design is delighted to announce a "Create your own sign workshop" at Willow Spring Vineyards!
These make great wedding, engagement, housewarming and holiday gifts!!
This beginners' hands on workshop will be fun & relaxing evening and you will walk away at the end of the event with a completed Farmhouse styled sign ready to give or keep for your very own.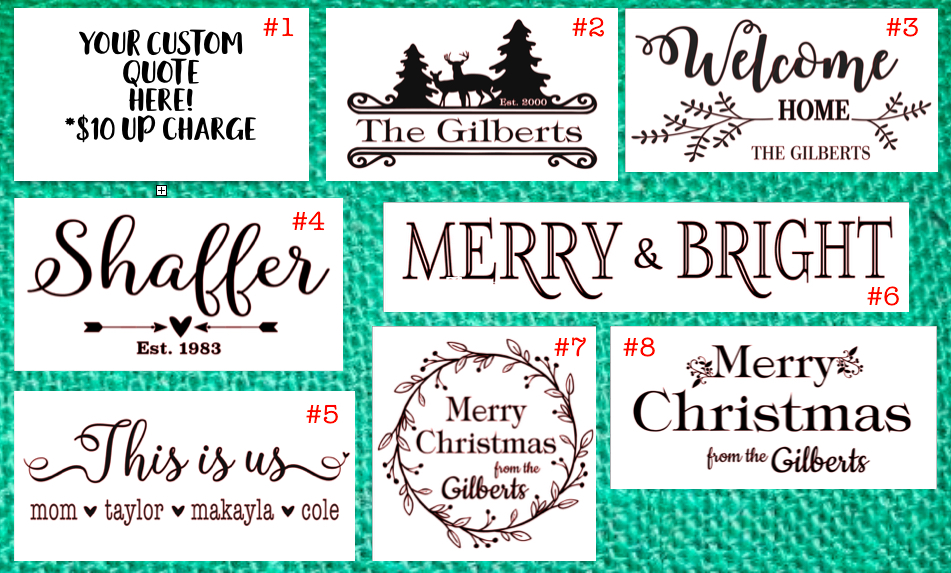 All materials are included in the ticket price - excluding the CUSTOM SIGN. You will be supplied with a piece of wood sized according to your chosen option (sizes are between 10"x14" and 9.5" x 18") ready to be painted and all the other supplies you will need.
*IF YOUR ARE CHOOSING THE CUSTOM SIGN, YOU MUST BUY THE ADDITIONAL $10 UPCHARGE. You can choose a quote up to 60 characters (including spaces) and you will also be able to choose either a script or basic type font and I will design it for you!!
PLEASE NOTE: After I have received your payment, I will send you an email requesting which design you would like. SEE BELOW FOR SPECIAL DETAILS
OPTION 1 (Custom quote) 9" x 18" - ADDITIONAL $10 - Please supply the quote you would like & the authors name if there is one.
OPTION 2 (Family or Place name with trees & deer) 9.5" x 18" - Please supply either the Last Name or Location Name that you would like. This one has a max of 11 characters. Also supply the established date you would like.
OPTION 3 (Welcome Home) Please supply the Last Name
OPTION 4 (Family Name) 9" x 18"- Please supply the last name and date you would like. Makes a great wedding, engagement or housewarming gift!
OPTION 5 (THIS IS US) 9"x18" Please supply the names that you would like included in the order that you would like them to appear.
OPTION 6 (Merry & Bright) 5.5" x 24"
OPTION 7 (Family Name with wreath) 11.5" x 12" Please supply the Last Name
OPTION 8 (Merry Christmas) 9" x 18" Please supply the Last Name