Join us on Thursday, June 17th from 6:00pm TO 7:00PM for a whiskey and cigar pairing class at Empire Social Lounge.
About this event
We'll kick off the presentation with Erik Calvino, owner and author of Cigar Snob Magazine who will educate us how he started his journey as well as on the art of choosing and smoking a great cigar. The presentation will continue with Henry Infante, whiskey specialist from Brown-Forman, a Global based spirits business. Henry will introduce participants to various different types of whiskey (Slane Irish Whiskey, Woodford Reserve and Jack Daniel's Tennessee Whiskey). Each individually registered participants will receive a package containing two premium cigars, a 6 month subscription to Cigar Snob Magazine, and 50 ml bottles of each of the whiskeys described above.
To participate, please visit https://frcsipandsmoke.eventbrite.com to purchase your $50 ticket. Open to the first 30 registrants. Must be 21+ to register and participate. Registrants acknowledge by participating in this class that Family Resource Center (FRC) and presenters are not responsible or liable for any injury or damage that may result from your participation. Please drink responsibly.
Thank you for your support! All proceeds from the event will benefit abuse and neglected children in the foster care system.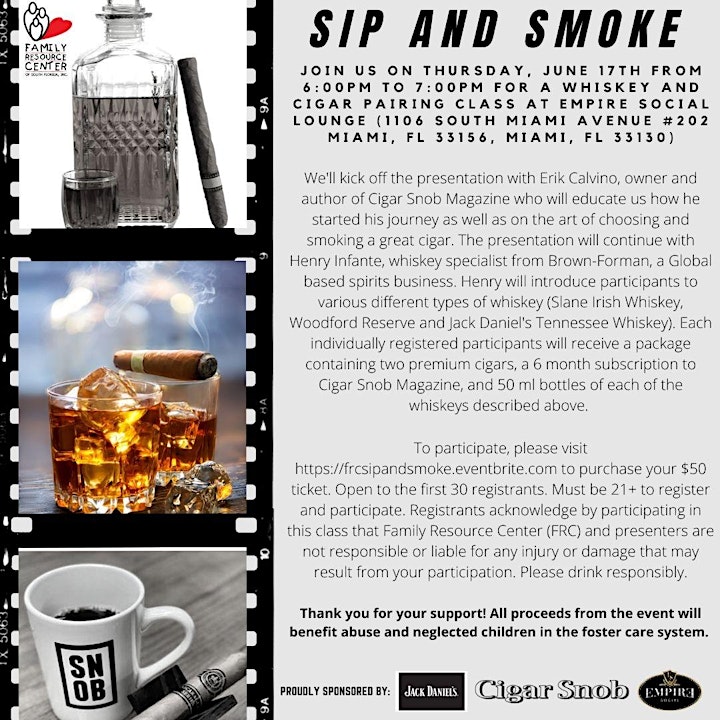 Organizer of Sip And Smoke
Family Resource Center is a foster care agency for children that have been abused and neglected. We have about 1000 children in our care at the moment, ages ranging between newborns to 18 year olds. Our mission is the prevention and treatment of child abuse and neglect through the strengthening of families. We provide integrated care for children who have entered the foster care system and their parents, adoptions, parent education classes, and mental health services.  Working collaboratively with other community and governmental agencies, we strive to ensure holistic care and support for the children and their parents.  Today, the agency is a leader in child welfare, providing in-office, in-home and in-school support to help protect children and strengthen families.