Singular Research Best of the Uncovereds Investment Conference SF

Thursday, June 9, 2016 from 9:00 AM to 6:00 PM (PDT)
Event Details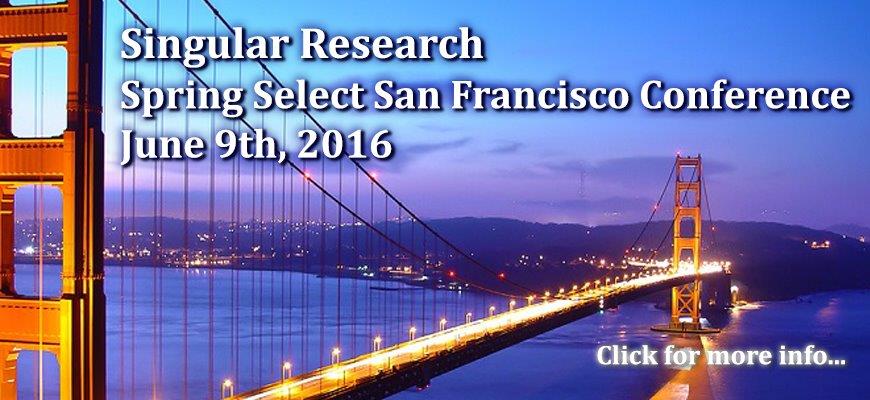 ____________________________

COCKTAIL PARTY 6-9pm AT WINSTON AND STRAWN
101 CALIFORNIA 35th FLOOR SF
___________________________________
Conference at Hilton Financial DIstrict 9 to 5
PRESENTERS: DISCOVERY TRACK
Session One 1:00-1:45

Advice Local-15

Givegab-10

OPER-10

D & D Ingenuity, LLC-10
Session Two 4:00-5:20: STARTUPS

Get Cujo-5

MIM.365- 5

Studio Suite-10

Beacon BioMedical-10

Crowdfiy Club-10

Masquerade Media-5

Joe Alter Inc-5

Roar-10

Rokitt-10

Flypside-10

StreamLoan-5

iuzeit-5


SEE THE LIST OF INVESTORS ATTENDING IN RED BELOW

This session will be held from 2pm to 4pm at the conference.
RATES FOR PRESENTING TO INVESTORS
We offer two packages one for startups and the other for public companies.
For early and midstage startups or private companies
$1500 10 MINUTES RESENTATION

$2500 15 MINUTES PRESENTATION

$4000 30 MINUTES PRESENTATION
1.Your company mentioned in press release we send out a week before event
2. You participate in 1v1 meetings with investors at your own private table using software program Meetmax.
3. You get a demo table during the cocktail party and lunch. 
4. You get 30 minutes after your session for private meetings in the adjacent breakout room
5. 3 tickets (valued at $750)
For budget conscious startups: $500 5 minutes presentation
1. Present for 5 minutes 
2. You get 30 minutes after your session for private meetings in a breakout room. 
3, Demo table during lunch and cocktail party from 6-9pm.

4. 2 tickets (valued at $500)
$1000 10 minutes presentation
1. Present for 10 minutes 
2. You get 30 minutes after your session for private meetings in a breakout room. 
3. Demo table during lunch and cocktail party from 6-9pm.

4. Meeting table in adjacent room during entire day
5. 3 tickets (valued at $500)
For Public Companies and High Growth Private Companies:
Platinum $5000 or Gold  $4,000 or 30 Minutes
1.  Your company mentioned in press release we send out a week before event
2. You participate in 1v1 meetings with investors at your own private table using software program Meetmax.
3. You get a demo table during the cocktail party and lunch. 
4. You get 30 minutes after your session for private meetings in the breakout room
6.   With platinum, you get to choose morning or afternoon slot

 
and get priority 1v1 scheduling.

__________________________________________________________________

ABOUT THIS EVENT
We feature some of the best, uncovered companies under $500 million in market
capitalization.  Singular has produced this event for 10 years in Los Angeles and New York, and now brings its unqiue insights to San Francisco.

We feature presenters who are not typically covered and are off the radar, but show great performance potential for investors. They truly are the best of the uncovered and positioned for explosive growth.
This event will feature microcap public and advanced growth private companies in all markets. This event is not designed for pre launch and early stage startups. Angel Launch produces many other events for tech startups which are found at: www.Angellaunch.com
 and also at: LaunchFEST Venture Forum

June 22 in San Jose.



Investors will hear over 30 specially selected top tier companies. Presenting companies will
give a 30-minute presentation in a formal setting, followed by a question and answer
session. You can arrange one-on-one meetings with presenters. At the conclusion of the
day, we host a networking cocktail reception for press, investors and presenters.

INVESTORS APPLY HERE FOR FREE TICKETS

If you are a qualified investor, register for free but all tickets subject to verification.  We reserve the right to decline or request a fee if we determine you are not  a qualified investor. If you are not an investor, you can attend for $250.
Qualified investors offered comp tickets include:
institutional investors

angels and VCs

portfolio managers

hedge fund managers

banking, trading and brokerage firms

portfolio managers

family offices

wealth managers

analysts



COMPANIES THAT SHOULD PRESENT TO INVESTORS:
MICRO CAP PUBLIC---STARTUPS ---ADVANCED PRIVATE COMPANIES  
We have opportunities for public, private and startups to present. If you are a high growth company in the small or micro cap market that should present at this event, send an email to: singular@angellaunch.com for details on presenting.
Benefits you will receive.

30 minutes presention to entire room of investors

30 minutes after your session for small group meetings in breakout room

Singular sends out press release which includes your company

You can select morning or afternon spot with platinum level


Demo table during cocktail party with investors

1 on 1 private investor meetings arranged in advance at your own table

Your financial data included in printed materials distributed to investors



TYPES OF COMAPNIES THAT SHOULD PRESENT:
Bi

otech, life science, medical devices, and drug development 

Manufacturing, industrial and fabrication

Consumer and retail

Energy and Clean Tech

Enterprise

Financial Services

Food and beverage, alcohol, snacks


Hardware

Healthcare and Life Sciences

IP Services

Media and entertainment

Natural resources and mining

Professional services

Semiconductors, chips, electronics

Software, IT, Networking. Infrastructure

Technology
ABOUT SINGULAR RESEARCH and ANGEL LAUNCH EVENT PRODUCERS
This event is produced by Singular Research in association with Angel Launch..
Singular Research, based in LA and NY, is one of the most trusted providers of unbiased, performance-based research on small- and micro-cap companies to fund managers. Singular provides initiation reports and quarterly updates for approximately 60 companies. In many cases, Singular's analysts research companies that are not often covered by any other firms.

Angel Launch is based in the SF bay area, and connects investors to startups  private companies at events and venture forums in the San Francisco bay area. Angel Launch has produced hundreds of events featuring early and advanced startups,

INVESTORS WHO  HAVE REGISTERED TO ATTEND:

</
500 Startups

Edith

Yeung

Partner

Alessio Inc

Nichole

Johnson

CEO

alj capital

ron

silverton

pm

Altaira Capital Parnters LLP

David

Tsujimoto

Sr. Managing Director

Altista Asset Management

Hamed

Kamranzadeh

Portfolio Manager/ Derivatives

Angel

Gopi

Rangan

Investor

Angel investor

eliza

Du

Angel

Aries Management

Dennis

McCarthy

Pres

Asahi Glass Ventures

Masatoshi

Ueno

Partner

Asprey Capital

Garry

McGuire

Managing Partner

Astia Angels

Karen

Drexler

Founding Member

AYE Inc

Bennett

Johnston

President

BasicVC

Han

Lai

Partner

BeAngels

Eric

Gabrys

Investor

Blaylock Beal Van, LLC

Tarrell

Gamble

Vice President

Blue-sky international

Amado

gorospe

project management

BoA

Eric

Garrett

Investment Strategist

BootUp Capital

Ajay

Ramachandran

Managing Partner

BootUp Capital Partners

Ajay

Ramachandran

General Partner

Cambria Capital LLC

Ron

Foy

Managing Director

Canaan Partners

Laura

Chau

Associate

Cedar Investments

Jayant

Ishwar

Partner

cef capital

Carr

Flournoy

Investor

chowchime

jim

forteza

founder

Cisco-PnP

Alen

Malaki

Sr. Director PM

cloud CFOs for Strtups

Dave

Burleigh

CloudCFO & M&A Analyst for Startups That Fail

Crossvine Capital

henry

fan

managing director

Daron Campbell Capital

shelene

atanacio

Chief Investment Officer

DEFTA Partners

Kyoko

Watanabe

Managing Director

Dentons US LLP

Mark

Garcia

Consultant

DreamCatcher Ventures

Tania

Fernandez

Founder & CEO

Eagle Point Global Management LLC

keith

hwang

Portfolio Manager

EM Capital Management, LLC

Seth

Freeman

Managing Director

Emerging Star Capital, LLC

Robert

Levin

Managing Director

Evexia biofund (MIT Angels, & Health tech capital)

Carolina

Rizo

Partner

FG

suvarna

panicker

Co Founder

Foxlink

Caly

Xiao

Investment Manager

Francesca Designs

Francesca

Levy

CEO

Gear Zero

Shayan

Zadeh

CEO

Global Asset Protection Solutions

Elena

Smirnov-Otis

principal

griffin-bishop and associates

january

bishop

psychologist/media

GWAVE

Jody

Liu

Outsourcing and Funding Specialist

Harbor Island Equity Partners, LLC

Carlos

Parajon

Managing Partner

HBCI

Henry

Poon

Director

Healthcare Angels

Mary Jo

Potter

Managing Partner

Healthtech Capital

Anne

De Gheest

Managing Director

Hemi Ventures

Amy

Gu

Founding Partner

Hollander Consulting, LLC

victor

hollander

CEO

Hollander Consulting, LLP

Victor

Hollander

Managing Director

I Cubed World

KRS

Murthy

CEO

IBConsulter

Danil

Kislinskiy

CEO

Independent

Eric

garrett

Investor

Indus Tech Reports

Michael

Schoendorf

Editor-in-Chief

Integrated pain care

Lana

Dobbs

COO

Invent Ventures

Bryce

Knight

CEO

Kddi

Yasuhiro

Hatase

Senior Manager

Kellman Family Office

Harold

Kellman

President

Kochava

James V.

Linden

VP

krushart

Kourosh

Esfandiari

artist

Lab360 Hardware Incubator

Joseph

Wei

Managing Director

Legacy VC Advisors

Jenny

Zhou

Investment Advisor

Liberty Global Ventures

Ankur

Prakash

Vice President

Libre Partners

Elisa

Chiu

Managing Partner

Lymo Ventures

Norm

Gitis

Managing Partner

MedForce Accelerator

Cary

Adams

CEO

Merrill Lynch

Becky

Chen

Wealth Associate

Merrill Lynch/Bank of America

Juliana

Gildea

Financial Solution Advisor

MIT Alumni Angels

Jenny

Liu

Officer

Montage Capital

Chet

Kasper

Principal

Motus Ventures

Neil

Weintraut

Advisory Member

MRA.inc

Dr Sanford

Rosenberg

Pres/CEO

-MSB, Inc

Jagan
<span style="font-size
When & Where

HIlton Financial District
750 Kearney
San Francisco, CA 94041


Thursday, June 9, 2016 from 9:00 AM to 6:00 PM (PDT)
Add to my calendar
Organizer
Cheetah Mobile Inc. (猎豹移动公司) is a Chinese mobile internet company headquartered in Beijing, China. Cheetah Mobile (ticker symbol CMCM) was the first publicly traded Chinese-based company listed on the NYSE and is the creator of some of the world's most popular global mobile apps with more than 634 million monthly users as of January 2017. Popular products include Orion Voice OS (The Voice), Clean Master, Security Master, CM Launcher, Cheetah Keyboard, PhotoGrid, CM Browser, Battery Doctor, and LiveMe. Cheetah Games have more than 1 billion downloads and 110 million monthly users. Cheetah Mobile also offers data analysis products, a commercial advertising platform and many popular AI products including the Cheetah Translator.
Bitrue.com: A safe and convenient cryptocurrency exchange and the most secure and advanced online platform for buying, selling, transferring and storing digital currency. Bitrue has offices across the globe and a growing number of partners. Bitrue's technical and compliance experts perform an in-depth analysis of every cryptocurrency before it is listed on their trading platform. Bitrue features numerous trading pairs, and more coins and trading pairs are being added all the time. Bitrue offers a multi-threaded, high performance market order matching engine, a decentralized structure, an anti-DDOS protection system and an exceptional uptime record. Bitrue moves seamlessly across devices. Every device has access to Bitrue's trading platforms, accounts and support. Bitrue can process 10,000 orders in a second and has no expiry dates.  

Block Space: is a blockchain and crypto community in the heart of Silicon Valley which accelerates innovation through an incubator program for promising blockchain technology startups. Block Space provides mentorship, venture capital investment opportunities, a beautiful workspace with many amenities and all necessary office equipment and infrastructure to enable and accelerate growth. Block Space has established meaningful partnerships, built a network of industry experts and regularly hosts investment seminars, networking and pitch events to help blockchain startups thrive.
Please log in or sign up
In order to purchase these tickets in installments, you'll need an Eventbrite account. Log in or sign up for a free account to continue.