Singular Magazine Absinthe Party

Tuesday, June 5, 2012 from 8:00 PM to 10:00 PM (PDT)
Event Details
Join us on Tuesday, June 5 from 8-10 pm for an Absinthe party at the Seventy7 lounge in downtown Culver City as we explore the rituals and mystery of this powerful liquor, mix, mingle and enjoy appetizers at this neo classic cocktail lounge that inspires memories of a bygone era.

Your ticket includes appetizers and a shot of Lucid Absinthe prepared in the traditional fashion where it is readied for enjoyment by placing a cube of sugar on a perforated spoon above a glass of neat absinthe, and then slowly pouring chilled water over the sugar until it dissolved using an absinthe fountain. This ritual of preparing absinthe, known as la louche, remains an essential aspect of the true absinthe experience.

The anise-flavored spirit was once all the rage among Parisians as many bohemian writers and artists called upon the "Green Fairy" in search of inspiration. The romantic associations still linger to this day.
There will be specials on several absinthe cocktails as well. To learn more about absinthe, see "Absinthe Minded" in Singular magazine.

The Seventy7 Lounge is discretely located in the alley behind the Bank of America and is next to Rocco's Tavern. Culver City public parking is available in several nearby lots. Look for the neon "cocktails" sign.

For more information about the Seventy7 Lounge visit: http://www.seventy7lounge.com/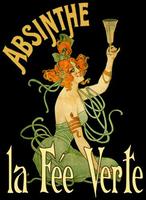 When & Where

Seventy7 Lounge
3843 Main Street
Culver City, CA 90232


Tuesday, June 5, 2012 from 8:00 PM to 10:00 PM (PDT)
Add to my calendar