Description
The New York Society for Health Planning is pleased to present an exciting session on single payer insurance with the Honorable Richard N. Gottfried, New York State Assembly Member and Chair, Assembly Committee on Health, and moderated by Ms. Elisabeth Benjamin.
Assembly Member Gottfried is the lead sponsor of the New York Health Act, a legislation that would provide comprehensive, universal health coverage for very New Yorker, replacing private insurance coverage.
About the Speaker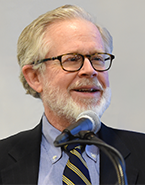 Richard N. Gottfried represents the 75th Assembly District, covering Chelsea, Hell's Kitchen, Murray Hill, Midtown and part of the Lincoln Center area in Manhattan. He is chair of the Assembly Health Committee since 1987.
He is a leading state health policy-maker not only in New York but also nationally.He was a major architect of New York's landmark managed care reforms, and is continuing to fight for stronger protections for consumers and health care providers, and public support for universal access to quality, affordable health care.
Please visit New York State Assembly for more information on Assembly Member Richard N. Gottfried.
About the Moderator

Elisabeth Benjamin is the Vice President of Health Initiatives at the Community Service Society, where she supervises health policy, health advocacy, and consumer health assistance programs that annually help 100,000 consumers and small businesses enroll in and use health insurance or access low-cost health care.
She is a co-founder of Health Care for All New York and has conducted groundbreaking litigation and health policy research that has led to significant health coverage and health care reforms for the of benefit New York's health consumers.
Please visit the Community Service Society for more information on Ms. Elisabeth Benjamin.