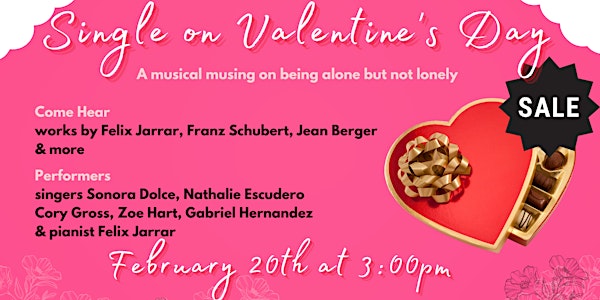 Single on Valentine's Day
A MUSICAL CELEBRATION OF PLATONIC LOVE DURING A ROMANTIC SEASON
About this event
~ Made for friends, by friends, with friends ~
I am so excited to share my celebration of platonic love and community with you on Sunday, February 20th at 3:00pm. These are connections that helped me through the lonlieness of winter, including Valentine's Day. Whether it's calling your mom, taking a friend out to coffee, or volunteering, I hope you are able to take time to enjoy your friendships, and chosen family, and stay tuned for the link to join our virtual screening event!
~ Repertoire includes ~
Nathalie Escudero performing her own songs!
Sonora Dolce - II. Heart & IV. Lonely People from Jean Berger's cycle Four Songs of Langston Hughes
Cory Gross & Zoe Hart - Licht und Liebe by Franz Schubert
Gabriel Hernandez & Zoe Hart - Excerpt from Verdi's La Traviata
Zoe Hart - Vampire's Delight by Felix Jarrar