Description
Karaoke Brunch & Relationship Panel – Fish & Grits/Chicken & Waffles at our New Location - The Grill, 1080 N. Delaware Ave, Phila, PA

Date: Aug. 26th, 2017- Time: 12:30PM Starting Promptly at 1:00pm

Exclusive Interviews with:
Dr. Dave "The Soul Mate Specialist"
Carvin Haggins

and a Live performance by Dell-P

Topic: Men speak: How I knew she was "The One!"

Men stop by to tell us their romantic stories of how they came to know that their life had been changed by The One.

Roundtable participants:

• Shelly Shell Williams, TV Producer, Serial Entrepreneur
• David Scott, Professor/Entreprneur
• Danyl S. Patterson, Attorney/Candidate for Judge
• Dr. Dave Pulley, The Soul Mate Specialist / Owner of Diamond in a Rough Consulting
• Katrice Bailey, Model/Author
• Malisha Cheatham, Claims Processor
• Richard Sutton, Entrepreneur/Author

YOU ARE CORDIALLY INVITED TO BE A GUEST FOR THE TAPING OF "SINGLE ON A SATURDAY NIGHT" – Real Stories, Real Answers, Real People.

Donation: $5 includes admission, one beverage and panel discussion. (Food sold separately)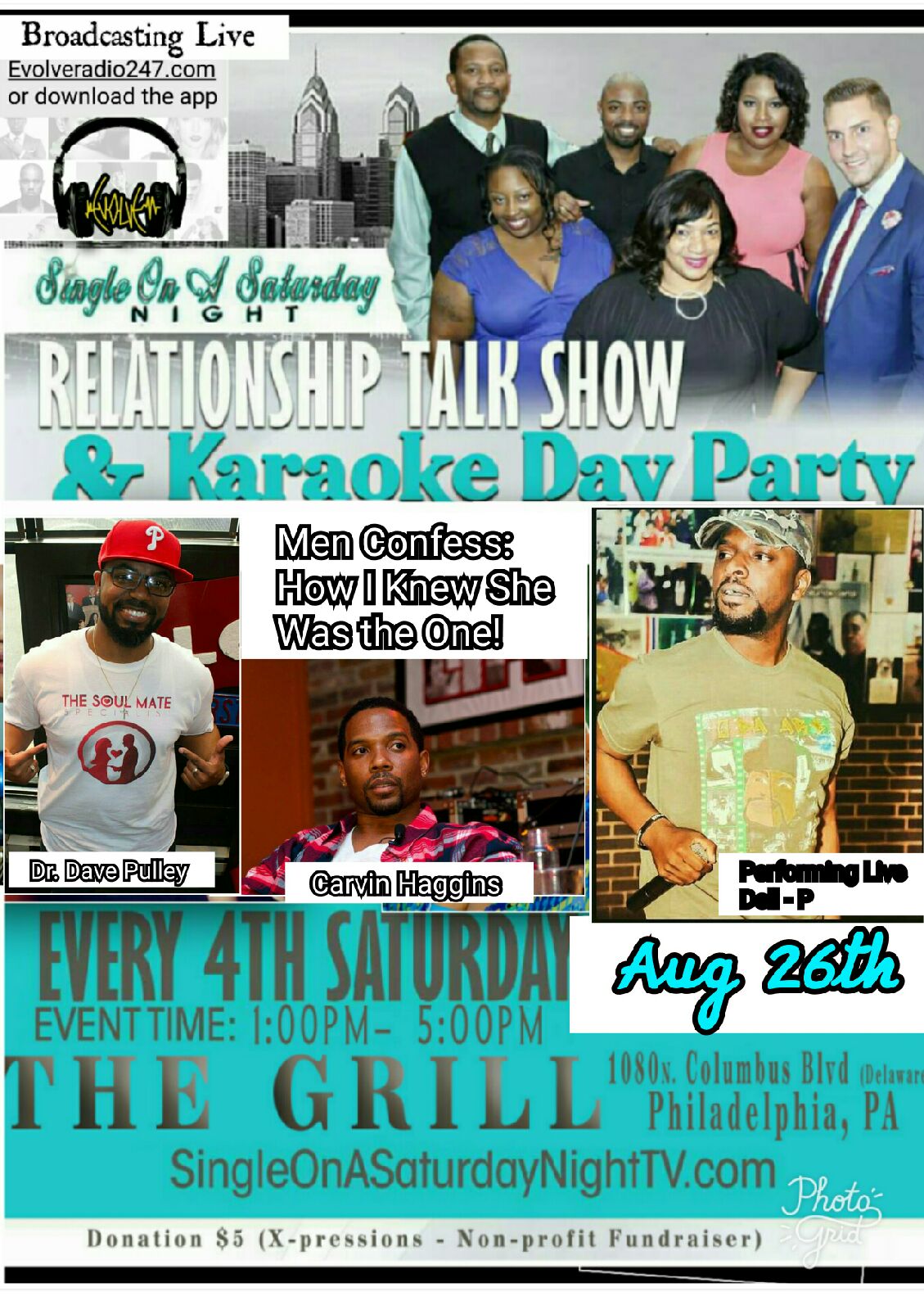 Relationship forum. Help, advice and questions on cheating, separation, love, abuse, marriage, jealousy and dating.

Single On A Saturday Night - the best Relationship Talk Show in Philadelphia and Beyond!

Philly's First Single's Day Party & Live TV Taping sponsored by The Grill 1080 N. Columbus Blvd (Delaware Ave)

Each Month we get Bigger, badder and better than before! Each month we have a whole entire PARTAY!!!! So, bring your friends, you enemies, your frenemies and your Boos... and get ready to have a ball at TGIF,every 4th Saturday at 12:30 p.m. as SOSN hosts a Karaoke/DAY PARTY and TV Taping!!!!!

By registering and obtaining tickets to Single On A Saturday Night, you consent to be photographed by means of video recording and you grant the producer of the footage, the Company, and their successors, assigns, carrier stations, network station(s), sponsor(s) of the program and marketing and advertising agents (as well as their affiliated and related entities) the right to record and use your name, voice, and likeness worldwide in perpetuity for any purpose whatsoever. In addition you release the above parties from any and all liability for loss of damage to person or property while at or around the premises, and you agree to comply with all rules and regulations of Company and its parents, partners, subsidiaries and related companies.