Single No More Position Yourself To Be Found - Bay Area

Saturday, December 1, 2012 from 9:00 AM to 2:00 PM (PST)
Event Details
April Mason Inc Presents...
Single No More Position Yourself To Be Found In  2013
- Bay  Area LIVE DVD RECORDING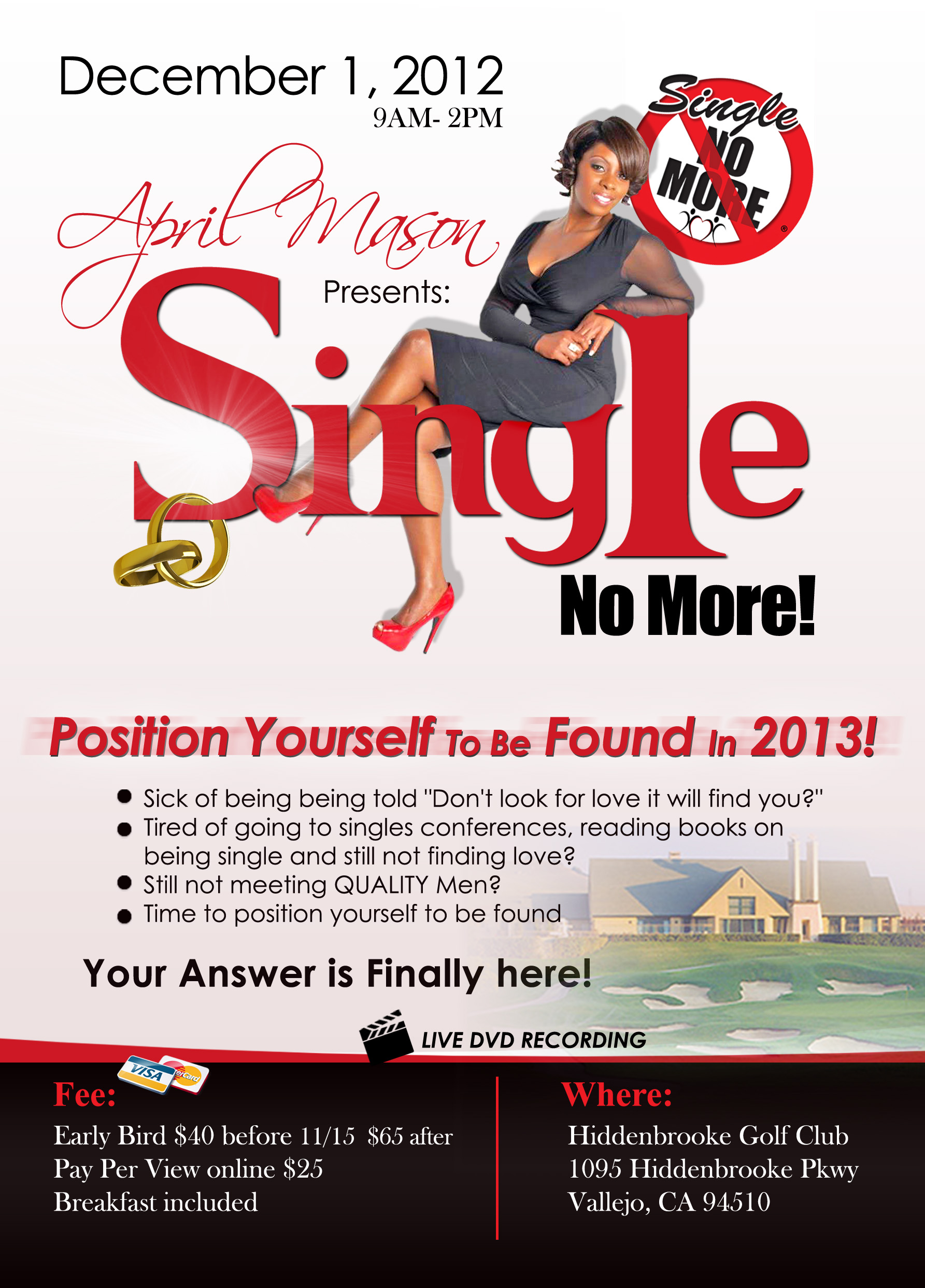 Are you tired of being single?
Are you tired of hearing "He who finds a wife" but it doesn't seem like HE is looking? 
Sick of being told "Don't look for love it will find you? 
Tired of going to singles conferences, reading books and still no love?
Having a hard time meeting quality and qualified men?
Haven't been on a date in years?
IT'S TIME TO POSITION YOURSELF TO BE FOUND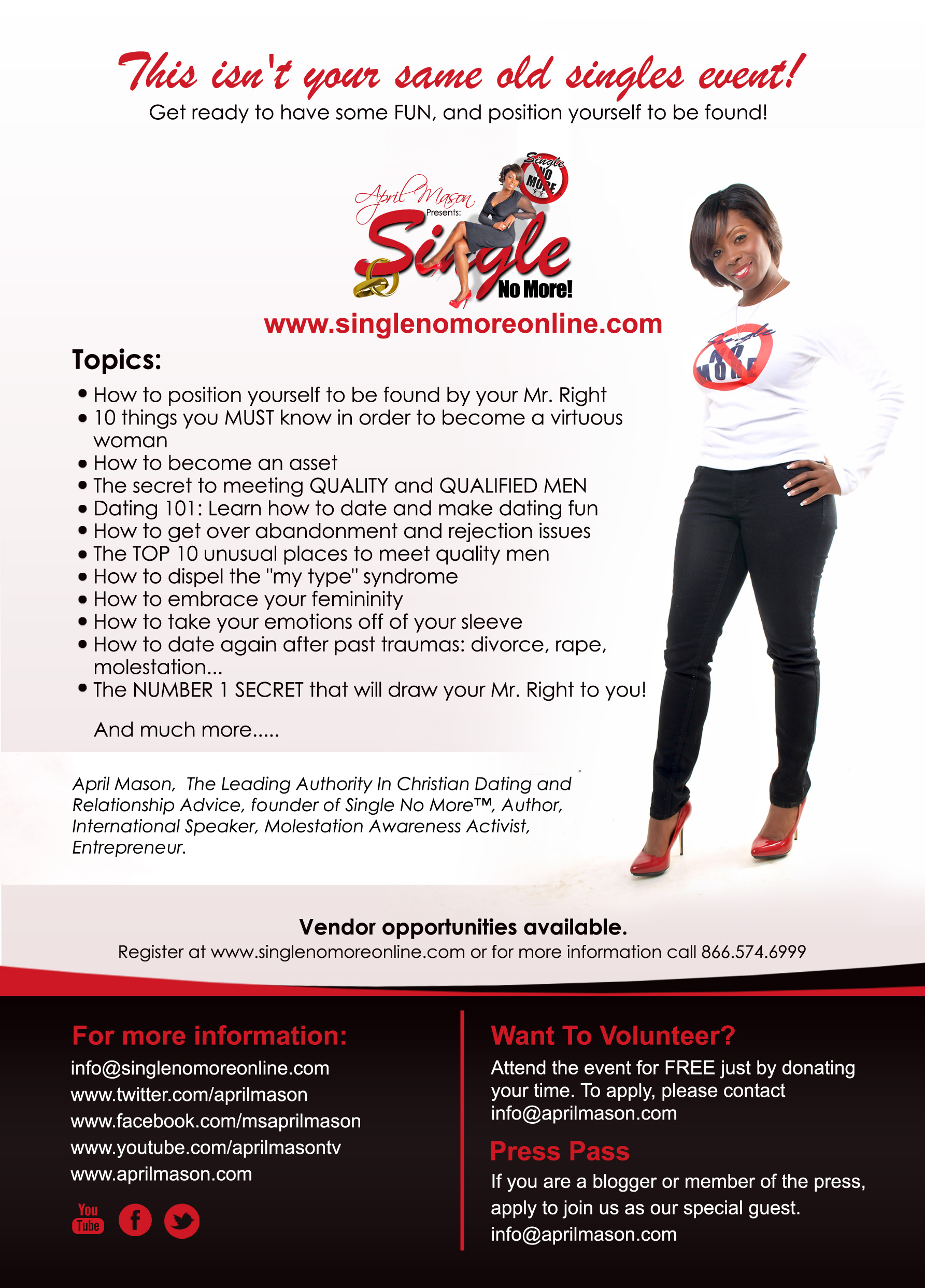 SINGLE NO MORE™ established a creative, educational and entertaining approach to help singles "Take Control of Their Singleness".  The SINGLE NO MORE™ experience seeks to meet the spiritual, psychological and emotional needs of women who are unmarried.  In combination with founder April Mason's acclaimed Broken But Not Bound Movement, the SNM Experience helps encourage and empower ladies with its fun and up beat tempo. The Experience also delves deeper to address the emotional needs, and help women overcome rejection through worksho"How to Date after Divorce,", How to Become and Asset and Not A Liability" (The Proverbs 31 Woman), and "Overcoming Sexual Abuse."
SINGLE NO MORE™ enables Women to understand their power to move from singleness into a successful and loving relationship.
 
Biblically Based, Fun, engaging and innovative!
Encourage singles to understand their value
Release the past

Think creatively

Provide attendees with tools to take initiative and become confident about their future.
                                                      Testimonial
"Single No More needs to be on every major network, every singles conference platform, and every radio station in the world. Thank you for opening my eyes. And your Top 10 Unusual Places to meet men's list is AWESOME!" - Angela W.
"One of my most Awesome Friends!! I have and continue to learn so much from you… Please continue to spread the Love that you are spreading. Peace!"- Rodney Perry (Co-host BET's The Mo'Nique Show)
"I just want to say that SINGLE NO MORE WORRRRRRRKKKKKSSSSSS!!! It's amazing how a shift in one's thinking and perception can make all the difference. I went to the "Single No More" Session and using the techniques I learned at April's workshop... immediately after.... literally 45 minutes later... I had two dates in two days!! I've learned where I can find quality men and most of all how to know what I'm willing to accept and not accept. I have honed in on what I want and I'm excited about the possibilities. I will be going shopping this weekend so that I can change how I dress to attract the type of man I want. And most of all my confidence in myself is all I need!! April is AMAZING!! APRIL YOU ROCK!!" - Ava A http://www.ava-theaviator.com/
"Single No More was nothing less than amazing! I recommend this experience to every single singles group and women's ministries in America." - Latonya T
"OMG Ms. April you are so the bomb! I attended your Single No More Experience in Atlanta and my life has changed. I view dating in a very different way now. I'm learning to take my emotions off my sleeve like you suggested. I just want to say thank you so much for your wisdom, I can't wait for the next event!"- Monica C
TOPICS:
•      How to position yourself to be found by your Mr. Right
    10 things you MUST know in order to become a virtuous woman
•     How to become an asset
•     The secret to meeting QUALITY and QUALIFIED MEN
•     Dating 101: Learn how to date and make dating fun
•     How to get over abandonment and rejection issues
•     The TOP 10 unusual places to meet quality men
•     How to dispel the "my type" syndrome
•     How to embrace your femininity
•     How to take your emotions off of your sleeve
•    How to date again after past traumas: divorce, rape, molestation...
•      The NUMBER 1 SECRET that will draw your Mr. Right to you!
•      And much more.....
•     

•      This isn't your some old singles event. Get ready to have some FUN, and position yourself to be found!
Want To Volunteer?
Attend the event for FREE just by donating your time. To apply, please contact info@aprilmason.com
 Press Pass
If you are a blogger or member of the press, apply to join us as our special guest. info@aprilmason.com
Vendor opportunities available
Do you have a product or service for women? This would be a great opportunity to get some new leads, business and connections. 
Includes:
1 6x9 table
2 chairs
For more information or group pricing (5 or more) call 866. 574.6999.
When & Where

Hiddenbrooke Golf Club
1095 Hiddenbrooke Parkway
94591


Saturday, December 1, 2012 from 9:00 AM to 2:00 PM (PST)
Add to my calendar