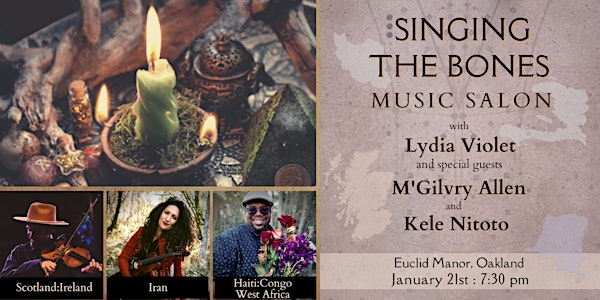 Singing the Bones Music Salon w Lydia Violet, M'Gilvry Allen, & Kele Nitoto
A Celebration of Ancestral Reconnection in the Diaspora: featuring live music and community singing.
When and where
Date and time
Saturday, January 21 · 7 - 9:30pm PST
Location
Address available upon ticket purchase Euclid Manor Oakland, CA 94610
Refund Policy
Contact the organizer to request a refund.
Eventbrite's fee is nonrefundable.
About this event
Through an evening that is part musical performance & part sing-a-long, artist-activist Lydia Violet takes us into the realms of Singing the Bones, a program she has spent these past years working on, encouraging the reconnection to ancestral cultures through music and story. Many of us grow up disconnected from our ancestral cultures, requiring us to consciously turn towards our histories and study to learn the foods, festivities, folklore, and songs that lay there. Tonight is a celebration of three American artists who have pursued this path of connection, sharing some of the bounties of what they have found.
Lydia will share songs from her Iranian heritage, rich with poetry and longing. M'Gilvry Allen will share fiddle tunes and ballads from his Scottish and Irish ancestries, luring us in with rhythm and strings. And Kele Nitoto will share music from Haiti, Congo, and West Africa, drawing from his multiple generations of a musical family from Oakland itself. And for the first time, these three artists will collaborate together on some songs!
You're invited to come and enjoy the sounds, and learn some tunes as well! We will also teach you some songs throughout the night, summoning the joy of singing together. We hope to weave a soulful thread for that which feels tattered and longs for peace and reconnection.
Doors at 7: Show at 7:30
Hosted at Euclid Manor, Oakland, address sent upon ticket purchase
$25, no one turned away for lack of funds
Lydia Violet: Lydia is an Iranian-Armenian-American multi-instrumentalist weaving together Southern blues, American roots, and Iranian folk music traditions. With her live band she combines fiddle, banjo, and luscious harmonies to offer a soul-folk revival experience. In the past year she has collaborated with world-renowned artists Rising Appalachia, MaMuse, and Lyla June. ♬ www.lydiafiddle.com ♬
Kele Nitoto: Kele Nitoto is a second generation African-American percussionist and singer. Born and raised in the Oakland Dance Culture, Kele Has studied with masters of many styles, becoming proficient in West-African, Congolese, Afro-Cuban, Afro-Peruvian, and Afro-Haitian traditional musics. Over the last 25 years, Kele has performed internationally in dance companies, bands, and teaching workshops and classes, summer camps, spiritual and workplace retreats, and for countless ceremonies and celebrations.
M'Gilvry Allen: M'Gilvry Allen will bring with him a set of fiddle tunes from his ancestral Scottish lineages and the diaspora of Scottish & Irish immigrants through eastern North America. M'Gilvry also writes original music and tours with several projects, including Maya Elise & The Good Dream, Josiah Johnson, and the Feelings Parade. His work can be found at mgilvryallen.com
About the organizer
Lydia founded and runs The School for The Great Turning, an online and in-person school that creates access to an education that will empower humanity's life-sustaining legacy through fostering personal empowerment and planetary care. Our courses encourage personal transformation towards becoming mutually beneficial members of the Earth Community. We support learning at both individual and community levels, committed to soul work, ecological literacy, and social justice. Our courses and workshops center on empowering the legacy of Joanna Macy's scholastic and experiential work, while expanding to cover adrienne maree brown's "Emergent Strategy," anti-racism cohorts, BIPOC affinity groups, ancestral myth and music studies, and music as medicine. Our scholarship fund empowers us to make our programming no-one-turned-away-for-lack-of-funds, as we democratize access to education and healing, especially within marginalized communities. Our faculty includes Joanna Macy, adrienne maree brown, Lyla June, Leah Song, Lydia Violet Harutoonian, Amikaeyla Gaston, Kele Nitoto, and MaMuse, and we aim to offer our programming in a wide range of spaces, pivoting away from educational elitism. We believe each of us has a role to play in human awakening at this perilous time, urging us to claim our role in The Great Turning. A term coined by revolutionary thinker and resident elder, Joanna Macy, she describes The Great Turning as one name for the essential adventure of our time: the shift from an Industrial Growth Society to a life-sustaining civilization.
www.schoolforthegreatturning.com