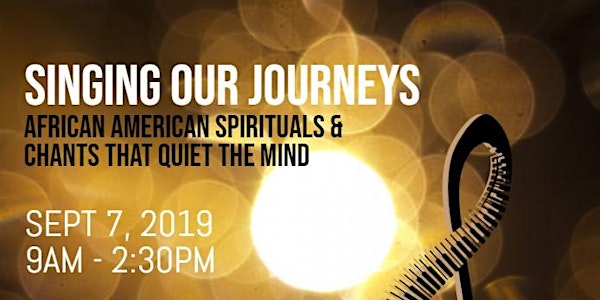 Singing Our Journeys: African American Spirituals and Chants that Quiet the Mind
When and where
Location
St Margaret's Episcopal Church 20900 Chenal Pkwy Little Rock, AR 72223
Refund Policy
Refunds up to 7 days before event
Description
There is an awesome power in the human voice and when uncommon voices are blended for the common good, they become a 'vocal community' at its best. In this workshop, masterfully led by Dr. Ysaÿe M. Barnwell, singers and non-singers alike will share the common experience of learning in the oral tradition and singing rhythms, chants, traditional songs from Africa and the Diaspora, and a variety of songs from African American culture including spirituals, ring shouts, hymns, gospels, and songs from the Civil Rights Movement. The historical, social, and political context will provide an introduction to the songs. Throughout this experience, the group will explore from an African American world view, the values embedded in the music, the role of cultural and spiritual traditions and rituals, ways in which leadership emerges and can be shared by and among community members, the nature of cultural responses to and influences on political and social struggle, and finally the significance of a shared communal experience in ones' personal life. All that is required is a willingness to sing.
Following Dr. Barnwell, The Rev. Susan Sims Smith, founder of The Interfaith Center and Arkansas House of Prayer, will lead participants in learning chants to help quiet the mind for meditation. She will also prepare them for an experience of silence in the House of Prayer.
9:00 am - 9:30 am Registration and Arrival
9:30 am - 12:30 pm Teaching and singing with Dr. Barnwell
12:45 pm - 1:15 pm Lunch & Debriefing
1:15 pm - 2:20 pm Teachings on Silence and meditation in the House of Prayer
2:20 pm - 2:30 pm Wrap up with Dr. Barnwell
Lunch and snacks will be provided and are included in registration fee.
Adult tickets $45
Student and Youth Tickets (age 13 and above) $20
For any question or more information, please contact Sophia Said, the Executive Director of The Interfaith Center at theinterfaithcenter@gmail.com or call her at 1 (801) 520-1565
For questions about ticket sales, or to pay in advance by check, please contact Rev. Stephanie Fox, Associate Director of the Arkansas House of Prayer at arkansashouseofprayer@gmail.com or call her at 501-681-3934.
Scholarships are available. Please contact Stephanie Fox or Sophia Said for scholarship information.