Description
Dry throat. Heart racing. Knees shaking. Short breath. Sweaty palms. Knees & hands trembling. Nauseous.
These are all familiar for those who have gotten up to sing in front of others, while having little confidence that they are going to "make it safely" to the end of the song.
How many times have you been "traumatised" by this?
You start singing a song, and then the whole way through, you're filled with dread & are dead-worried about whether you are going to make it when that high part comes.

Your voice cracked right at the part where it matters most. The very one high note that everyone is waiting for you to sing powerfully.

You couldn't hit those high notes, and gave the perfect impression to others that you cannot sing in tune.

Your throat feels tighter and tighter when you try to sing higher and more powerfully.

Every time you sing high notes, it breaks into a soft, airy and weak sound.
Belting or being able to sing and sustain high notes powerfully is a signature technique that all professional singers use. Every time you hear a singer project his/her voice ridiculously loud, without even using a mic, he/she's definitely belting! And if they make it look easy, it's because it really is!
The human voice was made to sing, and we were all born with mighty voices – voices that can belt and sing powerfully, even without mics!
If you can't do it just yet, it's because you've forgotten how.
By applying healthy vocal techniques, you can see immediate results in your voice, and belt if you wanted to. And, if you wanna get that jaw-dropping response the next time you sing, it's time to learn how to sing & belt properly.
The Unlock Your Voice™ Vocal Technique taps into your natural ability to sing, making singing as easy as speaking, increases your vocal range & vocal projection and gives you amazing vocal control.
In this 2-Hour Singing Workshop, you'll learn proven techniques that can help you:
Sing high notes without any more strain
Have a great vocal tone while singing powerfully (belting)
Increase your vocal range
Who Should Attend?
Anyone who wants to learn how to belt (sing high notes powerfully)

Anyone who wants to sing with more confidence and sound great

Anyone who wants to increase their vocal range, control & flexibility

Anyone who wants to sing for long hours without losing his or her voice

Anyone who wants to sing without his/her voice cracking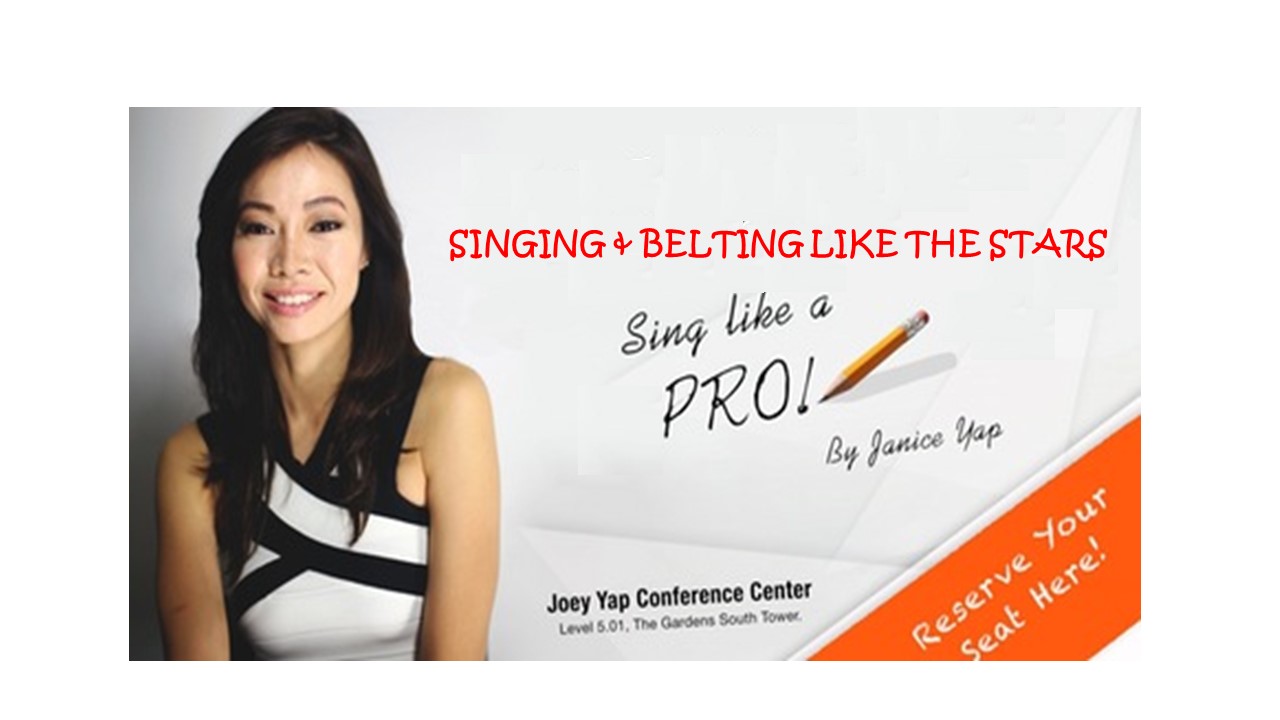 Janice is the Author of "Unlock Your Voice" & Head Vocal Coach of Life Academy, with experience in TV Presenting, Radio Announcing, Musical Theatre & Singing and Songwriting. Janice is also a winner of the BOH Cameronian Arts Awards for Best Solo Performance (Vocals).


Join Janice Yap, in "Singing & Belting Like The Stars" now! Suitable for both beginners and advanced singers.



Best Regards,
Hui Mun
Unlock Your Voice
Level 3, 17-19, The Boulevard, Mid Valley City, Lingkaran Syed Putra, Kuala Lumpur, 59200
Tel:+60 (0)3 2284 8080 (EXT 335) Fax:+60 (0)3 2284 1218
E-mail: huimun@drtprofile.com website: http://www.unlockyourvoice.com.my/