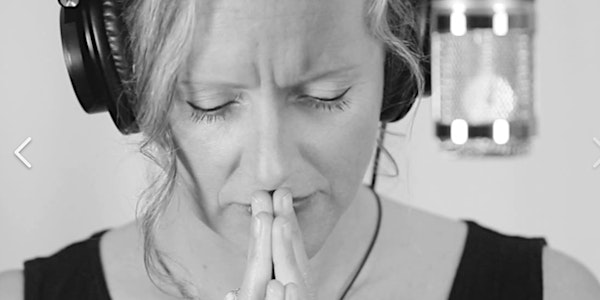 Singing as Sanctuary - FREE Intro Class
A 9-week journey into the soul of your voice
About this event
Turn your prayers into mantras, mantras into melodies, and melodies into your own medicine songs.
Explore your voice as a tool for healing and praying, for creativity and expression.
Fully Embodied Singing in a Sacred Circle of People
How do we allow our voices to be a safe harbor for us in these uncertain times?
How do we connect with the voice as a powerful tool for healing and transformation?
How do we liberate the longing in our hearts, and amplify the power of prayers through singing?
How do our collective voices lifted in song help to heal the world?
In this 9-week Course you will...
Fall in love with your voice
Gain more confidence in your singing
Feel nourished, connected, uplifted and inspired
Open more fully to your creative channels
Create your own mantras and medicine songs
Sing songs and chants that you love
Connect with your voice as a sound healing instrument
Deepen with other like-minded folks on the path of freeing their voices
Sing with feeling and soul!
Free Introductory Class
Thursday, September 8th @ 1:00 - 2:30 pm PT (Class will be recorded and sent out to registered participants)
9-Week Series:
Thursdays from 1:00 - 2:30 pm PT
September 15, 22, 29, October 6, 13, 20, 27, November 3 & 10
Strongly Recommended:
One or more of Heather's courses in The Art of Mindful Singing . If you have had some vocal training other than Heather's courses, please check in with her before you register. heatherhoustonmusic@gmail.com. It is also possible to purchase one of the pr-recoreded 9-week series.
Areas of Study:
Singing Mechanics and Vocal Sustainability, Breathing Practices, Vocal Meditation, Cultivating Mindfulness, Practicing Presence, Inviting Intimacy with Our Voices, Focused Intention, Abiding in the Center of the Song, Fully Embodied Singing, The Heart of Improvisation, Summoning Your Unique Soul Songs, Witnessing our Womanhood, Song as Offering, Song as Renewal, Song as Surrender, Connecting with the Soul of the Song, Singing as Prayer, Awakening Inner Wisdom, Singing the Spirit of the Land, Song and Silence, Honoring Our Ancestors, Full Bodied Singing, Your Own Vibration as Sound Healing, Scales and Modes Pracitce.
The Details:
Weekly 90-minute group class on Zoom (Replays available)
Q & A time
Journaling
Breakout groups with prompts
A SoundCloud playlist of the vocal exercises and songs we are singing
A lyric sheet
Homework practices
Accountability Sister - if you would like one
We have space for 50 singers
About Heather:
Since 2003, Heather has held deeply safe space for people of all ages and ability levels to free their voices. She has taught over 10,000 private voice lessons, and thousands of group singing classes. She has been offering The Art of Mindful Singing online course since June of 2019, and she is a skilled Zoom facilitator! Heather is a singer/ songwriter, recording artist, private vocal coach, choir director, community song circle leader and a certified Kali Ray Tri-Yoga Instructor. She has an abundance of knowledge and wisdom to share!