Event Information
Location
Singh Center for Nanotechnology
3205 Walnut Street
Philadelphia, PA 19104
Celebrate 6 years of nanotechnology enabled research and innovation at the University of Pennsylvania Singh Center for Nanotechnology!
About this event
The Singh Center for Nanotechnology 2019 Annual User Meeting takes place Monday, October 28, 2019, in the Singh Center's Glandt Forum. At our 5th Annual Meeting, we celebrate 6 years of nanotechnology enabled research and innovation at the University of Pennsylvania. This year's connecting theme is the National Science Foundation's 10 Big Ideas and how nanotechnology plays a role. Join the over 100 registrants for this celebration within our nanotechnology community!
Event Highlights include:
Witness invited 12 talks from the Singh Center for Nanotechnology user community to learn about cutting edge science taking place in the heart of Philadelphia.
Interact with start-up company finalists in our 2019 Innovation Seed Grant cohort.
Attend the afternoon and evening poster sessions to speak one-on-one with scientists, researchers and innovators. Over 50 posters will be on display over two sessions.
Take advantage of networking opportunities during breakfast, coffee breaks, lunch and dinner.
Participate in the raffle contest for all attendees and poster session presenters. Awards are presented in the evening.
The first 125 attendees will receive a commemorative T-shirt featuring our sponsors on the reverse. Available sizes are limited.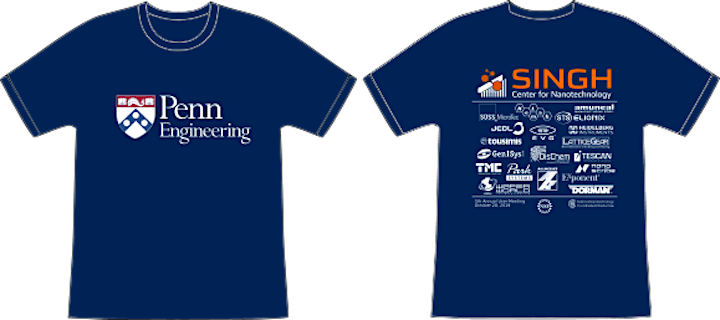 Our Exhibitors and Sponsors:
ATTENDEE REGISTRATION
The event is free to attend but registration is required. Click the green "register" button on this page.


CALL FOR POSTERS: POSTER REGISTRATION FOR SINGH CENTER USERS ONLY
Poster registration is now closed.

SPONSOR REGISTRAON
Registration is now closed.
PROGRAM OVERVIEW
08:00 - Registration and Networking Breakfast
09:30 - Welcome
09:50 - Session 1A: Research Talks
IBM - Markus Brink, PhD - [Keynote] Quantum Computing with Superconducting Circuits
UPenn - Deep Jariwala, PhD - Atomically-Thin Interfaces for Electronics and Photonics
UPenn - Eric Detsi, PhD - Self-Healing Magnesium-Ion Battery Anodes
11:10 - Coffee Break + Networking on Ground Floor
11:40 - Session 1B: Research Talks
Goucher College - Nina Markovic, PhD - Designing Quantum Matter with Superconducting Nanostructures
UPenn - Reto Giere, PhD - Examples of TEM/SEM Applications in Earth and Environmental Science
UPenn - Marija Drndic, PhD - Towards atom-scale control of materials and their device applications: Research facilitated by the Singh Center
12:40 - Networking Lunch
13:10 - Session 2: Poster Session and Networking Lunch Continued
14:10 - Session 3: Innovation at the Singh Center for Nanotechnology
Trifon Liakopoulos, CEO - EnaChip - Commercialization Challenges of a Tech Startup
Anup Singh, Co-Founder and CSO - InnaMed - Enabling at-home blood testing with electrochemical DNA-based technology
Rui Jing Jiang, Co-Founder/CEO and Brandon Kao, Co-Founder/CTO - Avisi - Leveraging nanotechnology in a defense against blindness
Zarazuela Zolkipli-Cunningham, Attending Physician - Mitology - Validation of Oxygen Nanosensor in Mitochondrial Myopathy
Johnathan Lawless, CEO - Volta Therapeutics - Creating New Standards For Cell Therapies
Kwame Amponsah, CEO - Xallent - Advanced Nanoscale Testing Solutions
15:45 - Coffee Break + Networking on Ground Floor
16:15 - Session 4A: Panel Discussion - Careers in Nanotechnology -UPenn grads come to discuss their careers in Nanotechnology
Georgia Griggs - Avisi
Meiyue Zhang - EnaChip
Hannah Hastings - Universal Display Corporation
16:15 - Session 4B: Engaging the Singh Center - Q&A Information Session on Becoming a User and Facility Tours
17:30 - Session 5: Evening Poster Session and Networking Social
18:00 - Continued Networking and Dinner (heavy hors d'ouevres)
18:30 - Awards and Dinner Continued
19:30 - End Annual Meeting
PARKING
If street parking is not available, please park at the Chestnut 34 Garage whose location and rates can be found using the following link: http://cms.business-services.upenn.edu/transportation/live-maps/parking-map.html
HOTELS
There are a few hotels in University City that are considered within walking distance to the Singh Center for Nanotechnology:
Sheraton Philadelphia University City Hotel: 36th and Chestnut
The Inn At Penn - A Hilton Hotel: 36th and Walnut
Homewood Suites by Hilton: 41st and Walnut
The Study At University City: 33rd and Chestnut
Alternatively, Center City has a few options near the Convention Center and the historic City Hall. If you stay at any Center City location listed below, take any trolley from 13th Street Station to 33rd St. Station on Market Street or the westbound busses #21 or #42 along Walnut Street and walk to the Singh Center for Nanotechnology.
Courtyard by Marriott Philadelphia Downtown
Residence Inn by Marriott Philadelphia Center City
Philadelphia Marriott Downtown
Hilton Garden Inn Philadelphia Center City
Home2Suites by Hilton Philadelphia
GETTING HERE
If you're arriving by plane into PHL, you can take the train to University City; the fare is CASH ONLY. Cabs are also available at the airport as well as UBER and Lyft. Car rentals are also available at the airport. If you're arriving by car, please refer to the parking information above. If you're arriving by train, the Singh Center for Nanotechnology is considered within walking distance from 30th Street Station. You can also take a cab, UBER or Lyft from this location.
SPONSORS and EXHIBITORS
We thank our exhibitors and sponsors for making the Annual Meeting possible.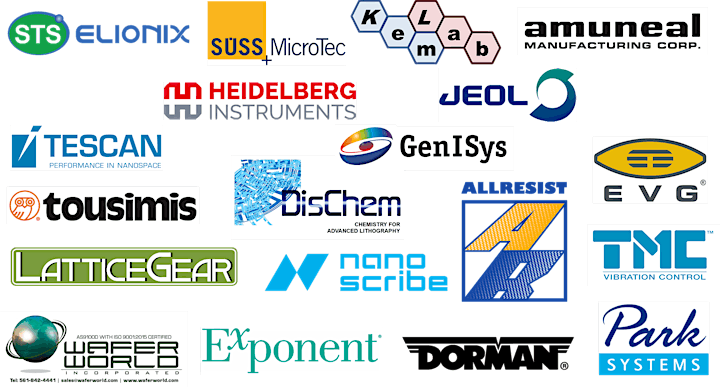 Platinum Exhibitors
Amuneal
SUSS MicroTec
STS-Elionix
KemLab
Gold Exhibitors
Silver Exhibitors
DisChem
EV Group
GenISys
LatticeGear
Park Systems
Tescan
Tousimis
TMC
Sponsors
WaferWorld Inc
Exponent
Dorman Products
AllResist
NanoScribe
Date and time
Location
Singh Center for Nanotechnology
3205 Walnut Street
Philadelphia, PA 19104