Description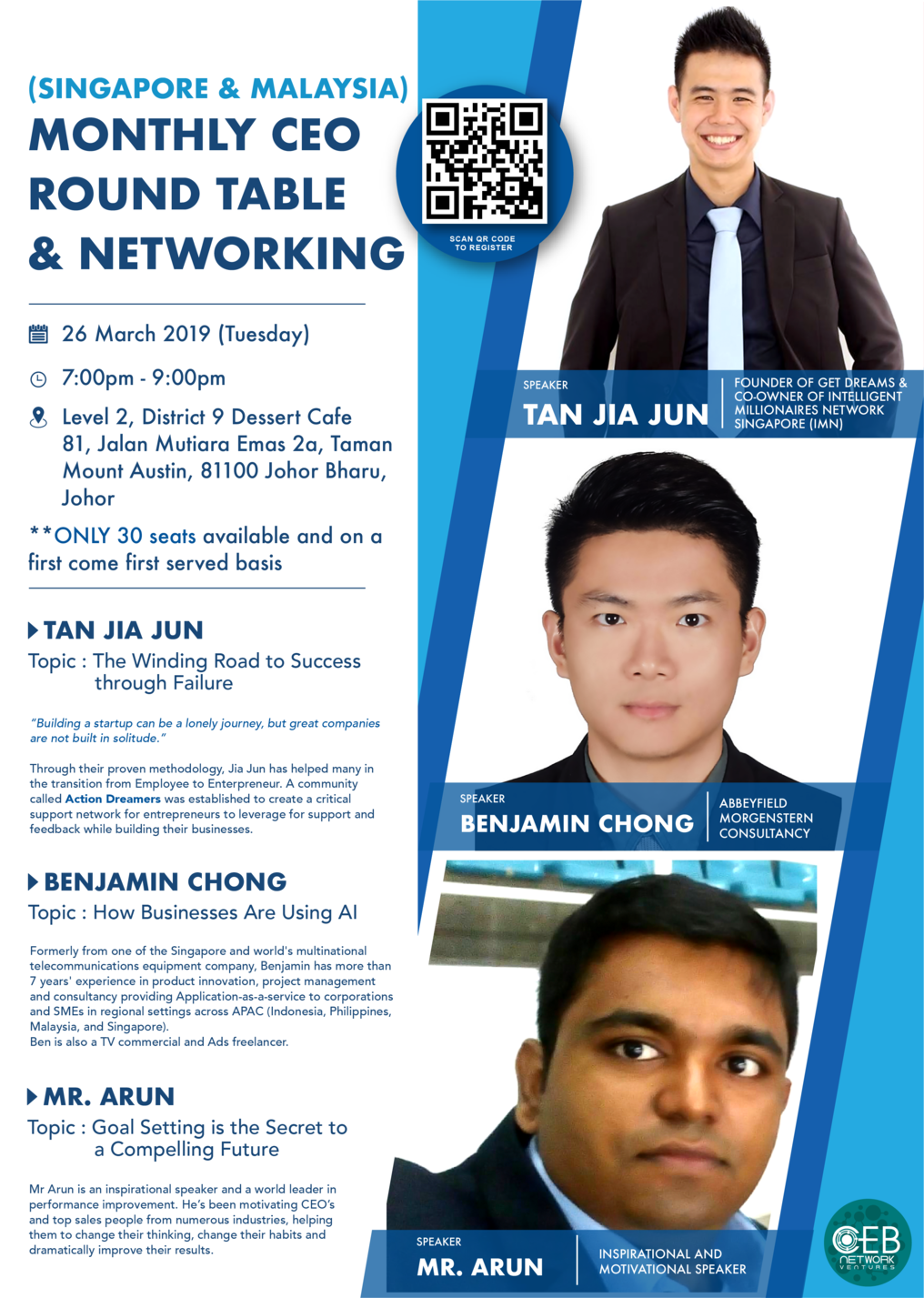 Singapore & Malaysia Monthly CEO Round Table & Networking Event
Looking to propel your business forward? Then experience the benefits of our monthly CEO Round Table & Networking Event by attending our event
Meet business owners & CEOs in a think tank board of director-like groups to increase revenue, improve profitability and operate their businesses more effectively.
As a group, we'll discuss critical business issues and brainstorm solutions -- many of which will help you and your business. The CEO Roundtable is a great opportunity to exchange information, ideas, and insights with fellow business owners.
We will also have 3 speakers at our event:-
1. Tan Jia Jun
Topic – The Winding Road to Success through Failure
2. Benjamin Chong
Topic – How Businesses Are Using AI
3. Mr. Arun
Topic – Goal Setting is the Secret to a Compelling Future
Why you should attend our event:
1. Opportunity to network with Entrepreneurs from Singapore & Malaysia
2. Let people know who you are
3. Open your mind to new ideas and latest trends
4. To be motivated
5. To socialize
6. More...
Date: 26th March 2019
Time : 7:00pm – 9:00pm
Venue: Level 2, District 9 Dessert Cafe, 81, Jalan Mutiara Emas 2a, Taman Mount Austin, 81100 Johor Bharu, Johor.
Limited to only 30 seats available.
- First come, First serve basis... Sign up now while tickets are still available!!!
To sign up click this link: http://bit.ly/2SffUGR
For more details, you can contact us at 010-2057867 or email us at info@ceborganization.com
Join our "CEB JB & SG Community" WhatsApp Group: https://chat.whatsapp.com/Bp7rZaEuAL8B8hbiNsNPBI
Join our "CEB Global Networking Group" in Telegram: https://t.me/joinchat/K-SENlZ5PS2oWzQrAzV06w
Like and follow our Facebook page: https://www.facebook.com/CEBorganization/