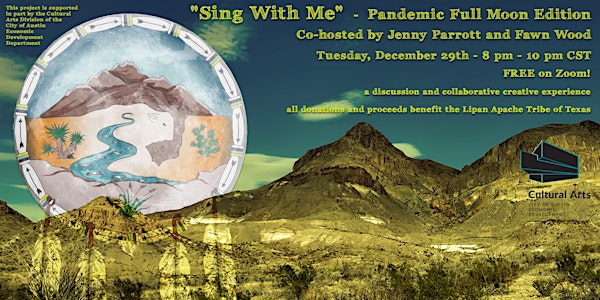 Sing with Me! Pandemic Full Moon Edition with Jenny Parrott and Fawn Wood
Tuesday, December 29th, on the full moon, I'm co leading a collaborative singing and song writing event with the incredible Fawn Wood! I
About this event
Tuesday, December 29th, on the full moon, I'm co leading a collaborative singing and song writing event with the incredible Fawn Wood !!!
If you are a shy singer/writer, have never written a song, or are grammy nominated, whatever, THIS EVENT IS FOR YOU!
We will begin with an interview/discussion between me and Fawn, and discuss songwriting and singing thru the lens of positivity and world building. Then we'll get into breakout rooms and collaborate (or you can be shy with your camera off, your choice!). The goal is to imagine the world we want and to sing about it joyfully, and with Hope. Safely, on ZOOM!
Here is the zoom link for Tuesday!
Join Zoom Meeting
https://us02web.zoom.us/j/88689511998
Also, this event is free, but any donations and proceeds will go to the Lipan Apache Tribe of Texas.
Please share, mark your calendars, and get ready to dream sing!
*** Brought to you by Immediate Fashion School and The Cultural Arts Division of the City of Austin Economic Development Department
*poster by @catfish_clark