God has called us to gather believers from across the U.S. to exalt the name of Jesus over our land!
About this Event
Yes! It is finally going to happen! God has called us to gather believers from across the U.S. to exalt the name of Jesus over our land in this first ever national worship gathering. As we sing over various regions from coast to coast we believe principalities and powers will be destroyed and the intensity of the Holy Spirit will increase to unprecedented levels. In this most critical time in our history this is a divine appointment. Please make plans to join us. Let God arise and His enemies be scattered!
For more info, visit the official Sing Over America website!
Confirmed artists/worship leaders:
Additional info
At the beginning of this year we announced the brand new national worship gathering 'Sing Over America', which was scheduled to take place on May 7 & 8. Several renowned Christian leaders would join us and all was set to make this a memorable worship event in our nation's history. However, then Covid-19 happened and changed everything. The venue we had had to cancel the event and Ticketmaster started to refund all the tickets. Ever since we have searched for ways to make this event happen after all, but due to safety regulations and the lack of a suitable venue, we weren't successful in achieving this.
Even though this is by no means a political event, we did aim to let this take place before the elections. Only last week, by the grace of God and through what I am terming a "midnight miracle", we succeeded in finding a suitable venue in Plano, TX, a suburb of Dallas. This venue offers us the ability to have the event and to comply with the current safety regulations at the same time.
The national worship gathering 'Sing Over America' will now take place on October 29 and 30, in the Plano Event Center in Plano, TX. The Christian leaders who will lead worship are Don Moen, Paul Wilbur, Nathaniel Bassey, Gateway Worship, Brandon Roberson and yours truly. This is a worship event only, so there will be no speeches or sermons, only worship. It is our aim to lift up to name of Jesus Christ over the United States of America and over its different regions, to establish His rulership over us.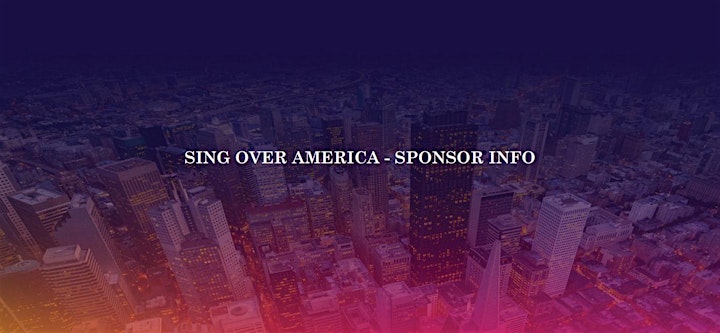 Sponsors / Exhibitors
Would you consider to sponsor this event? Or to be present as an exhibitor? Your help would be very welcome. When God gave Terry the vision to gather the worshipers from coast to coast, he knew it was for the sole purpose of exalting the name of Jesus over the entire nation. Jesus said: "If I be lifted up I will draw all men unto me." He was speaking of the cross at that time but it carries the same meaning today. Sing Over America will lift up His name and by doing that we believe He will destroy principalities and powers over various regions of the United States. This is not a conference - there are no speakers. This is worship only and of course prayer will happen as an overflow of worship. This is also not a political event. Only the King of kings and Lord of lords will be exalted. With your help we can carry out the vision!
Media
Both the long and the short promo video can be downloaded for use on tv and websites, and to show in Churches and meetings. For all press related material you can visit the link below, to download whatever you need:
If you have specific requests, let us know at:
terrymacalmon-media@newglory.org