About this Event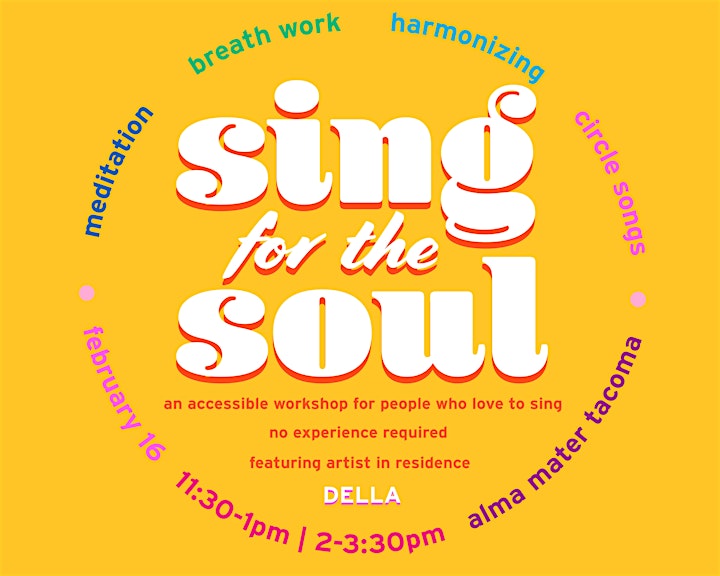 Join us for "SING FOR THE SOUL": a voice workshop with artist in residence, Della (fka Erica Dee)!
Two workshop times available for sign up: 11:30am-1pm and 2-3:30pm
Della, FKA Dee, is a voice empowerment coach, vocal artist, and a soul-driven teacher with a vision for inspiring all people to sing with confidence. She has performed and taught nationally and internationally for more than a decade. Dee has created a process that inspires her students to experience singing as a powerful tool for healing, transformation and connection. Her series of workshops titled, "Sing for the Soul", have been offered at a variety of cultural centers, music and yoga festivals, and other music venues.
"Sing for the Soul" is a unique 90-120 minute session that introduces exercises for vocalizing with a holistic approach to breath, body and spirit. Participants will be guided through meditation, stretching, breath work, vocal techniques, tone refinement, harmonizing and circle songs. Della will facilitate a song using the voices in the room to create different musical parts and open up the circle for participants to improvise. As energy builds Dee will play music to introduce movement, establishing a full body integration of sound, rhythms and harmonies. To complete the process the session will close with restful reflection.
"Sing for the Soul" is an original experience created by Della for all people who want to sing. This session offers participants an opportunity to connect and create with their voices in an open, fun and supportive way. Please join us and "Sing for the Soul"!
We would like to acknowledge that this workshop is being offered on traditional Indigenous territory belonging to The Puyallup People.
**** LIMITED TO ONLY 20 PARTICIPANTS PER WORKSHOP****
Reviews:
"I always felt so fulfilled after a sing for the soul class. Dee cultivates a warm and encouraging environment for us to be playful, creative and work together to produce some awesome sounds. I'd highly recommend her classes to anyone interested in discovering their own voice and musical creativity"
- Jessica
"Dee is a talented, warm, and SUPER fun facilitator! She creates such an open and free space to explore your voice, even if (like me) you've never sung before. She makes you feel brave enough to try new ways of play. Sing for the Soul classes have quickly become the highlight of my week and I always leave feeling grounded, joyful, and inspired. I can't recommend Dee's classes highly enough!"
- Ashley
More about the artist in residence:
Della, FKA Erica Dee is a Vocal Artist, Songwriter, Composer, Producer, Facilitator, Event Curator, DJ, and Performer. Through these artistic roles she is able to offer her passion for voice empowerment. Her parents are jazz musicians and met at Berklee College of Music. She grew up in a musical household in Nelson BC, Canada and the foundation of her musicality is jazz. She specializes in collaborating, improvising, harmonizing, and vocal composition. She has been writing, recording and touring soul, hip-hop and dance music for over a decade. From Brazil, to Isreal to London, Della has supported artists such as; Mos Def, LiL Kim, Mr. Carmack, Quest Love and A Tribe Called Red. Della has completed a two-year Performance Diploma at Selkirk College Music Program and has been running her own summer youth music camps since 2015. She has continues to hone her artistry through intensive study of music, dance, facilitation, and circle singing.
Socials:
FB: @thedellakit
IG: @thdellakit