Sincerely Chosen: The Live Interview Series

Wednesday, August 19, 2015 from 7:00 PM to 9:00 PM (EDT)
Event Details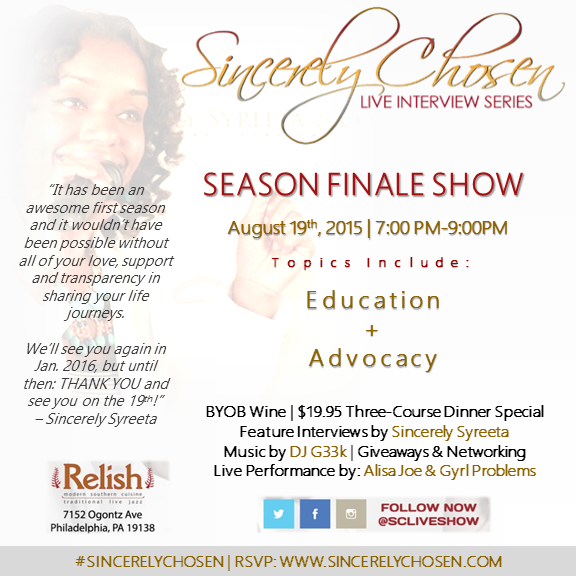 Join us on Wednesday, August 19th, 2015 for the FINAL show of the year. As many gear up for the back to school season, we're bringing attention to education and advocacy as only we could at Relish restaurant. The unveiling of the line-up has already commenced and includes: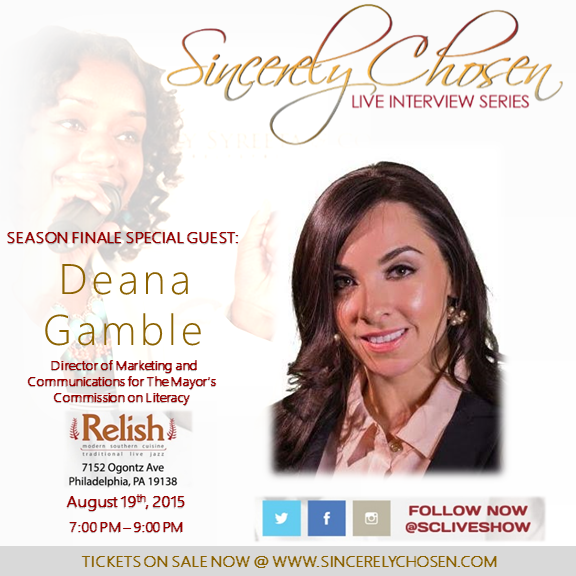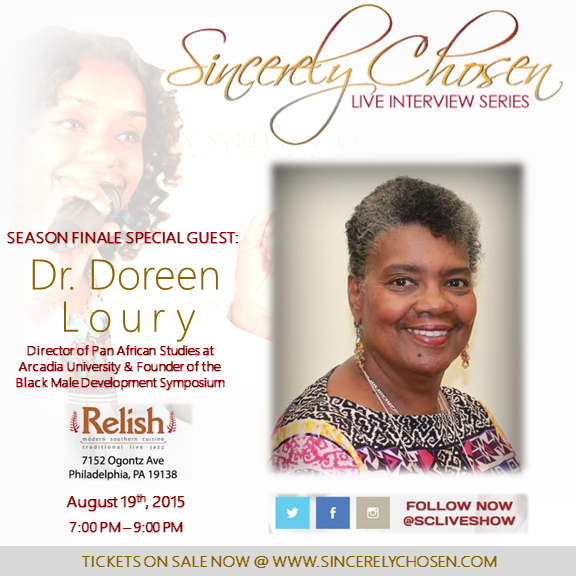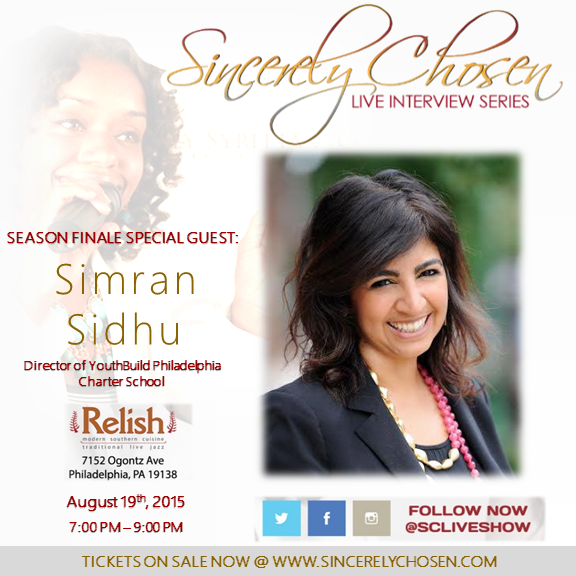 _____________________________________________________________
Special Announcements
In honor of the topics this month, a portion of all online ticket sales will be donated to theNehemiah Davis Foundation's 7th Annual Back 2 School Extravaganza happening on August 30th at Malcolm X Park in West Philadelphia. In addition to giving away 300 backpacks, the foundation will also provide free food, moon bounce fun, pony rides, games, hair cuts and styles, and more! By purchasing a $10 ticket, you will help prepare a child for the 2015-2016 school year!
Our goal is to donate no less than $150 to the B2S Extravaganza through Sincerely Chosen online ticket sales and we can't do it without you! Get your ticket now!
** Purchase your ticket online and receive free admission to the #SocialSundaysPhilly Networking Mixer, a monthly event that services entrepreneurs and professionals in Philadelphia. A limited number will be selected for this as it is first come, first serve.
 _________________________________________________________________
As Always…
You'll enjoy a live talk show experience that includes:
✔ Feature interviews
✔ Relish's DELICIOUS Three-Course Dinner Special for $19.95
✔ BYOB of Wine
✔ Great music by the one and only DJ G33k
✔ Live Performance Set
✔ Giveaways
Audience members are strongly encouraged to buy tickets as early as possible!
_________________________________________________________________
About Sincerely Chosen:
 The innovative interview series was created as a way of highlighting persons of interest and influence on a transparent and entertaining platform that connects them directly with the public. Known for her raw, intimate and empowering feature interviews with both everyday people and celebrities, Sincerely Syreeta has created an event unlike any other. The two hour show offers food, drinks, live entertainment, a DJ, networking, and giveaways. It consistently leaves attendees inspired, informed and entertain.
________________________________________________________________
Past #SincerelyChosen Interviewees: 
Andrea Lawful-Trainer, a phenomenal education consultant and youth advocate

Melanie Yvette Martin, Associate Beauty & Style Editor for EBONY.com

Ameen Akbar, Direct of Student Life at YouthBuild Philadelphia Charter School

Zeek "The Experience", a phemomenal artist who's bringing back soul and...

MoShay LarRen, a beloved Philadelphia radio personality, interior decorator, and domestic violence advocate

Melissa Alam & Alexander Kacala, Creators of the "30 Under 30: Philadelphia's Most Inspiring Women"

William Brawner, HIV+ Advocate, Founder & Exec. Director of Haven Youth Center, Inc. 

Isaiah Thomas, 

Associate Dean and Athletic Director for Sankofa Academy Charter School and current Philadelphia City Council Candidate

Darlaina Rose, Founder of Just The Gurlz-The Movement

Christopher McFadden, Educator, Youth Development Professional & Change Agent

Alicia Pinckney, Menswear Designer and Owner

Jon Pierre, Entrepreneur, Branding Specialist and Graphic Artist

Isabella Fitzgerald, Ward Leader & Community Advocate

Tayyib Smith, Partner at Pipeline Philly and Founding Partner of Little Giant Creative

Jermaine Dolly, Singer, Musician & Songwriter

Doris Harris, Founder of The Louis E. Harris Center for Youth Development & Community Leader

Terri Matthews, Founder of Jaden's Voice 

Bria Marie, Singer & Songwriter

Chill Moody, Recording Artist and CEO

Wes Manchild, Educator & Producer

George Miller, Associate Professor at Temple University & Publisher of JUMP Philly

Tyrone Dixon, Entrepreneur & Expriential Marketer

Leslie Mitts, Social Anthropolgist and Practice Director at UPENN's Wharton Entrepreneurship program

Danielle "Danni J" Johnson, Former celebrity hair stylist and owner of the Danni J Hair Studio

Martese Clark, Founding Director of the non-profit organization Rising Queens

Andrea Walker, Authore of A Beautiful Struggle and founder of iROC non-profit organization

Kate Marlys, Philly PR Girl, LLC

Ivan Barias, Philadelphia Chapter of the Recording Academy (music producer, songwriter and recording/mixing engineer)

Cherri Gregg, President of PABJ, lawyer and KYWNewsradio reporter

Quincy Harris, Fox 29 Philly
When & Where

Relish
7152 Ogontz Avenue
Philadelphia, PA 19138


Wednesday, August 19, 2015 from 7:00 PM to 9:00 PM (EDT)
Add to my calendar
Organizer
SincerelySyreeta.com
Sincerely Syreeta & Co. is a lifestyle business that motivates people to Empathize, Empower and Evolve via Content, Coaching and Consulting.
Officially launched in 2012 by Temple University alum, Syreeta Martin, the Sincerely Syreeta brand has become a trusted and influential source in Philadelphia and beyond. Syreeta has been recognized by Femme & Fortune Magazine as 1 of 30 women under 30 who are Philadelphia's most inspiring women as well as by APIC Giveback as a "Community Hero." She works diligently to specifically empower youth, women, millennials, entrepreneurs and artists. The mother of two values family, faith, food and a life lived on purpose.       
Sincerely Chosen: The Live Interview Series